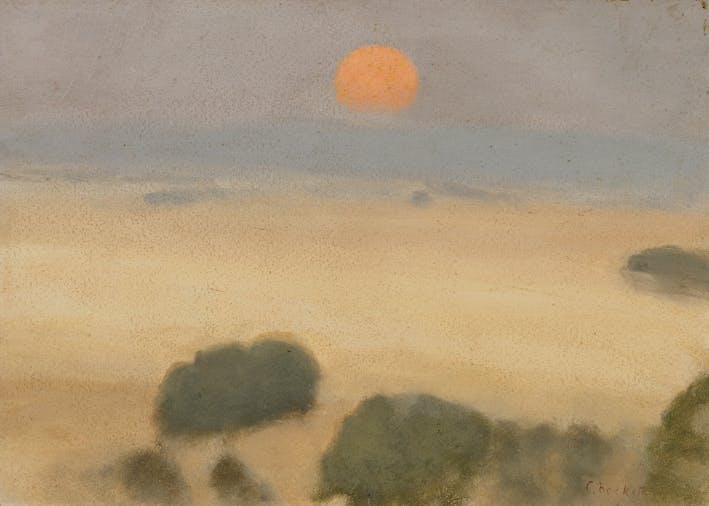 Clarice Beckett: The present moment
27 Feb 2021 - 16 May 2021
Next Occurrence : 27 Feb 2021
10:00 AM
- 05:00 PM
Price from $10
Overview
During the 1920s and 1930s Clarice Beckett surrendered to the sensory impressions of her everyday world with such intensity that the force of her painted observations created an entirely new visual language. The extreme economy of her painting tested her Australian audiences, and yet distinguished her as working at the avant-garde of international modernism. Drawn from national public and private collections, highlights include the artist's famed ethereal images of commonplace motifs such as lone figures, waves, trams and cars.

Driven by spiritual impulses beyond worldly success, she was a visionary mystic that saw nature as all powerful. Through veils of natural light she captured the eternal in the temporal. Accordingly, the 130 paintings in 'The present moment' will be thematically displayed around shifts in time that chart the chronology of one single day. The exhibition will take visitors on a sensory journey from the first breath of sunrise, through to the hush of sunset and finally return into the enveloping mists of nightfall.

The Art Gallery of South Australia is renowned for collecting and displaying the work of modern Australian women artists. 'Clarice Beckett: The present moment' showcases Alastair Hunter OAM's recent support of the acquisition of 21 Clarice Beckett paintings and proudly announces the AGSA's ongoing commitment to the promotion and celebration of the work of great Australian women artists.

Tickets on sale now
CURRENT DEALS
Join as an AGSA Member and see Clarice Beckett for free
Deal Starts: 11-Dec-2020 Ends: 10-Feb-2021
Price: $60
AGSA Membership starts at $60 per year
Receive a complimentary ticket to the exhibition Clarice Beckett: The present moment at the Art Gallery of South Australian when you join or renew your existing AGSA membership for (2 years or more). Conditions apply.
Terms & Conditions
View the terms and conditions https://www.agsa.sa.gov.au/join-give/membership/membershipbenefits/auto-renew-membership/
CLAIM DEAL
Features
Cafe
Non Smoking
Public Toilet
Restaurant
Shop Gift Shop

Caters for people who use a wheelchair
Caters for people who are deaf or have hearing loss

Price
From $ 10 to $ 20
$20 adult, $17 concession, $15 AGSA member, $40 family (2 adults + 3 children).