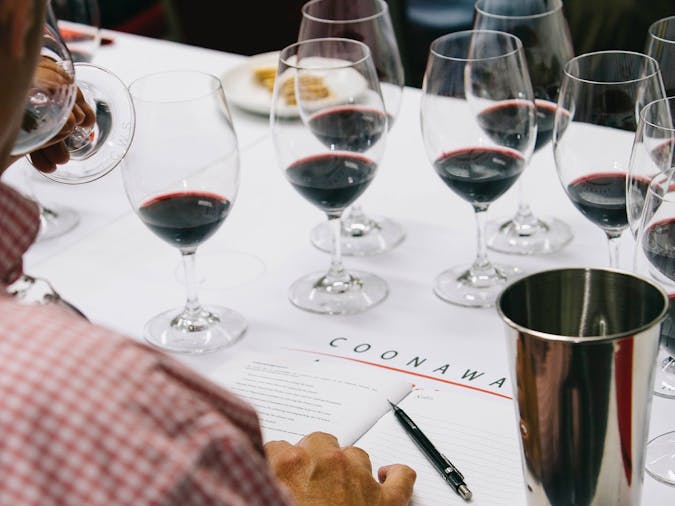 Coonawarra Decades - Past, Present and Future
08 May 2022 - 08 May 2022
Next Occurrence : 08 May 2022
01:00 PM
- 02:30 PM
Price from $160
Overview
Coonawarra is among Australia's best sources of great cabernet sauvignon. It's a region rich in history, one responsible for some of the most famous age-worthy wines made on our shores. Join four top Coonawarra winemakers – Sue Hodder, Sue Bell, Dan Redman and Kate Goodman – to explore the region's greatest hits. You'll taste both legendary back vintages and innovative new classics.

Hodder – senior winemaker at Wynns Coonawarra Estate – began her career as a viticulturalist. Today she is among Australia's best-known and revered winemakers, passionate about working with expressive fruit nourished by the local terra rossa.

Trailblazer Bell built her business from the ground up. Hard work, ingenuity and talent have shaped Bellwether Wines, which is based at the 1868 Glen Roy shearing shed. It focuses on special parcels of fruit and small ferments.

Redman's family is synonymous with Coonawarra winemaking. He honed his skills at wineries including Charles Melton and Tahbilk before returning home as a fourth-generation winemaker and continuing to capture the region's essence.

Award-winning Goodman is challenging convention in an area famous for its classic wines. She came to Coonawarra from Victoria's Yarra Valley and continues to craft bright, fresh wines full of personality.

This Tasting Australia masterclass promises a fascinating insight into the past, present and future of Coonawarra wine.
Features
Disabled access available, contact operator for details.

Price
From $ 160 to $ 160