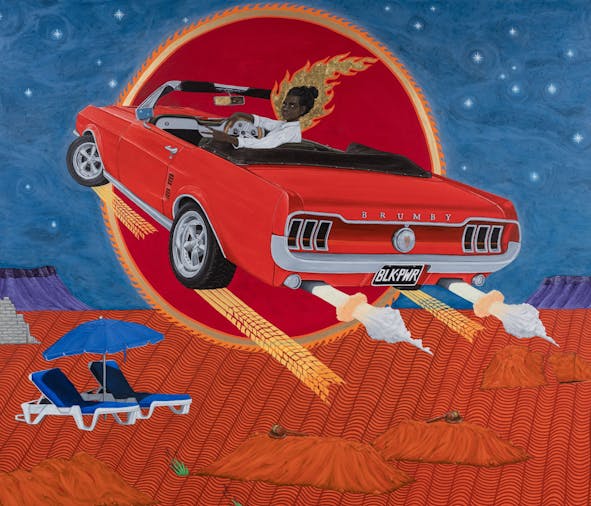 Fresh Hell
Sat 3rd Sep 2022 - Sat 29th Oct 2022
Next Occurrence : Sat 3rd Sep 2022
Overview
Ryan Presley

Curators:
Mark Feary and Patrice Sharkey

Fresh Hell is informed by Ryan Presley's own Catholic upbringing and experience, having been baptised in a desert township; Alice Springs. Large-scale oil paintings are detailed and layered with meaning, often referencing the canon of Western religious works that span from the Icon schools, Middle Ages, Renaissance periods through to the current day. These historical referents are, however, re-interpreted by casting young Aboriginal people as the key protagonists in recent pasts and foreseeable futures.
'Fresh hell' is a sardonic term used to describe when things go from bad to worse very quickly and inexplicably. Over the last ten years Presley has built a reputation for re-appraising difficult histories and, in the context of this new body of work, the exhibition title tells us something of the admonition the artist wishes to make against the ongoing treatment of Aboriginal people in this country.
Following the premiere of Fresh Hell at ACE Open, the exhibition will be presented at Gertrude Contemporary, Melbourne, in early 2023.
Ryan Presley: Fresh Hell is a co-commission by ACE Open, Adelaide, and Gertrude, Melbourne.
This project has been assisted by the Australian Government through the Australia Council, its arts funding and advisory body.
Features
Welcomes and assists people who have challenges with learning, communication, understanding and behaviour. (includes people with autism, intellectual disability, Down syndrome, acquired brain injury (ABI), dyslexia and dementia)
Caters for people who use a wheelchair.
An access and inclusion statement is available (make this available on your website).