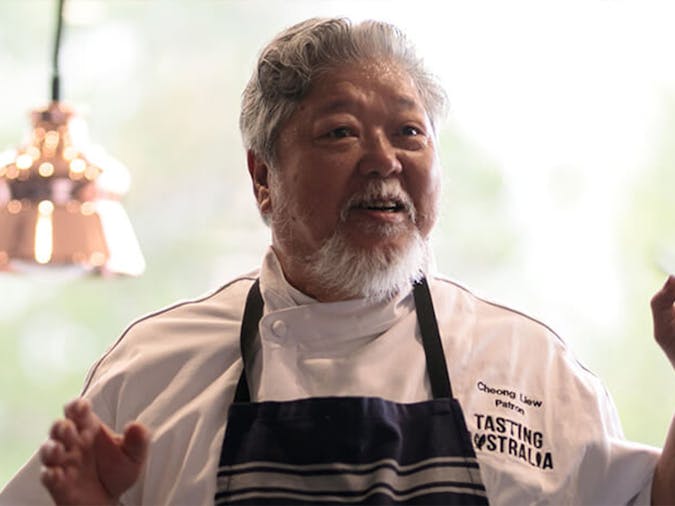 Legends Dinner Cheong Liew
06 May 2022 - 06 May 2022
Next Occurrence : 06 May 2022
07:00 PM
- 11:00 PM
Price from $350
Overview
Many chefs taste success. Few change the game. Cheong Liew OAM is one such trailblazer – among the first to introduce Australian diners to the power of fusion cuisine and expand our culinary horizons.

Liew's professional kitchen debut was an impromptu shift at Adelaide Greek restaurant The Iliad. It sparked a fascination with food – one that led him to purchase fellow local eatery Neddy's in 1975. Twenty years later Liew opened The Grange at the Hilton Adelaide, and it was here his creativity reached its full potential. This humble hero lets his dishes do the talking. Now – exclusively for Tasting Australia – he will be back at the pass for a four-course meal also set to feature Louis Tikaram, Amy Hamilton and Adam Liston.

The Brisbane-based Tikaram returned to Australia after a stint at E.P. and L.P in Los Angeles. His dishes – influenced by diverse family heritage – have also featured at restaurants including Longrain, Bentley and Tetsuya's.

Hamilton is the owner of Liberté, a bar and restaurant in the West Australian city of Albany that continues to impress with its French-Vietnamese menu.

South Australia's Liston is the chef and part-owner of four Adelaide ventures including the lauded Shobosho. Japanese cuisine remains his muse, with smoke, steam and fire used to impart flavour.

This Town Square Kitchen experience also features paired beverages.
Features
Disabled access available, contact operator for details.

Price
From $ 350 to $ 350