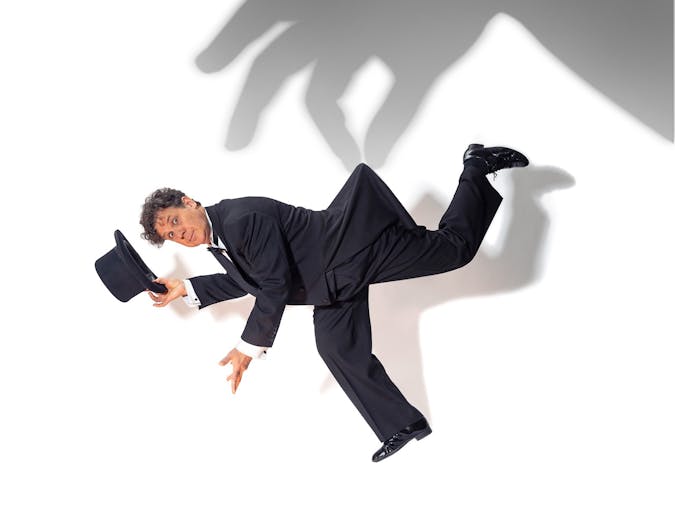 Raymond Crowe - UNUSUALISM
18 Feb 2022 - 20 Mar 2022
Next Occurrence : 18 Feb 2022
06:30 PM
- 07:30 PM
Price from $25.00
Overview
Raymond Crowe is the Unusualist – a master of eclectic magic who will put you in touch with your inner child.

In his charming all-ages show, heads will roll, fleas will talk, childhood memories will be rekindled, and hand shadows will spring to life. Raymond and his bag of unusual tricks will warm your heart and polish your eyes to a shine.

"It's wonderful, stylish, classy and innately funny … You make me, and everyone here, feel like a child again" – Dawn French

Internationally acclaimed, Raymond has delighted audiences on Broadway, the Royal Variety Performance, Sydney Opera House, and the London Palladium, to name just a few. You might also recognise him from appearances on both Australia and America's Got Talent.

"Raymond Crowe is a whimsical being, gentle soul, supremely clever, an impish superman who has touched the hearts and souls of people across the world" – Hollywood's Magic Castle.

This Adelaide Fringe marks a rare chance to glimpse a rare talent live – come and be enchanted!
Features
Price
From $ 25.00 to $ 99.00
Full Price: $35.00 to $39.00 Midweek Treat: $32.50 Child: $25.00 Double Your Applause: Admits 1: $70.00 to $78.00 Family: $99.00 Companion Card: $0.00 BankSA Cardholder: $28.12 to $29.25 Schools: $20.00