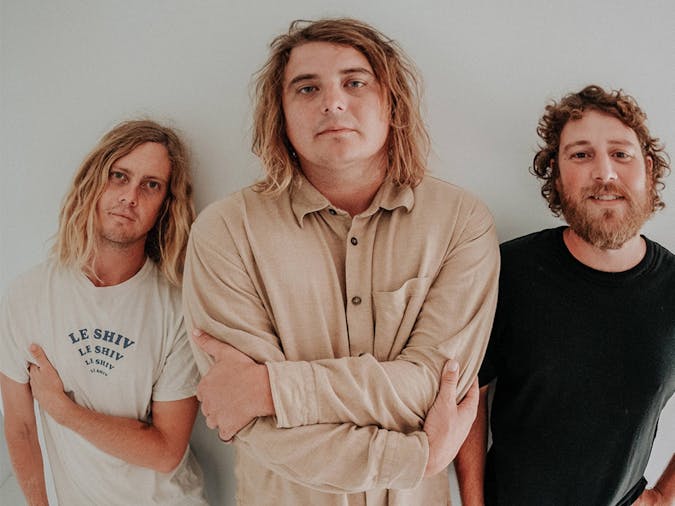 Skegss
21 Jan 2022 - 21 Jan 2022
Next Occurrence : 21 Jan 2022
08:00 PM
- 11:00 PM
Overview
To celebrate the release of their #1 album 'Rehearsal', Byron Bay-based trio Skegss announce they will be hitting the road this August for a massive tour across the country.

The national tour will see the band playing their biggest venues in over two years, with performances sure to elate crowds at the Enmore in Sydney, Forum Melbourne, Fortitude Music Hall in Brisbane, Thebarton Theatre in.Adelaide, Astor Theatre in Perth and rounding out the run will be a night at The Odeon in Hobart.

Joining the boys on the road will be good mates and live favorites PIST IDIOTS.

Rehearsal follows the meteoric DIY success of a few self-released singles/EPs (now certified Platinum in AUS) and Skegss' 2018 debut LP My Own Mess, which snagged #2 on the ARIA Charts and was nominated for Best Rock Album at the 2019 ARIA Awards. The new album also features Hottest 100 voted singles 'Under the Thunder' (#27) and 'Fantasising' (#66).

During 2020, Skegss —Ben Reed (vocals, guitar), Toby Cregan (bass, guitar, vocals) and Jonny Lani (drums)— re-released some of their early work on vinyl, including the EP 50 Push Ups For A Dollar (#4 Oct. '20) and the double EP set Holiday Food / Everyone Is Good At Something (#17 Nov. '20). Rehearsal is also #1 on the ARIA Vinyl Albums Chart.
Features