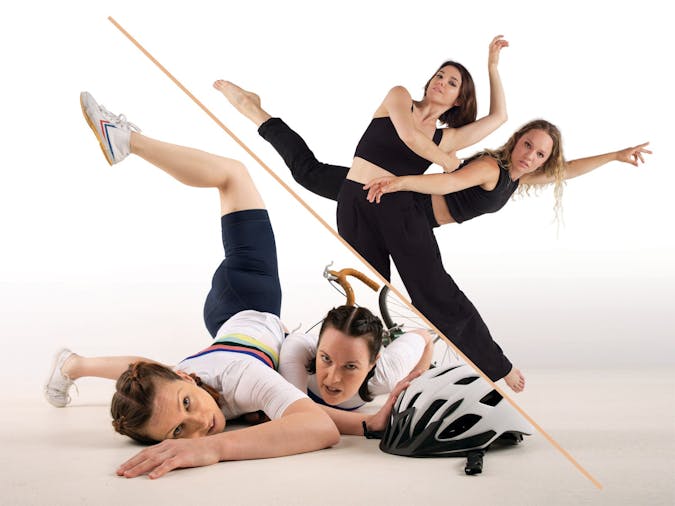 The Move
22 Apr 2021 - 24 Apr 2021
Next Occurrence : 22 Apr 2021
07:00 PM
- 08:00 PM
Price from $35.00
Overview
The Move is a curated initiative by Dance Hub SA, The Mill and Ausdance SA, providing the opportunity for South Australian Choreographers and their artistic teams to develop and present works that engage artists and audiences, test ambitious ideas and deliver brave performance works to the public.

In April 2021, commissioned choreographers Gabrielle Nankivell and Lewis Major will unveil their world premiere works in an enthralling dance double bill, ranging from innovative wit to a visceral intensity.

WONDER GRIT

Made by Gabrielle Nankivell in collaboration with Jo Stone
Dramaturgy: Katrina Lazaroff

Wonder Grit throws contemporary dance at competitive cycling to investigate the nature of loss, injury and motivation in times of uncertainty. The show is an energetic two-hander packed with killer dancing, survival tips and Adelaide's most strenuous monologue. Featuring crowd sourced data, a deadly treadly, and two women with a tonne of experience, Wonder Grit might just be a ride you won't want to get off.

SATORI

Choreography and Direction: Lewis Major
Dramaturgy: Amanda Phillips

Satori is a Japanese term for awakening. This work explores the states of impermanence and imperfection through an ensemble dance work with 3D projection design and stellar dancers. The interconnecting elements transform into a fluidly shifting atmosphere and stage architecture that continually collide, collapse and create.
Features
Price
From $ 35.00 to $ 39.00