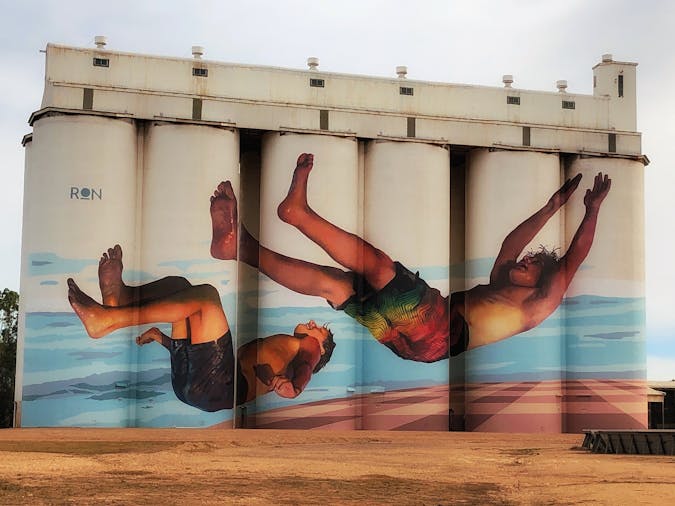 Overview
Tumby Bay is a coastal town situated on the Spencer Gulf, on the eastern coast of Eyre Peninsula in South Australia. It's 45 km north of Port Lincoln and is also home to the Colour Tumby Street Art Festival.

At the entrance to Tumby Bay stands the very impressive ViterraTumby Bay Silo Art. Its actual location is the corner of Lincoln Highway and Bratten Road. At the site along Bratten Way, there is a great purpose built car park suitable for all types of cars and caravans as well.

The Tumby Bay silos were completed on April 13th, 2018 and were the third silos to be painted in South Australia. Overall, they are the 18th to be included in the Australian Silo Art Trail Collection.

Depicted on these silos is an interpretation of two boys jumping off the Tumby Bay Jetty. The inspiration for the silos comes from the artist Martin Ron and his assistant Matt Gorrick, who spent some time in the area before painting the silos. Saying the initial idea came from seeing people dive off the jetty into the ocean, even joining in the sport himself.