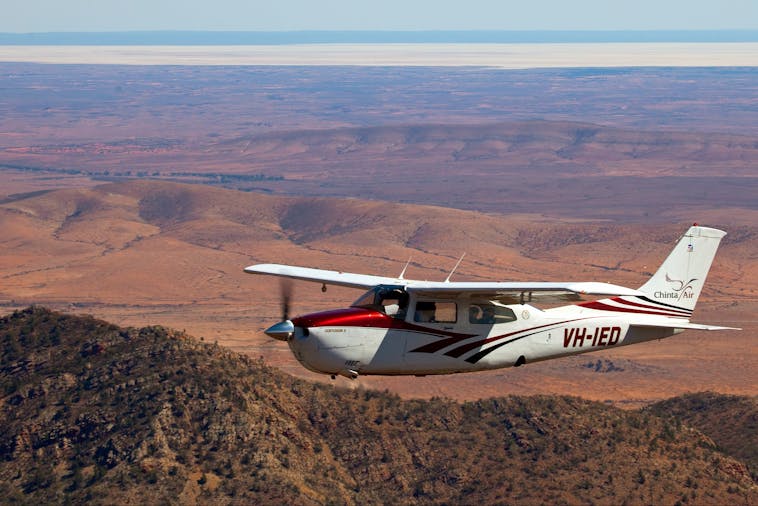 Lake Eyre and Wilpena Pound - from Rawnsley Park Station
Price from $860
Overview
The timeless landscapes of Australia's largest salt lake, Lake Eyre, are one of the highlights of the Outback. With an area 144 kilometre long and 77 kilometres wide (the same size as the country of Qatar) the lake is usually a vast expanse of salt. The lake is filled from a catchment area which lies across three states, and encompasses one sixth of Australia. Seasonal rainfalls attract waterbirds such as Australian pelicans, silver gulls, and banded stilts.

The best way to see Lake Eyre and appreciate its vastness, is from the air. This day trip from Rawnsley Park Station (on the south side of Wilpena Pound) includes a scenic flight over the following: Wilpena Pound, Ikara / Flinders Ranges National Park, the coal fields of Leigh Creek, Marree, Lake Eyre / Kati Thanda National Park.

After lunch, you will fly over Anna Creek Station (the world's largest cattle station - the same size as Wales), the opal mining town of Andamooka, and Lake Torrens (the second largest salt lake in Australia) before returning to Rawnsley Park Station.

Lunch at the iconic William Creek Hotel is included.
Price
From $ 860 to $ 1250
AUD860.00 per person for four people AUD940.00 per person for three people. AUD1250.00 per person for two people