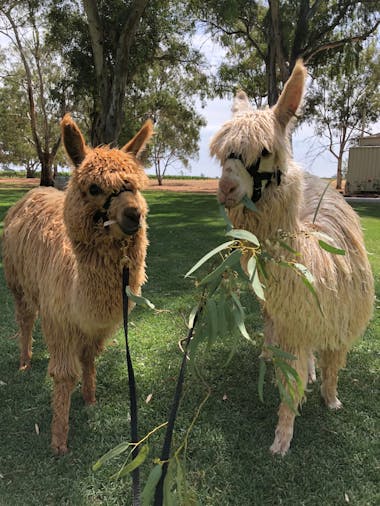 Visit an alpaca farm and get up and personal with these gentle and unique animals
Overview
Mioshi Park Alpacas offers visitors the chance to touch, talk to and learn about these unique animals.
You will be greeted by a number of different colour, ages and types of alpacas all wanting to get your attention with their different personalities.
Learn about the types of alpacas, what they enjoy and how they live.
There are also resident llamas, horses and ponies to meet as well.
There are numerous opportunities for taking photos and selfies.
Soft, light and warm alpaca fleece (wool) is available to purchase and take home to make something unique and personal.
Visitors may enjoy taking an alpaca for a walk around the farm to take in the alpaca's gentle and environmentally friendly nature whilst relishing in the views the farm offers to visitors.
The alpacas are also available for off property events such as weddings, birthdays, corporate events, hospital and nursing home visits, etc.
Features