REEL-IN A WHOPPER WITH SOUTH AUSTRALIA'S BEST FISHING CHARTERS AND SPOTS.
Whether you're looking to cast-off from an Adelaide jetty or join an all-inclusive fishing expedition, see our guide to the best fishing spots and fishing charters in Adelaide and South Australia.


TOP FISHING SPOTS
CITY BEACHES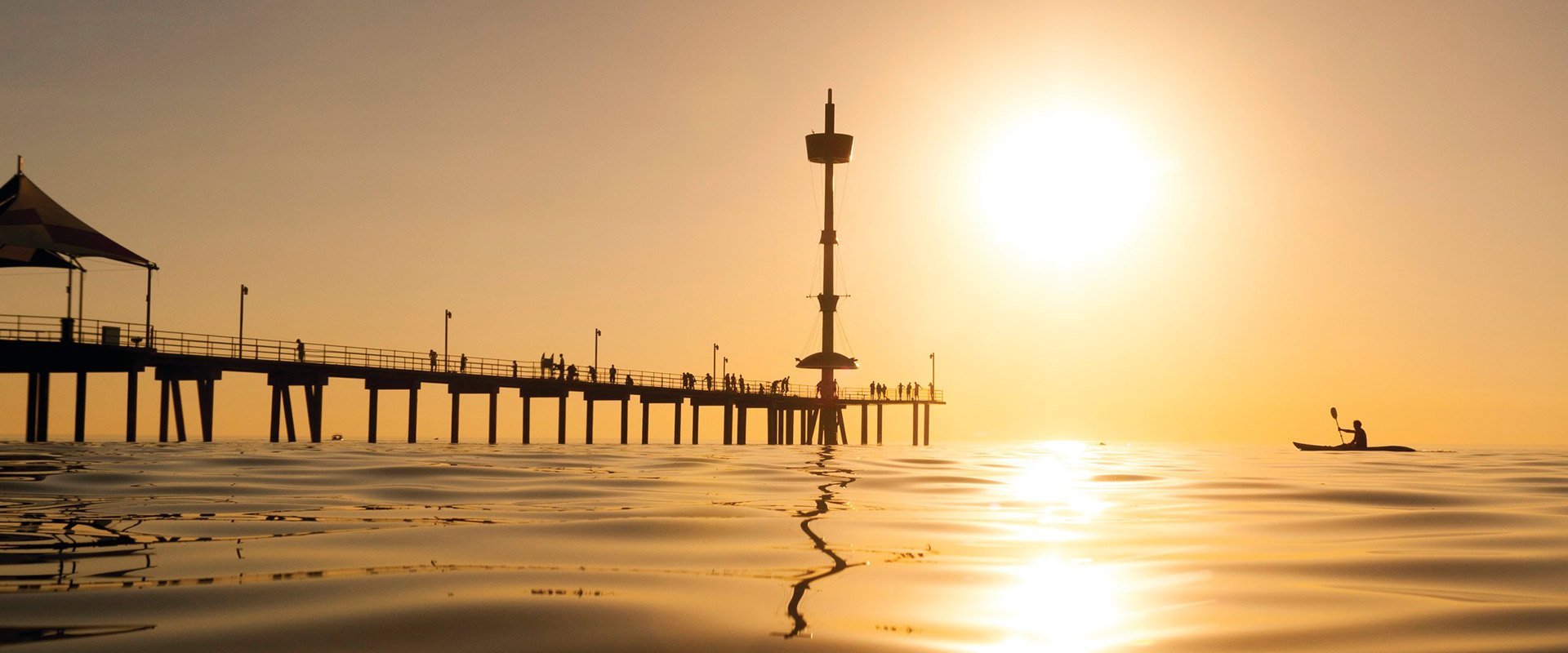 Brighton, Glenelg, Henley Beach and Semaphore are some of the best fishing spots in Adelaide, and are all less than 30 minutes' drive from the CBD. Many anglers fish from the jetties for tommy ruff, trout, mulloway, bream and squid.
FLEURIEU PENINSULA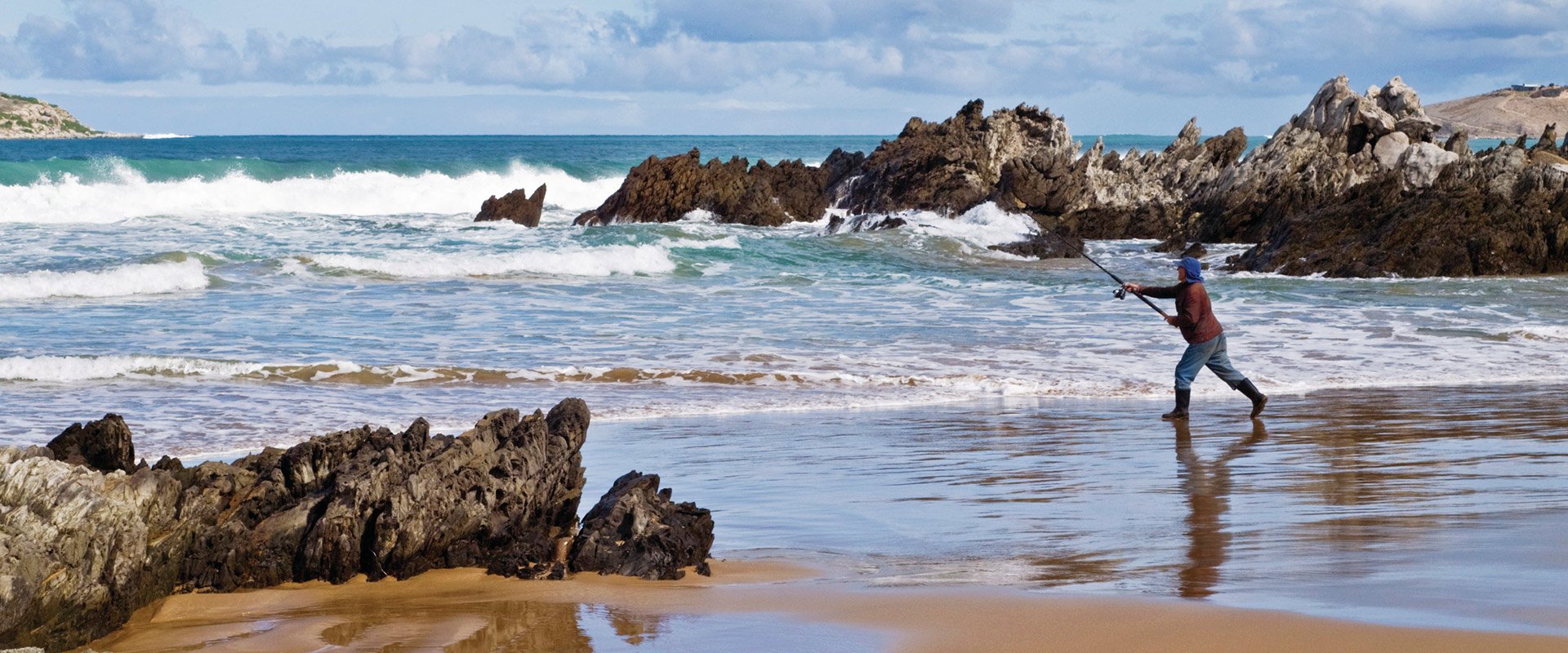 Head down to Victor Harbor and throw a line off the Causeway or Bluff jetty. Here you'll find bream, garfish, whiting, mullet and flathead aplenty. Try beach or rock fishing at Waitpinga Beach: if you're lucky, you might snag a salmon or two. 
EYRE PENINSULA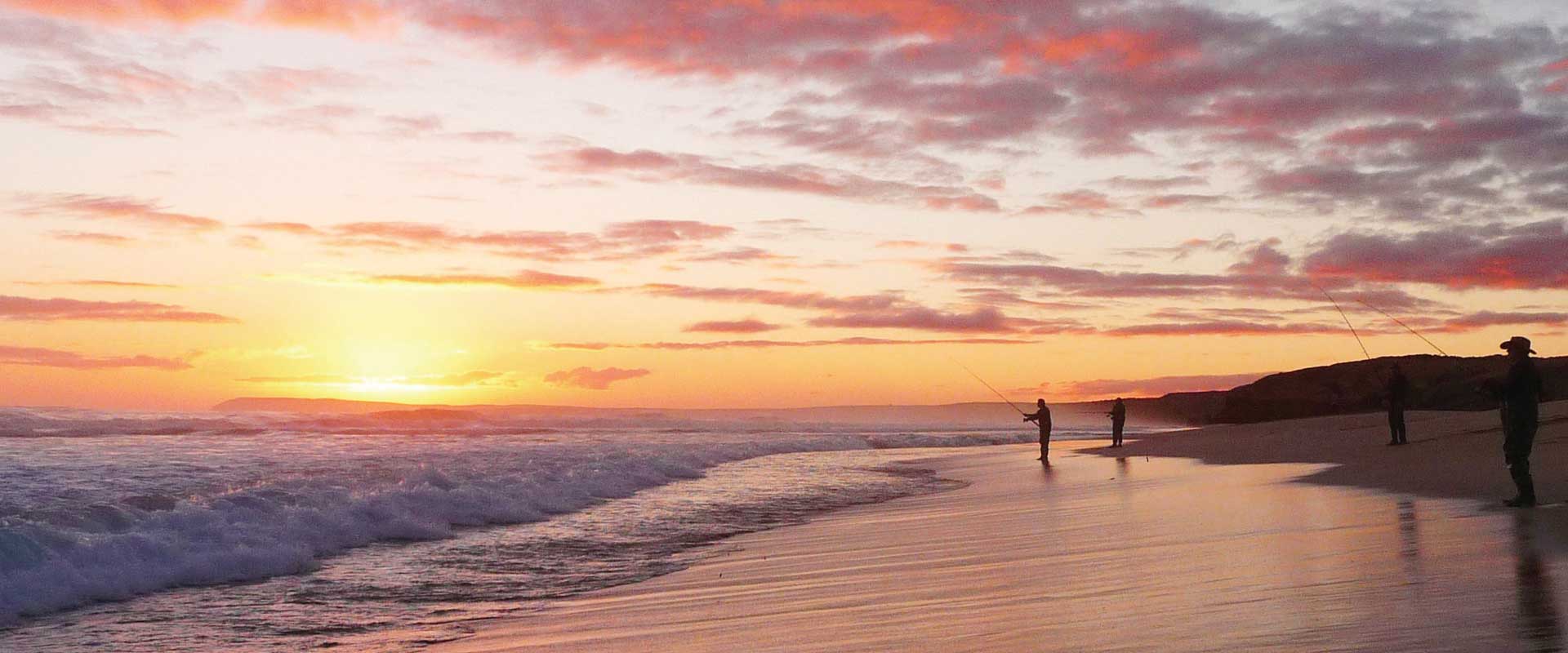 For great surf and big fish, head to the west coast of Eyre Peninsula: South Australia's commercial fishing hub, and one of our best regional fishing spots. Catch Australian salmon at Locks Well beach, hire your own boat or hop aboard one of many fishing charters. You'll find mulloway, salmon trout, snook and King George whiting in the open water as well as abalone, razor fish, scallops and southern rock lobsters.
YORKE PENINSULA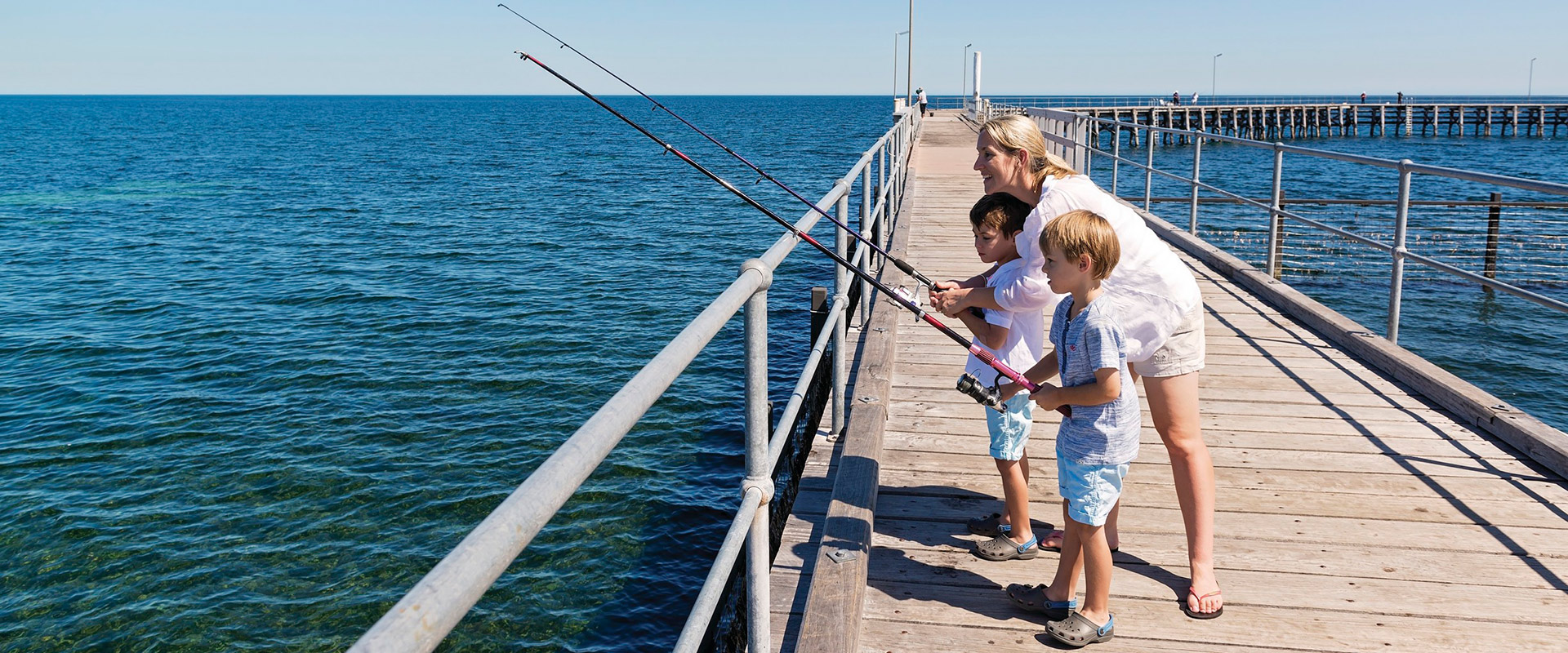 The Yorke Peninsula's crystal-clear waters are home to abalone, razor fish, scallops and southern rock lobsters. Crabbing is popular in the towns of Port Hughes, Moonta and Wallaroo. You'll find some of South Australia's best jetty fishing in these towns: expect good hauls of King George whiting, squid and flathead.
RIVERLAND AND MURRAY RIVER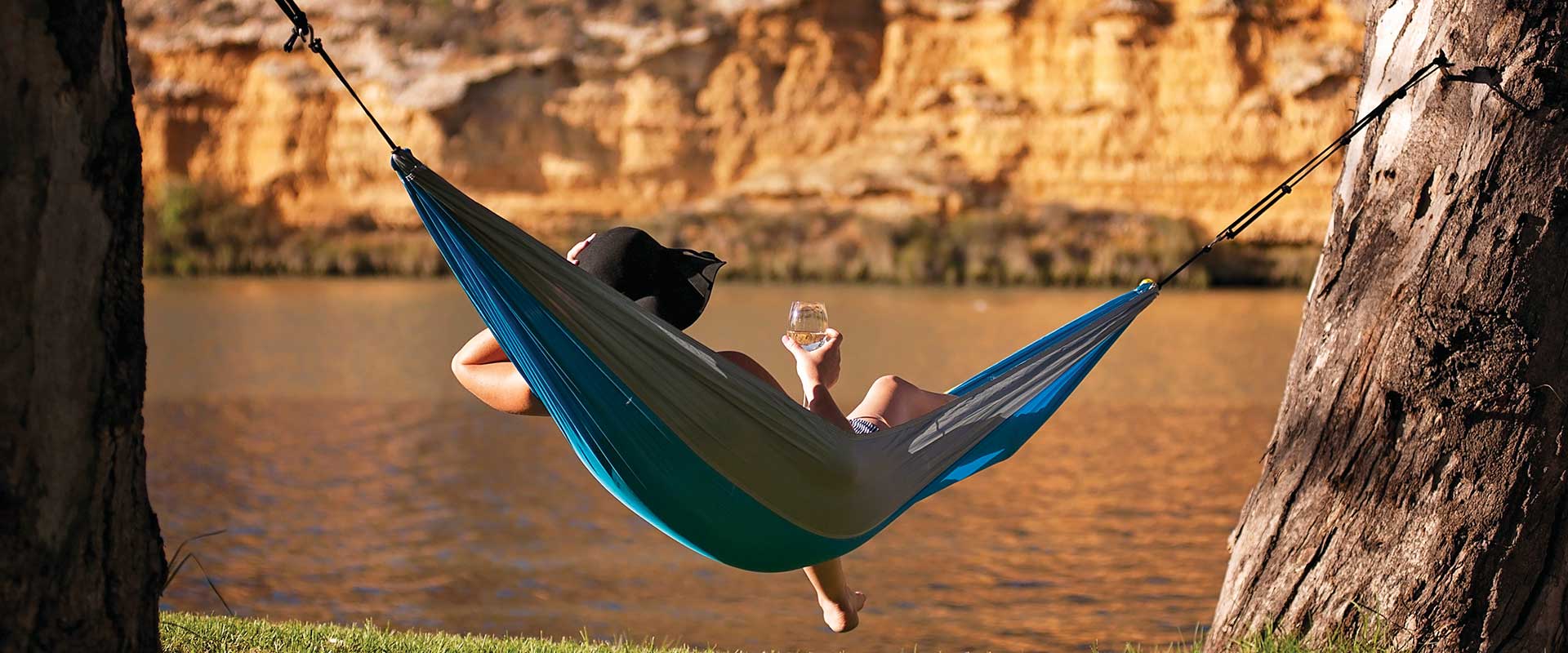 If you prefer freshwater fish, head to the Murray River. The most popular angling and eating fish is callop, also known as golden perch or yellow belly. The famous Murray River yabby is abundant from October to April, especially after high winter and spring flows. The best spot for yabby fishing is Katarapko Creek in the Murray River National Park.

The legendary Murray cod is a protected species and must be returned to the water. Refer to the Primary Industries and Regions SA's (PIRSA) website for more information.
TOP FISHING CHARTERS 
Reef Encounters, YORKE PENINSULA
Yorke Peninsula's Reef Encounters specialise in deep sea, long range and liveaboard overnight fishing charters. On charter, you'll visit some of the best deep sea fishing locations including Wedge Island, Althorpe Island and Neptune Island, with hauls including Snapper, Nannygai, Southern Bluefin Tuna, King George Whiting, Morwong, Groper, Samson, Trevally, Harlequin and Kingfish. 
PORT MACDONNELL FISHING CHARTERS, LIMESTONE COAST
Established in 2000, Port MacDonnell Fishing Charters offer private, personalised year-round charters. Welcoming both singles and groups, fishing experiences can be fully customised. Take your pick from summer reef fishing, southern bluefin tuna fishing or design your own tour.
Australian coastal SAFARIS, EYRE PENINSULA
Australian Coastal Safaris knows the Eyre Peninsula like no one else. Design your own custom fishing itinerary or learn from the locals. Discover the region's best fishing beaches, get up-close to native animals and dine on world-famous food and wine. 4WD through sand dunes and rugged terrain, to secluded beaches where you're guaranteed to reel-in a seafood feast. 
KANGAROO ISLAND FISHING ADVENTURES, KANGAROO ISLAND
Kangaroo Island Fishing Adventures are one of South Australia's finest fishing charters. Explore the jaw-dropping Kangaroo Island coastline and access arguably the most prolific fishing waters in South Australia. Once you're finished angling for the day, return to your own luxury accommodation, provided as part of the package.
COWELL FISHING ADVENTURES, EYRE PENINSULA 
Looking to snag a big kahuna? Join Cowell Fishing Adventures for the ultimate seafood safari. Come face-to-gill with King George whiting and experience wild Eyre Peninsula seas. Offering some of the best fishing in South Australia, Cowell Fishing Adventures are located south of Whyalla and operate full or half-day fishing charters, available seven days per week.
MORE FISHING CHARTERS
Reel in a comprehensive guide to South Australia's fishing charters here. 
SAFETY AND REGULATIONS
When fishing in South Australia, be aware of protected species, marine park sanctuary zones, minimum sizes, bag limits and licences. There are penalties if you break the law.
Find out more information about licenses, from how to apply to how much they cost.

It is important to remember that bag and size limits apply to most fish species caught in South Australian waters. Some fish also have closed seasons and others are completely protected. The limits vary, so it is important to make sure you are well aware of what you can catch and how much of it you can take home.

Primary Industries and Resources South Australia (PIRSA) is responsible for fishing regulations in South Australia. See PIRSA's recreational fishing website for a searchable list of fishing limits and fish sizes. 

Download the SA Recreational Fishing Guide app for iPhone, Windows or Android.
If you have questions about fishing bag limits and sizes or want to report any illegal fishing activities, contact the 24 hour Fishwatch number on 1800 065 522 for information on fishing rules and regulations.
For the most up-to-date weather and tide times visit the Bureau of Meteorology.