Welcome to South Australia's Kati Thanda-Lake Eyre: a glistening salt pan spanning hundreds of kilometres, transformed by desert downpours into a thriving oasis.
Stretching a mind-boggling 144 kilometres by 77 kilometres, Outback South Australia's Kati Thanda-Lake Eyre is a natural wonder. Its seemingly-endless expanse of shimmering salt crystals lure travellers year-round, but the real magic happens when the lake is flooded by desert rain. Once every few years, networks of channels, streams and floodplains converge in Kati Thanda-Lake Eyre National Park, bringing with them an abundance of wildlife, stunning natural beauty and dreamlike pink and orange hues. 
With the help of our guide to Lake Eyre, find out how and when to visit, what Lake Eyre tours to do and where to stay when you visit Lake Eyre.
For more information and to check current conditions, see the Bureau of Meteorology website.
1. HOW TO GET THERE AND HOW TO SEE IT
FLY OR DRIVE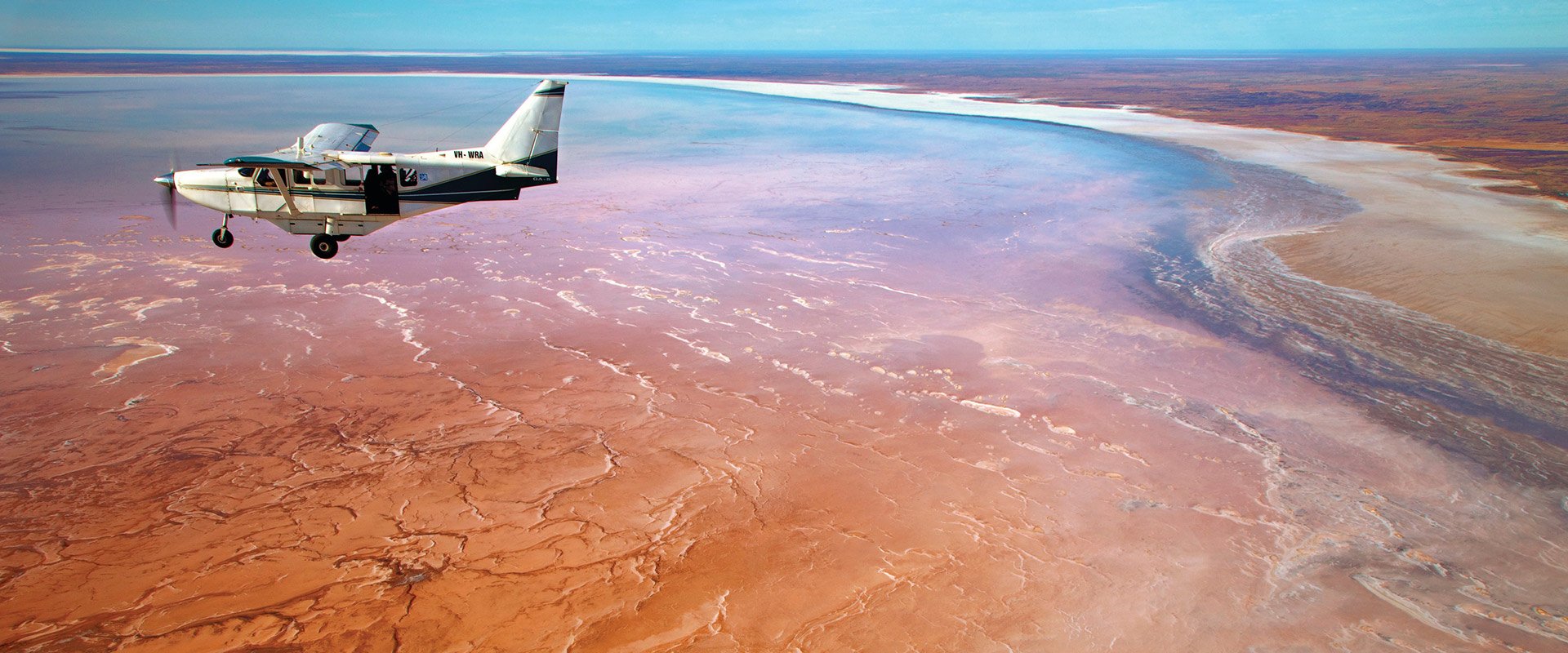 The best way to get to Kati Thanda-Lake Eyre National Park is by plane. Two, in fact. Fly from Adelaide to South Australia's underground opal town, Coober Pedy, spend a couple of days exploring, then hit the skies for a tour over Lake Eyre with 
Wrightsair
. 

If you're an avid four-wheel-driver, fly from Adelaide to Coober Pedy, hire a car, then drive approximately two hours to William Creek for a Wrightsair tour. The drive to Willam Creek will take you across the gigantic Anna Creek Station: the world's largest cattle station, bigger than Israel (!), and also takes-in a section of the famed Oodnadatta Track.
Before driving, please keep in mind that Kati Thanda-Lake Eyre National Park is one of the most remote places in Australia. See our Flinders Ranges and Outback driving safety tips and make sure you prepare.
JOIN A TOUR
One of the most popular (not to mention jaw-dropping) ways to experience this natural wonder is on a Lake Eyre Tour. Choose from a range of specialised Lake Eyre tour guides to view Lake Eyre from the air or from the ground.