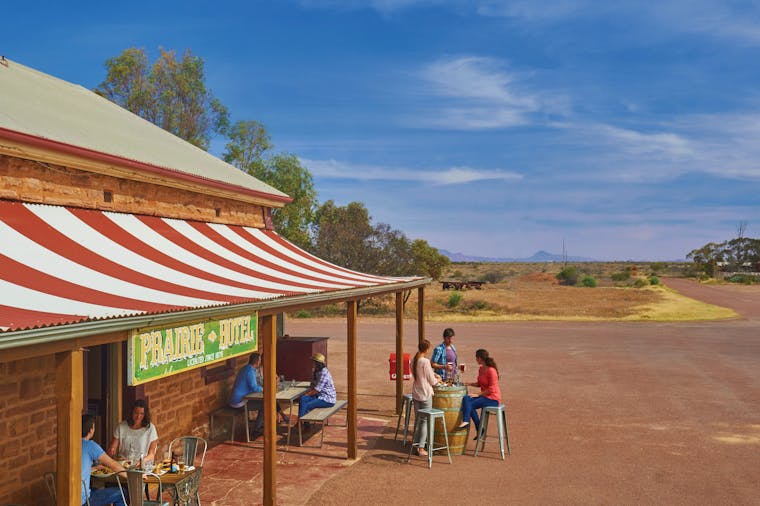 Prairie Hotel
14 May 2020 - 14 May 2021
Price from $195
Overview
Where the desert meets the Flinders Ranges, The Prairie Hotel, Parachilna, South Australia, is an outback icon.
First licensed in 1876, Ross Fargher, fourth generation local cattleman, and wife Jane, bought their 'local' in 1991 and created the quintessential Australian outback hotel they run today.
A perfect base for exploring the area, The Prairie's tiny footprint on the vast landscape belies its guest options: Plane and helicopter flights, on-ground touring, guided visits to internationally significant Ediacaran fossil sites, world class hiking and biking.
The hotel is a destination itself, radiating a quirky, elegant, relaxed country style. The restaurant is renowned for feral fare with flair and innovative use of native ingredients, accompanied by its own 'The Flinders Range' condiments and fossil inspired wine range plus 'Fargher Lager'.
Hotel accommodation is in refreshed original bedrooms and eco-designed in ground rooms. Adjacent, self contained Fettlers' Cabins, and the Prairie Overflow offers modest air-conditioned accommodation with shared bathroom facilities.
Join locals and visitors, famous and infamous, to savour a Fargher Lager, an FMG (Feral Mixed Grill), and a Parachilna sunset from the front verandah.
The Prairie is 90 kilometres of bitumen north of Hawker in the Flinders Ranges.
The Prairie is currently closed, regrouping and adapting to COVID-19 conditions. We will respond to emails when possible, and look forward to offering fresh, safe experiences to Prairie guests soon.
Features
Australian Hotels Association
Australian Tourism Export Council
Regional TouristTourism AssociationOrganisation

Bar
Carpark
Communal Lounge
ConferenceFunction Facilities
Laundry
Non Smoking
Outdoor Dining Area
Outdoor Furniture
Restaurant

Disabled access available contact operator for details

Price
From $ 195 to $ 350