---
GETTING AROUND
BY CAR
From Melbourne drive to Adelaide in just under eight hours, or take the scenic route along the Great Ocean Road into South Australia. From Sydney, a trip is about 14 hours drive time. 
BY AIR FROM WITHIN AUSTRALIA
Adelaide is easily accessible from all Australian airports by all major domestic airlines. Flight times from:
Melbourne is less than one hour 
Sydney is just one hour and 10 minutes
Brisbane is just one hour and forty five minutes
View our airlines access page for routes, airlines and more information.
BY AIR FROM OVERSEAS
Adelaide is serviced by the world's best international airlines including Qatar Airways, Singapore Airlines, Malaysia Airlines, China Southern Airlines, Emirates, Cathay Pacific, Air New Zealand, Jetstar International and Fiji Airways.
BY RAIL
Great Southern Rail offers three interstate travel options to Adelaide: The Overland from Melbourne; The Ghan between Adelaide, Alice Springs and Darwin and The Indian Pacific which runs between Perth, Adelaide and Sydney.
BY BUS
Travel by coach from Melbourne to Adelaide with Firefly Express.
BY SHIP
International and domestic cruises berth in South Australia on a range of vessels, from smaller boutique ships to mega-liners. There are two berths; one at Port Adelaide-Outer Harbor and the other on the Eyre Peninsula at Port Lincoln. There are also two anchorages, one at Penneshaw on Kangaroo Island and the other at Robe on the Limestone Coast.
INTERNAL FLIGHTS
Once you arrive in Adelaide, getting around is easy. Within South Australia, Regional Express, and QANTASLink offer flights to regional centres.
BUS
The main coach terminal in Adelaide is the Adelaide Central Bus Station. All coaches depart from and arrive at this terminal. Look at Greyhound Australia, LinkSA or Premier Stateliner.
FERRIES
Less than two hours drive from Adelaide, the SeaLink ferry can transport you and your car across to Kangaroo Island. Alternatively, KIC (Kangaroo Island Connect) is an express ferry service that will get you to Kangaroo Island where you can either hire a car, van or RV near the ferry terminal in Penneshaw. There are three departures each day and extra services during peak times. Refreshments are available on-board.  Crossing the Murray River is easy with free vehicle ferries. Each operates 24 hours a day, seven days a week, unless otherwise advertised. If you are travelling west, you can take the Spencer Gulf Searoad vehicle and passenger ferry to connect you from the Yorke Peninsula to the Eyre Peninsula. The ferry cuts between the two peninsula's and saves you time on the lengthy round Gulf road trip, departing Wallaroo on the Yorke Peninsula and arriving at Lucky Bay on the Eyre. While the ferry schedule varies seasonally, there is usually one ferry a day operating for travellers. Fares range from $36 for walk on adult passengers and $165 dollars for a vehicle - with additional fees for caravans and motor homes. 
PUBLIC TRANSPORT WITH ADELAIDE METRO
Choose from trains, trams and buses with Adelaide Metro.
The Adelaide Metro Visitor Pass includes unlimited travel for three consecutive days as well as a visitor pack with maps and travel guides. 
Explore with the free City Connector Loop-Bus which runs frequently until about 6pm each day and Fridays until 9pm seven days a weeks and stops include the South Australia Museum, Adelaide Botanic Garden, Rundle Street (East End), Adelaide Central Market, Hindley Street precinct, UniSA and Adelaide University. There is also a free connector service to North Adelaide.
A tram ride through the city's centre is free and will take you between the South Terrace tram stop and the Entertainment Centre at Hindmarsh.
Stay on the Glenelg-bound tram (fee applies) and you'll be at Adelaide's premier beach in about 30 minutes. The tram stops along Jetty Road (travel along Jetty Road is free) and terminates at the beach.
To and from Adelaide Airport is easy with the Adelaide Airport Bus services.
TAXI & UBER
Get around the city easily with a taxi or Uber. You can be dropped off to and from the Adelaide Airport with both services.
PRIVATE TOUR GUIDES AND CHAUFFEUR
Enjoy a customised experience with one of Adelaide's many private tour guides, chauffeurs or other transport options.Take the stress out of travel and indulge in the personalised service and learn from the extensive knowledge of locals.
RIDE A BIKE
There are more than 500 bikes available from Adelaide Free Bikes. You can pick one up from 20 city locations. Find out more.
ECOCADDY
Within the city streets, you'll find this eco-friendly, short-trip public transport an option when it's a bit too far to walk. You can also discover Adelaide on a tour with EcoCaddy, visiting markets, green spaces, laneways and museums.
HIRE CARS
There are numerous hire car companies that can help get you on the road. See the full list here.
DISABILITY SERVICES AND ACCESSIBILITY
Disability services in South Australia are provided by the government and by approved non-government and private agencies. Schools and health services often have dedicated staff who can provide general help to people with disability and their families and carers.
Find out more about disability parking, taxi services and public transport, vision impaired travel, concessions and more on the Department of the Premier and Cabinet website.
THE GOOD SCOUT TRAVEL CO.
The Good Scout Travel Co. will help you plan your next accessible adventure. Find accommodation options, experiences and tailored destination information to suit your access needs. Check out The Good Scout Travel Co. for more information today.
DRIVING IN SOUTH AUSTRALIA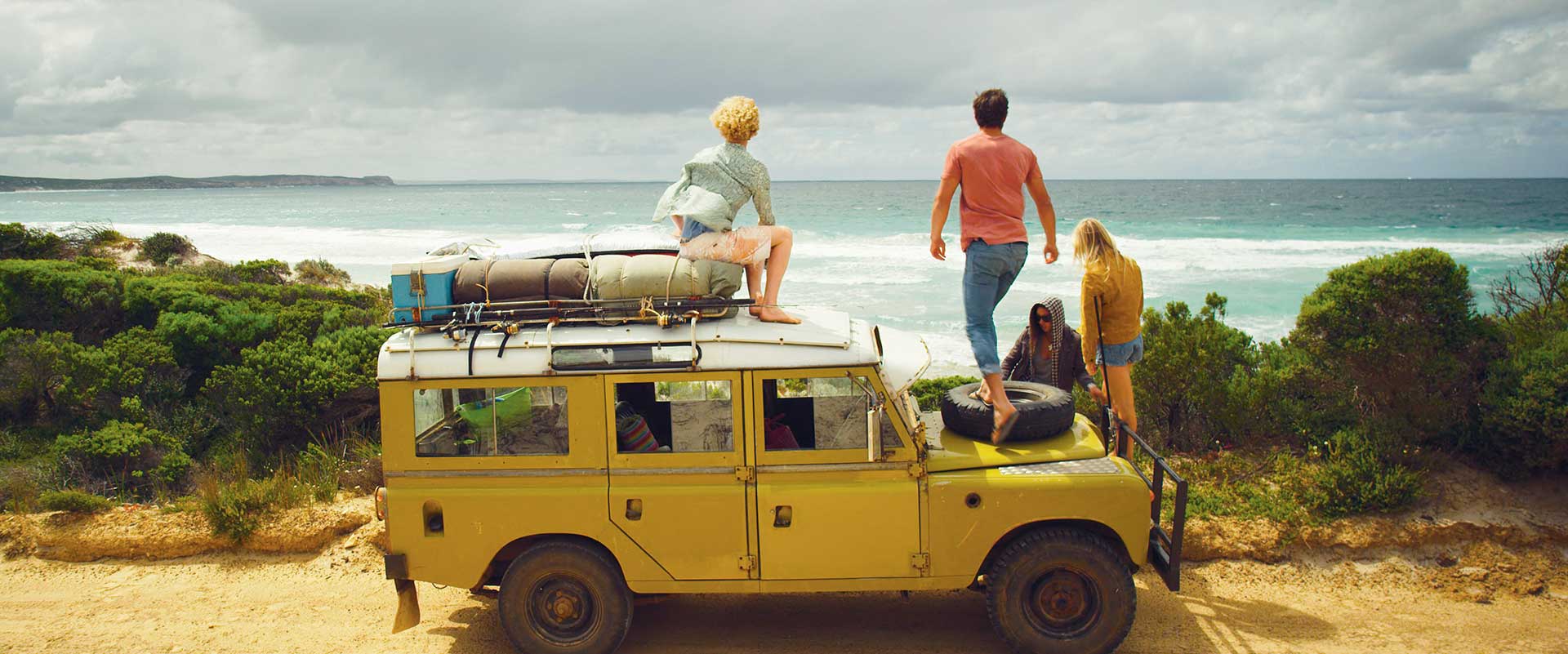 DRIVING
If you are visiting from overseas, or you've moved here permanently, make sure that you are driving legally and safely. If you are just visiting Australia, you can drive the same type of vehicle as your current licence allows, but you must drive according to any conditions on your overseas licence. You will need either one of these:
a current licence issued in another country that is written in English
a current licence with an English translation if necessary or an international driver's licence (see below)
International drivers licence. See full information on the South Australian Government website
Mandatory documentation includes:
Ensure you carry your licence documents at all times when driving and produce these and your passport to police on request
You must not be disqualified from driving in any country
If your overseas licence expires while you are in Australia, you must get an Australian licence.International driving permit
Your international driving permit (IDP) must be issued by the same country that issued your driver's licence. The permit verifies in several languages that you have a valid driver's licence
Quick Road Rules:
Drive on the left in Australia
SAFETY TIPS
Drive on the left in Australia 
There are many dirt, gravel and unsealed roads in the outback and other regions, including Kangaroo Island
 Extra precaution should be taken when driving in these conditions and the appropriate insurance should be purchased
Check with your car hire company to make sure you can take your hire car on dirt roads
You should avoid driving between dusk and dawn, and in poor weather when outside city areas. Kangaroos, emus and koalas are known to wander into traffic unexpectedly, particularly in low light
Visit our driving in the Flinders Ranges and Outback page for safety information and tips
BLOOD ALCOHOL LIMIT
The legal blood alcohol concentration (BAC) limit in Australia for a fully-licenced driver is under 0.05.
South Australian Police operate mobile drug and breath testing units year-round. It is an offence to drive with a BAC over 0.05. For more information, visit the Legal Services Commission website.
CAR HIRE
You will find car hire facilities at the Adelaide Airport and throughout the city and suburbs. Some of our most popular car hire businesses are Budget, Thrifty, Avis, Europcar, Hertz and RedSpot Sixt. You can hire a car with any valid driver's licence as long as it is in English. For licences in other languages you will need to supply an approved English translation or International Driving Permit (IDP). Please note that some car hire companies will not allow you to hire a car unless you have had your driver's licence for at least a year. 
FREE WI-FI
Connect to our free Wi-Fi network around South Australia and share your travels using #SeeSouthAustralia. There are a total of 60 Wi-Fi hotspots across South Australia from the Adelaide Hills to the Barossa and Kangaroo Island. Find out more here.
DUMP POINTS
Visit the Campervan & Motorhome Club of Australia website for a full list of dump points in South Australia.