OUTBACK AND FLINDERS RANGES DRIVING: STAYING SAFE AND KEEPING ON TRACK
As exhilarating as driving in the outback is, you need to take precautions. Stay safe and prepare. Follow our guide on the best safety tips to ensure a safe trip through some of the world's most exhilarating 4WD-ing country.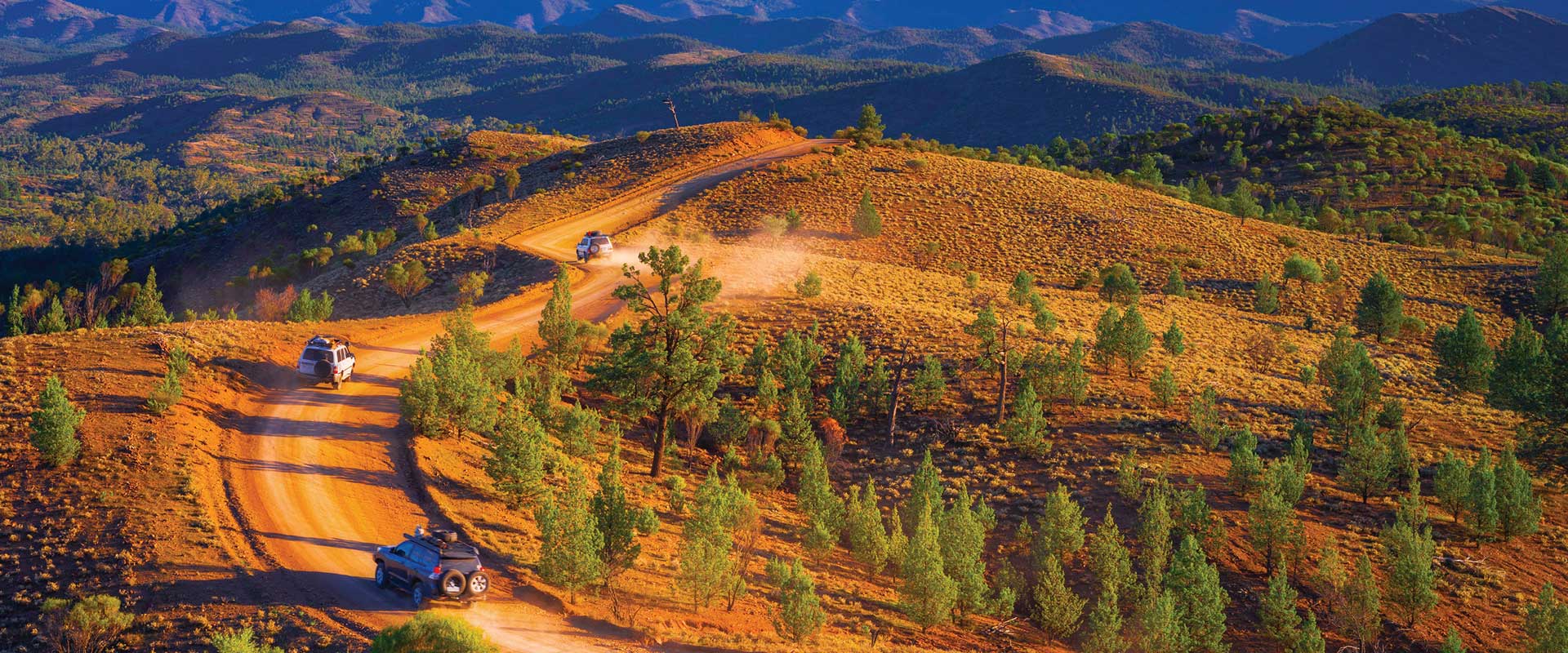 EMERGENCY INFORMATION
EMERGENCY AND EMERGENCY ALERTS
Call 000 (triple zero) for emergency fire, police and ambulance assistance throughout Australia or if a crime is in progress. From mobile phones, the number is 112. For non-emergency police attendance, call 131 444.
Hire appropriate emergency communication equipment e.g. satellite phones, High Frequency (HF) radio. In an emergency, stay with your vehicle.
Emergency Alert is the national telephone warning system used by Australian emergency management agencies. The system sends voice messages to landlines and text messages to mobile phones within a defined area, about likely or actual emergencies such as flood, fire or extreme weather events.
If you are staying or travelling in South Australia, you may be sent a text message based on the last known location of the handset at the time of the emergency. Emergency Alert messages can be sent to prepaid mobile phones. You do not need to register for Emergency Alert.
ROADSIDE ASSISTANCE
Roadside assistance in South Australia is offered by the Royal Automobile Association (RAA). Its services are available to visitors from other states and some overseas' visitors.
FIRE INFORMATION
A fire danger period exists between November and April each year in South Australia. This can be extended, depending on the seasonal weather conditions. During fire danger periods, there are fire restrictions that apply. These include total fire ban days. For up to date details about fire bans and fire safety information, visit the Country Fire Servicewebsite or telephone 1300 362 361.
TOP 5 SAFETY DRIVING TIPS 
1. Plan ahead
When driving in the outback, it is important to plan ahead. If you are camping, please use gas stoves because firewood is scarce. You will also need a Desert Parks Pass. Due to the high temperatures in the outback, the cooler months from May to October are the best times to travel.
2. Driving in the outback
Always check for up to date information before travelling on four-wheel drive (4WD) tracks in the Flinders Ranges and Outback. Take adequate food, water and petrol in case of a breakdown and tell someone your journey plans. When travelling in remote areas, always carry a satellite phone in case of emergencies. Regular mobile phones will not work.
Interstate visitors staying less than three months in South Australia may drive with their current driver's license from any state or territory. Overseas visitors may drive in South Australia for up to 12 months with an international permit.
Get advice on the terrain, conditions and safety requirements. Contact South Australia's Royal Automobile Association (RAA) before leaving and drop into one of the Visitor Information Centres along the route.
Take frequent rest breaks, change drivers regularly and be aware of how close you are to facilities and services (fuel, water, medical).
Sharing the road
You are sharing the road with everyone, from cyclists to road trains (trucks and lorries). Be considerate of other vehicles and prepare for wind turbulence from large trucks. Allow a lot of room to overtake trucks. They are very long and can't stop quickly. 
Watch out for livestock and wildlife, as they often stray onto the road. Avoid driving at sunrise and sunset when animals are most active. Dust from dirt roads can obscure your vision so slow down or stop until the dust settles. 
Obey road closure signs and stick to the main roads. If you encounter gates, they should always be left as they were found. Open gates should be left open and closed gates should be closed after passing through them. Avoid tracks that are for private use only or that are not marked on maps.
3. Take water with you
Always carry plenty of water with you. Take care when travelling in remote areas during summer, as temperatures in outback Australia can reach over 40°C (104°F). Always wear a hat, shirt, sunglasses and SPF30+ sunscreen. Tell friends or family your travel plans and when you expect to return. Carry extra supplies of water and food. Carry spare tyres, tools and plenty of fuel.
4. Road conditions
Routes vary from excellent sealed roads like the Stuart Highway to the roughest of bush tracks. The Birdsville Track, Strzelecki Track and Oodnadatta Track are among the best four-wheel drive (4WD) tracks in the world and provide excellent access to the Northern Territory and Queensland. Be aware that seasonal conditions change the terrain of the roads from smooth, sandy tracks to corrugated, stony and rocky crossings.
Always check the latest road conditions before you venture into the outback. Phone the hotline on 1300 361 033.
If you're unsure of any aspect of your holiday planning, call one of the Visitor Information Centres. Take a list of the numbers you will need with you too. Be well prepared and you will have a great holiday.
5. DUMP POINTS
Visit the Campervan & Motorhome Club of Australia website for a full list of dump points in South Australia. You can find out more  information, including their location and access details, by logging onto GeoWiki.