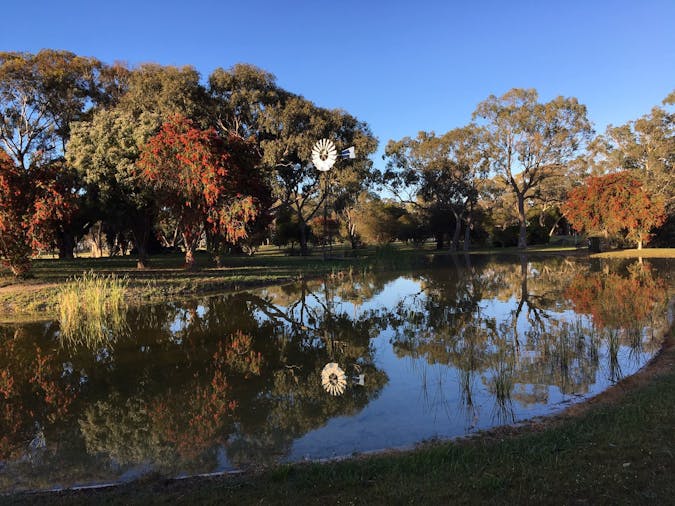 Overview
Lucindale is a small country town with a community that's big on hospitality.

Join the 22,000 people who flock to Yakka Park for the South East Field Days in March. See exhibits on agriculture, technology, craft and services.

Other significant events hosted at Yakka Park include the Yakka Park Music Festival held each year in April and the annual Lucindale Campdraft at Easter.

Also at Easter, competitors and spectators from all over South Australia gather at the Lucindale Country Club to play on the Limestone Coast's only lawn courts at the Easter Tennis Tournament. The Lucindale Country Club also boasts a scenic 18-hole, fully watered golf course with excellent clubrooms.

Art in the Sticks usually held on the October long week is a unique collaborative event set in the stunning surrounds of ancient gum trees, lush paddocks and historic buildings on 'Cluain' south of Lucindale. Complementing the range of art on offer are 'hands on' workshops, live music, poetry performances, artist-led rambles through the exhibition spaces, food offerings, local wines and boutique beers.

The terra rossa red gum country around Lucindale also produces wine grapes of the highest quality.

The Lucindale Historical Society Museum, features a collection of restored local buildings and a fascinating range of local history, Aboriginal artefacts, wartime memorabilia and pioneer machinery.

Centenary Park features a fenced playground, skate park, basketball half court, barbeque, rotunda with table and chairs, and public toilets. and the Lucindale War Memorial. Jubilee Park offers a mini lake and wetland with a bridge to explore the central island. The Lucindale football oval and netball courts are the sporting hub.

Lucindale is great for independent travellers with camp sites at the Caravan Park or Lucindale Country Club. There are self contained accommodation options and a RV dump point.
Features