Get up close and personal to wildlife in the wild on a South Australian swimming safari. 
From diving with sharks from the safety of a cage to splashing with playful sea lions without in the wild, here are out top 7 swimming safaris in South Australia.
1. DOLPHINS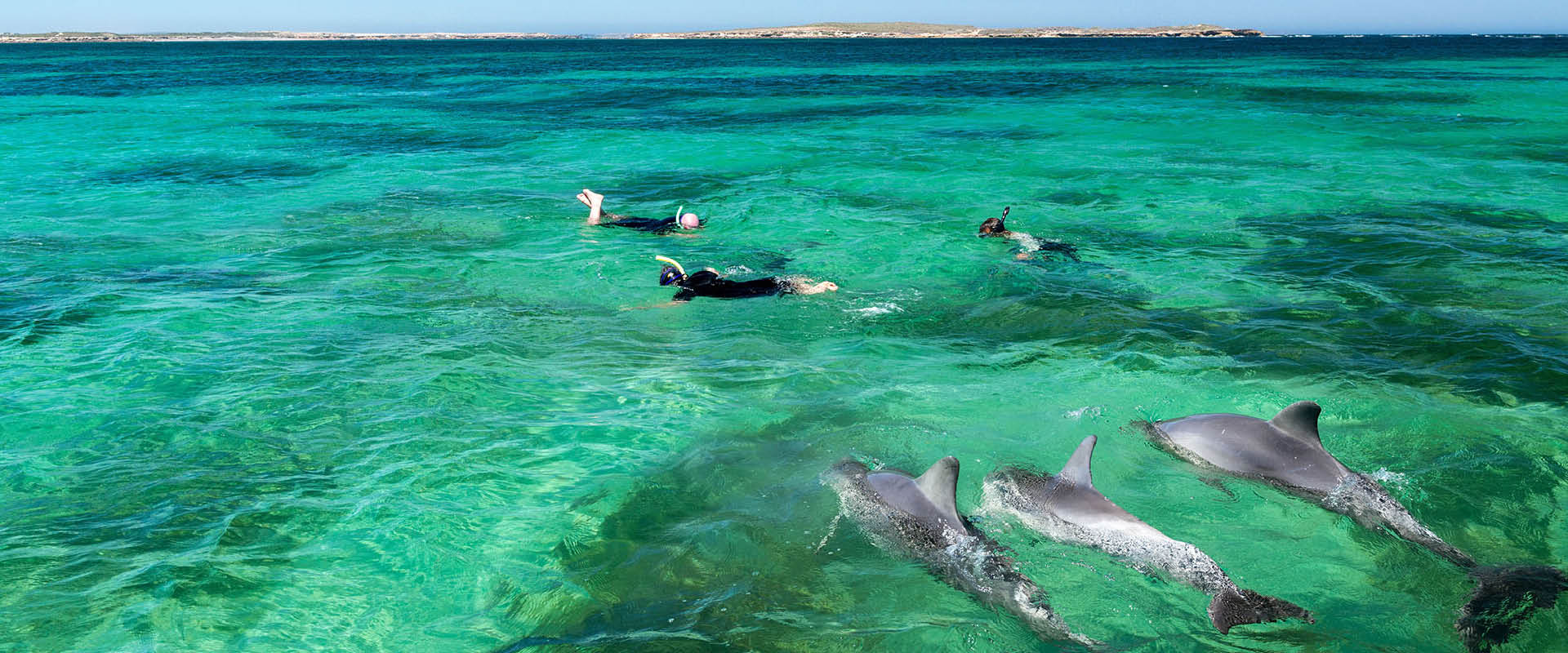 Dive into an underwater world and join wild dolphins in their natural habitat. Leap, splash and play until your heart is content.
Where: Baird Bay, Eyre Peninsula (50 minutes flight from Adelaide to Port Lincoln and 3.5 hour drive to Baird Bay from Port Lincoln). Glenelg beach (25 minutes from Adelaide's city centre) and Kangaroo Island (35 minute flight or 2.5hrs drive/ferry to Kangaroo Island).
Join a tour: Frolic with a pod of 25 resident dolphins at Baird Bay with Baird Bay Ocean Eco-Experience. Sail from Glenelg beach on a catamaran with Temptation Sailing, which offers dolphin viewing and swimming experiences. Kangaroo Island Marine Adventures offers charters from Kingscote and Emu Bay to remote coastal beaches where you can swim with wild bottlenose dolphins and frolic with seals.
2. SEA LIONS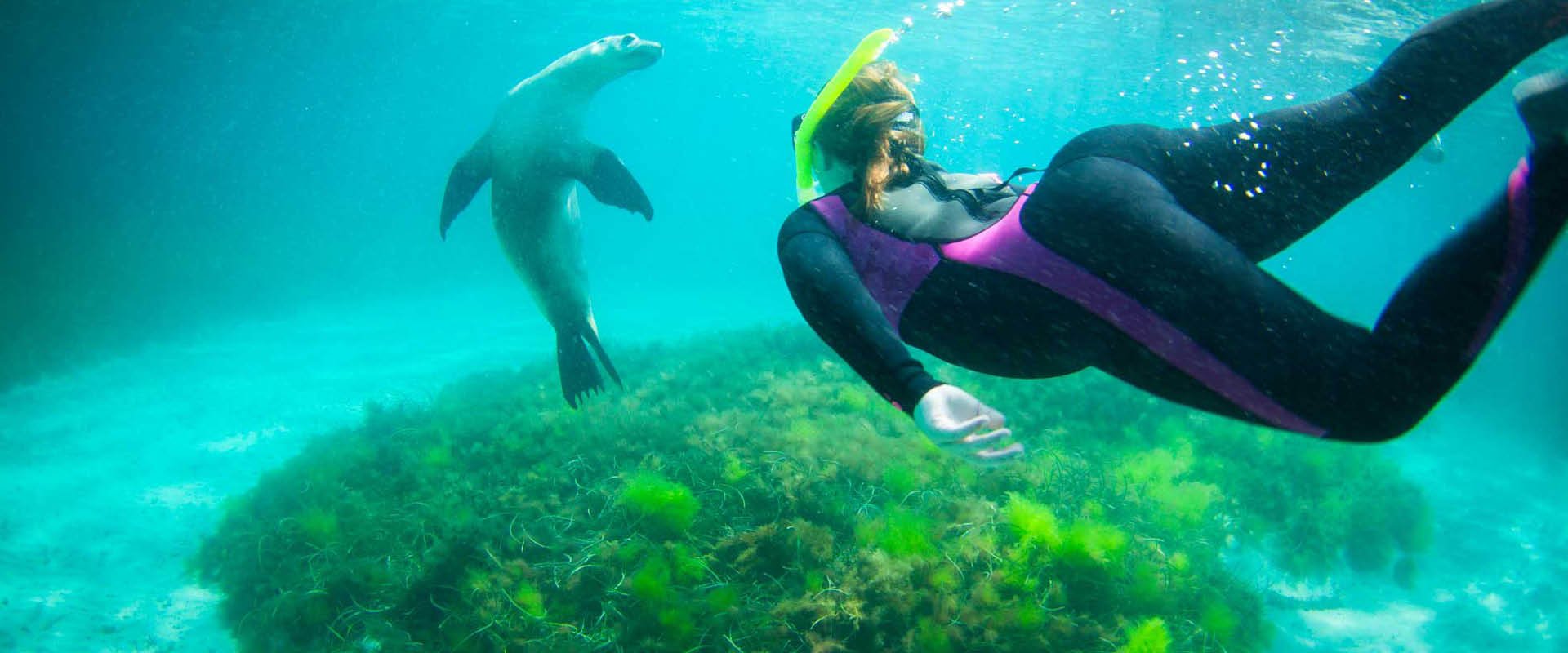 South Australia's beautiful clear waters make it the perfect place to take an ocean dip with sea lions. Friendly, playful and undeniably cute, our aptly nicknamed "puppies of the sea" are a hit with the whole family. Wild, but not shy, Eyre Peninsula sea lions will swim right up to you. Duck, dive, roll and race – just don't expect to be the star of the show.
Where: The best place to go swimming with sea lions is the Eyre Peninsula. In the sheltered waters of Boston Bay off Port Lincoln (a 50 minute flight from Adelaide) or at Baird Bay near Streaky Bay (about 3.5 hours drive from Port Lincoln).
Join a tour: Baird Bay Ocean Eco-Experience and Calypso Star Charters offer tours from Baird Bay and Port Lincoln respectively.
3. GREAT WHITE SHARKS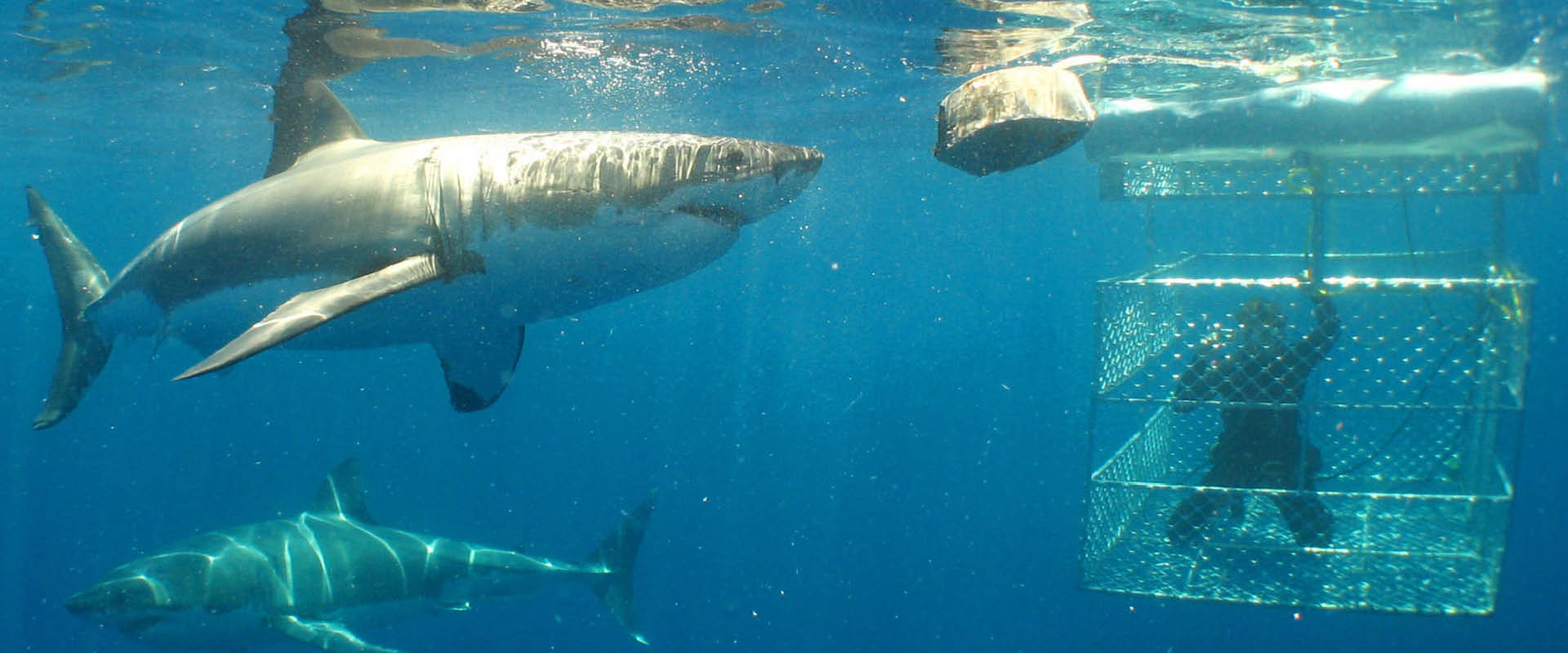 Push yourself to the limit on an adventurous shark cage diving expedition off the coast of Port Lincoln - the only place in Australia where you can come face-to-face with great whites in their natural environment. Great white sharks can grow up to seven metres long and can weigh more than 3000 kilograms. Fly to Port Lincoln from Adelaide in under an hour and join a full day boat charter which will take you to locations that are otherwise inaccessible.
Where: Port Lincoln, Eyre Peninsula (50 minute flight, or 8 hours drive, from Adelaide).

Join a tour: Two tour operators offer shark cage diving in South Australia, Calypso Star Charters and Rodney Fox Shark Expeditions. 
4. GIANT CUTTLEFISH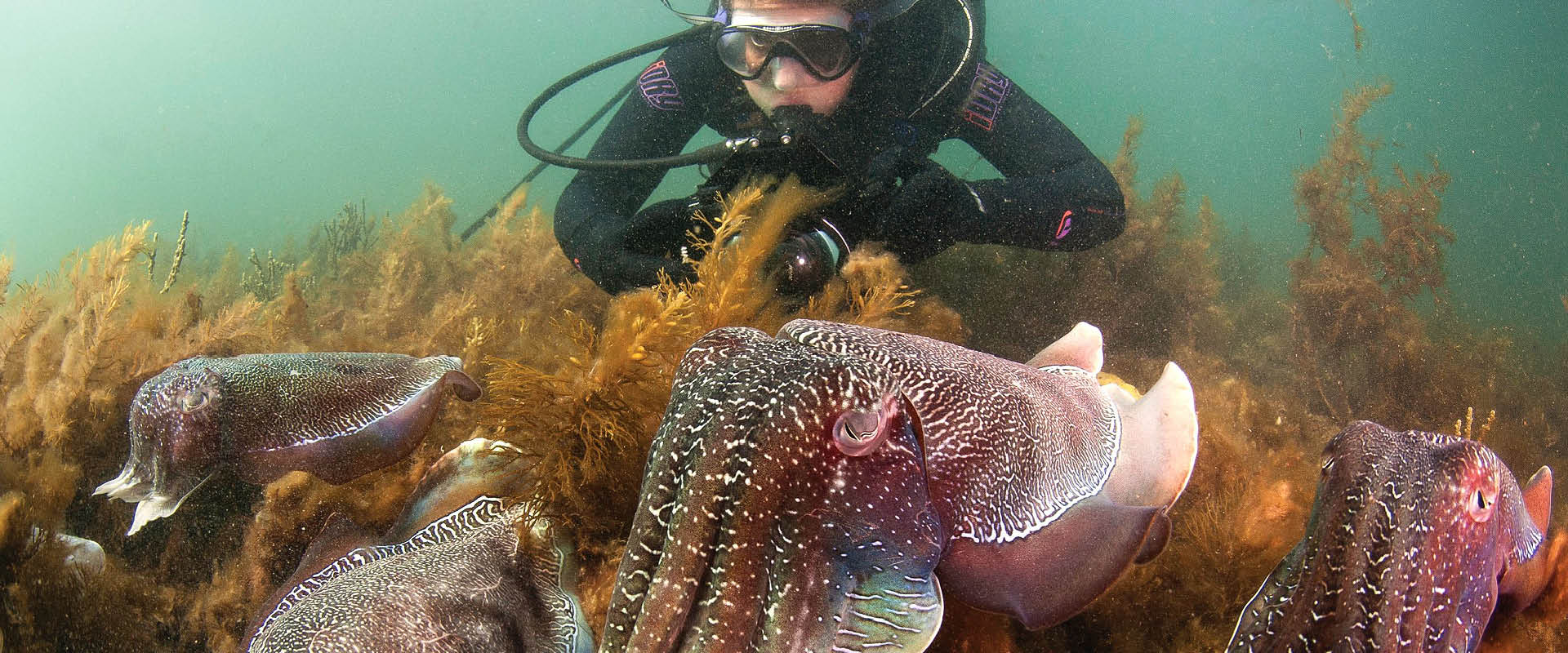 The annual migration of giant Australian cuttlefish is one of the most spectacular events under the water - and is unique to South Australia. Between May and August, they gather in their thousands to mate and spawn. Known as the chameleons of the sea, cuttlefish change their colours and patterns wildly as they swim around, making for an underwater circus that snorkelers and divers won't want to miss.
Where: Stony Point, Whyalla, Eyre Peninsula (about 5 hours drive from Adelaide). Follow the 60-metre pathway that leads to the high water mark. Launch yourself from this platform on a self-guided snorkeling adventure to witness these fascinating creatures.
Join a tour: PureSA offers a 2-day itinerary which includes a guided snorkel with cuttlefish and sightseeing in the Southern Flinders Ranges.
5. LEAFY SEA DRAGONS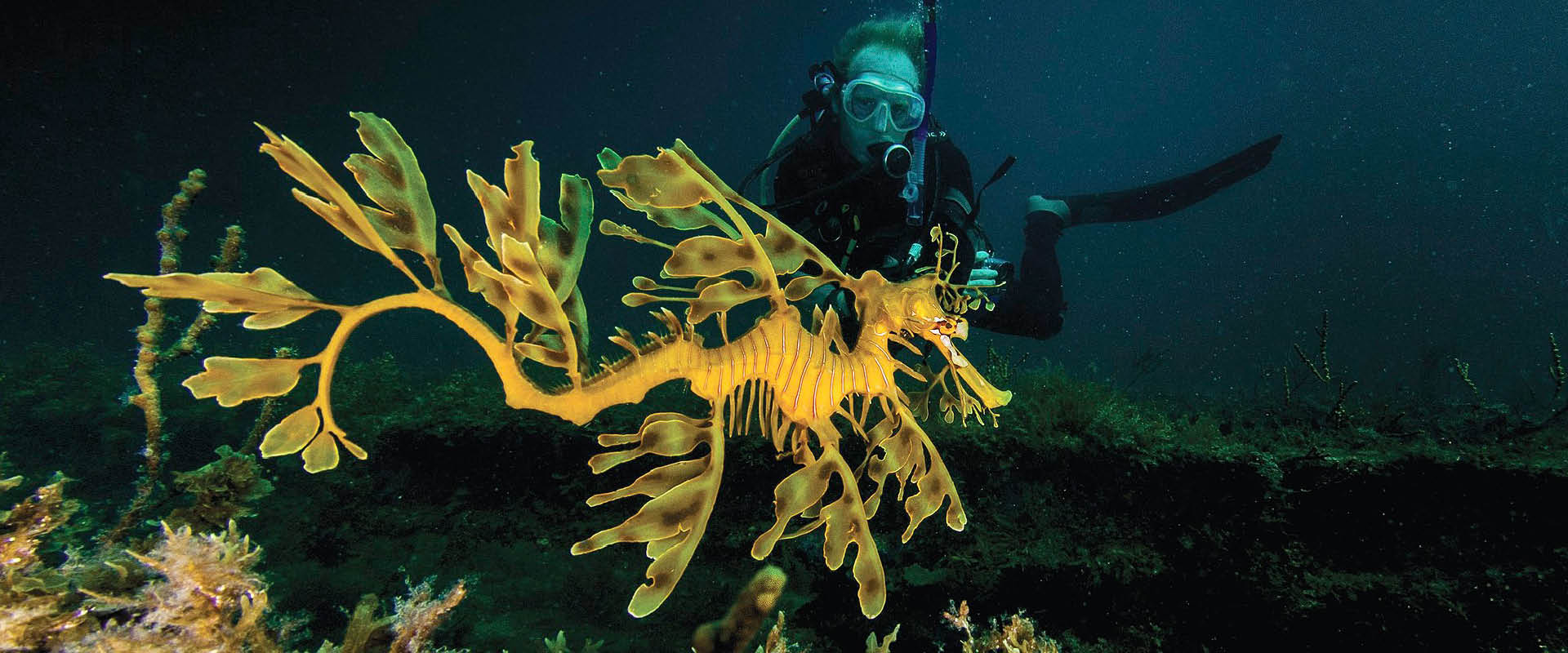 Unique to Australia, the Leafy sea dragon is also the marine emblem of South Australia. Shy and elusive, these beautiful sea creatures are a protected species. They can be spotted by keen scuba-divers floating gracefully among reeds, in reefs and around jetties.
Where: Rapid Bay jetty or reef at Second Valley, Fleurieu Peninsula (about an hour's drive from Adelaide); around several Yorke Peninsula jetties (about 2 hours drive from Adelaide); off the coast of Tumby Bay, Eyre Peninsula (30 minutes drive from Port Lincoln, which is a 50 minute flight from Adelaide); off the coast of Kangaroo Island (a 35 minute flight or 2.5hrs drive/ferry to Kangaroo Island).
Join a tour: Leafy sea dragon diving tours operate from Adelaide and Kangaroo Island.
6. EWENS PYGMY PERCH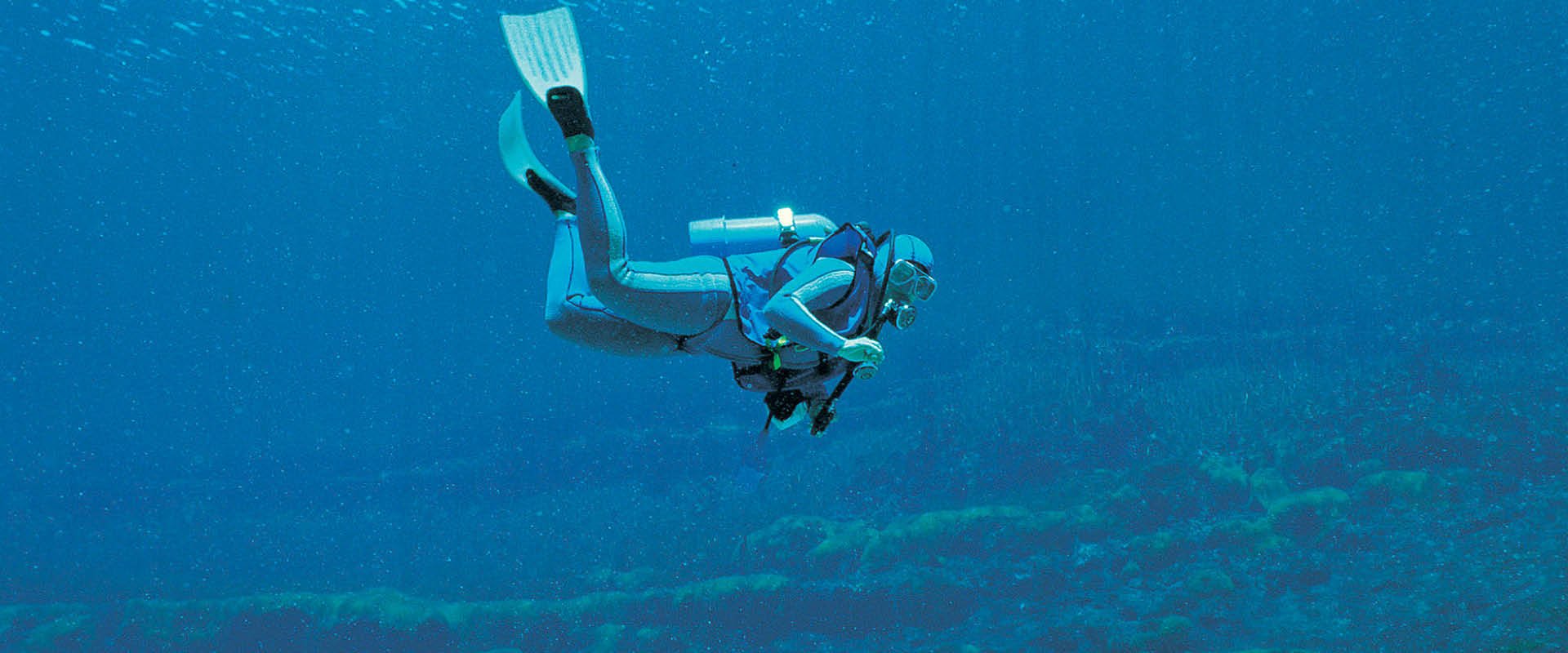 Snorkel and dive in large freshwater springs and through an underwater garden teeming with aquatic life, including the tiny and rare Ewens pygmy perch, native fish and freshwater crayfish.
Where: Ewens Ponds Conservation Park, Limestone Coast (a 1 hour flight from Adelaide to Mount Gambier and 30 minutes drive)
Join a tour: Self-explore but suited to experienced divers and snorkellers.
7. REEF FISH, STINGRAYS AND HERMIT CRABS
More than 200 marine plant species and 60 fish species call the Port Noarlunga reef home. Just 400 metres off shore and spanning 1.6 kilometres, snorkellers and scuba-divers will see fish like silver sweep, moonlighters, zebrafish, common stingrays, flatworms, pipefish, blue devil fish and wobbegong sharks. Look closely and you might see hermit crabs and nudibranchs.
Where: Port Noarlunga reef, 45 minutes drive from Adelaide.
Join a tour: Follow the self-guided diving trail or join a tour with Diving Adelaide.