Sleep deeply… 25 metres below the earth's surface in coober pedy's underground accommodation. 
Experience life underground in Coober Pedy and descend into a subterranean world like nothing you've experienced before. From modern dugouts, to hotels tucked inside hills and campsites burrowed into the red dirt of the outback, underground accommodation in Coober Pedy is at a temperate 24 degrees all year round. Start planning your outback adventure with our guide to Coober Pedy accommodation. 
1.
Dug Out B&B, Coober Pedy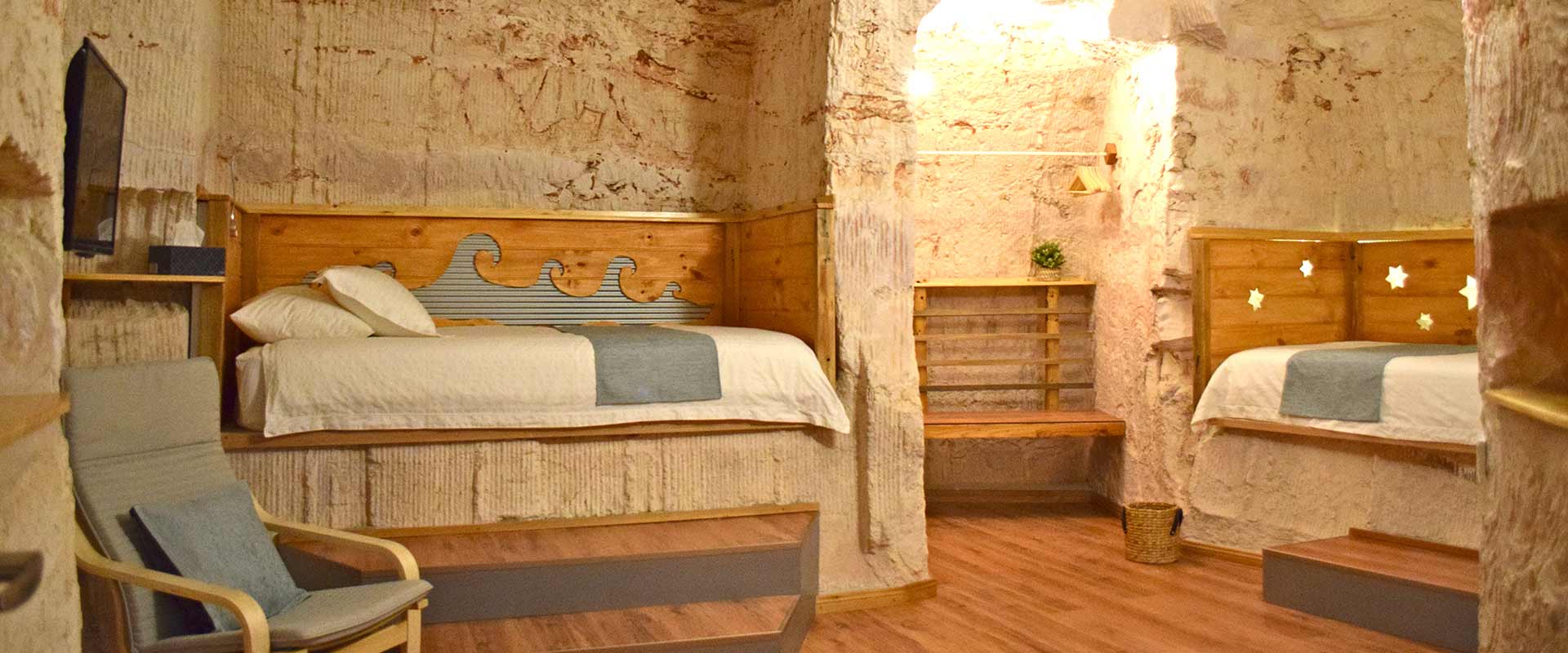 A short eight-minute drive out of town lies a desert oasis, Dug Out B&B. Nestled in one of Coober Pedy's iconic limestone hills, experience underground life in luxury at this modern dugout. Once an opal mine, each room (and even some of the furniture) is carved out of the earth, with beautiful naturally-textured sandstone walls. Kick back for a nightcap with endless views over the surrounding desert landscape and watch the sun set over the red earth before retreating underground for a soak in the tub. Free continental breakfast and an impressive collection of artworks from local artists are just a few of the extra touches that make this unique bed and breakfast memorable. 
2.
Lookout Cave Underground Motel, Coober Pedy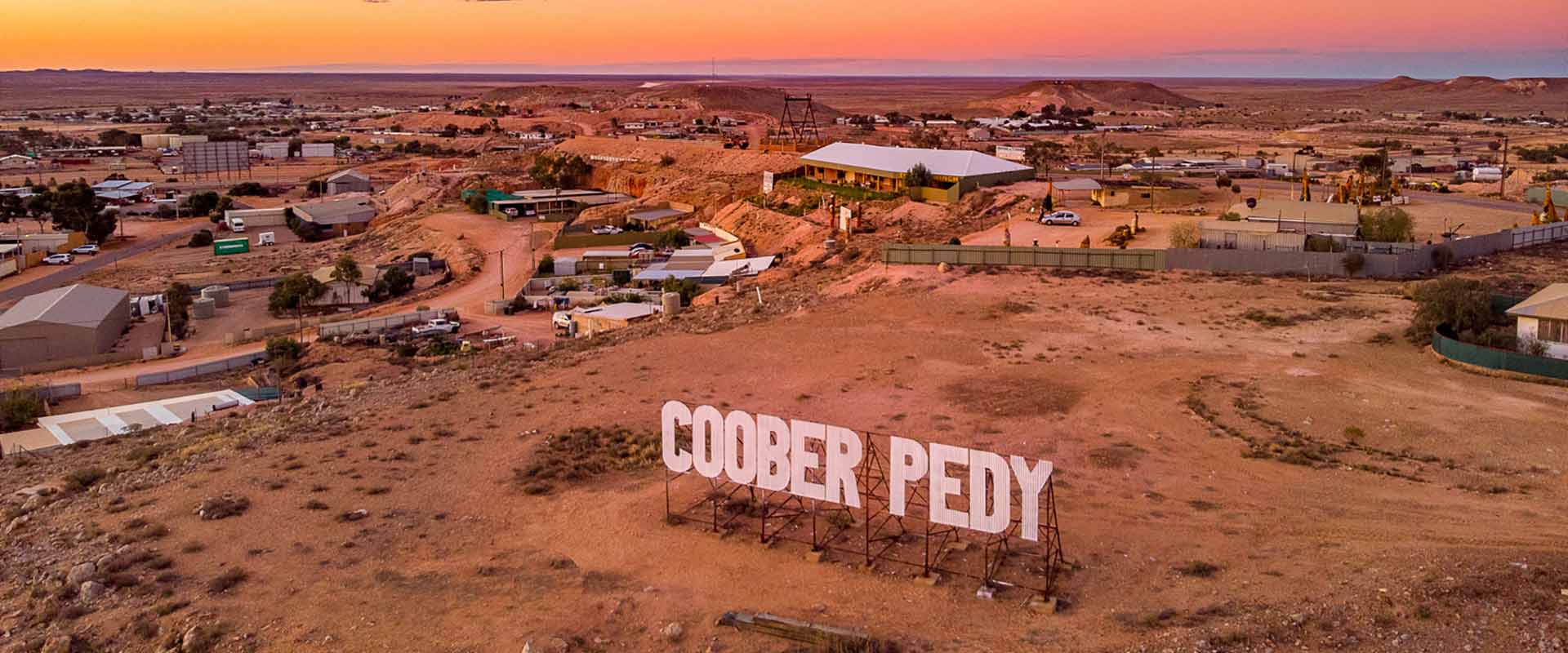 Perched above Coober Pedy with epic views across the mining town, Lookout Cave Underground Motel blends life underground with all the modern creature comforts an intrepid traveller could ask for. Just a quick three-minute trip from the centre of Coober Pedy, choose from accommodation options ranging from single rooms tucked up to 50 metres into the hillside to fully-equipped two-bedroom apartments. Before heading underground, head up to the roof (the top of the hill!) and enjoy a glass of bubbles under a blanket of stars – there's nothing like the night sky in the outback. 
3.
Desert Cave Hotel, Coober Pedy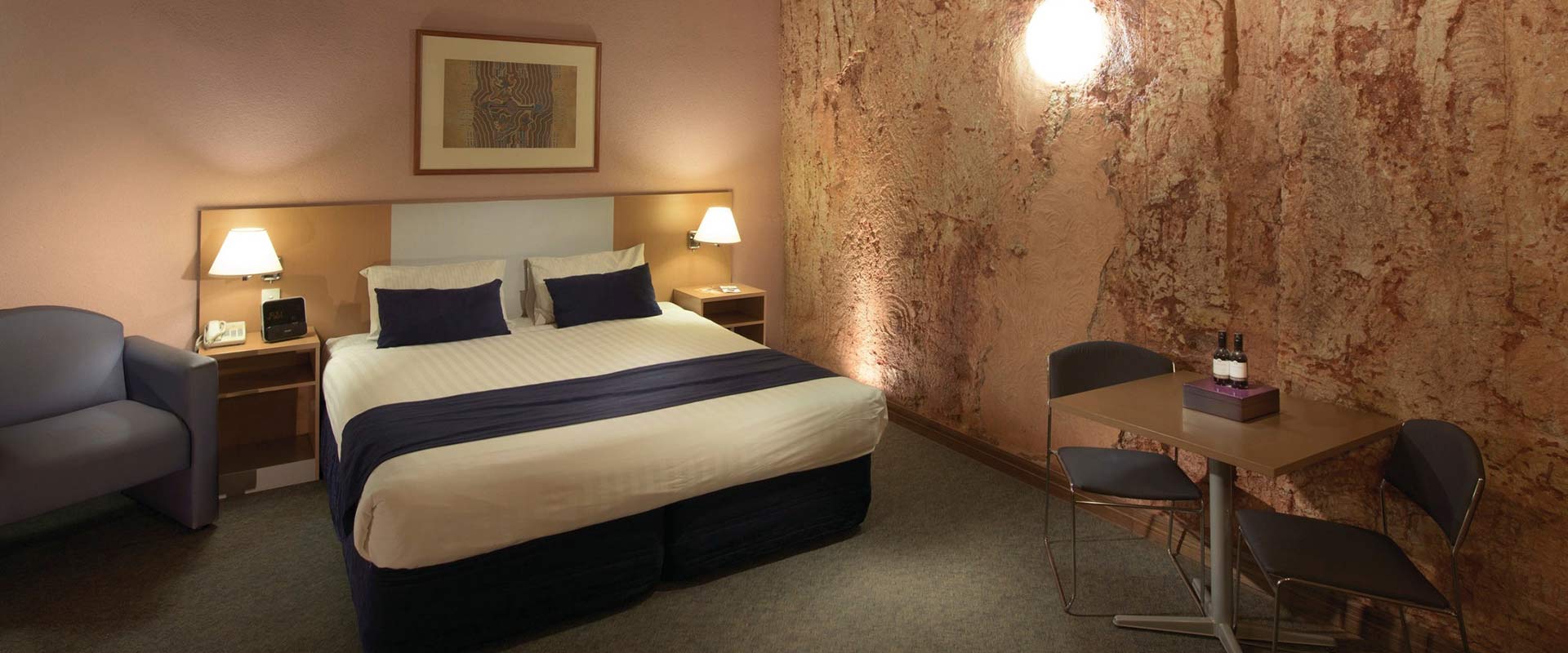 Descend deep into a labyrinth of underground rooms at the Desert Cave Hotel. Conveniently located in the red centre of Coober Pedy, major tourist attractions, shops and cafes are just a stone's throw away from this full-service hotel. After a day exploring Coober Pedy, escape the heat and retreat to the pool, refuel at Umberto's Restaurant or head to the world's only underground bar. Book yourself onto one of the many Desert Cave Hotel's tours to get the best out of your stay in Coober Pedy.
4.
Comfort Inn, Coober Pedy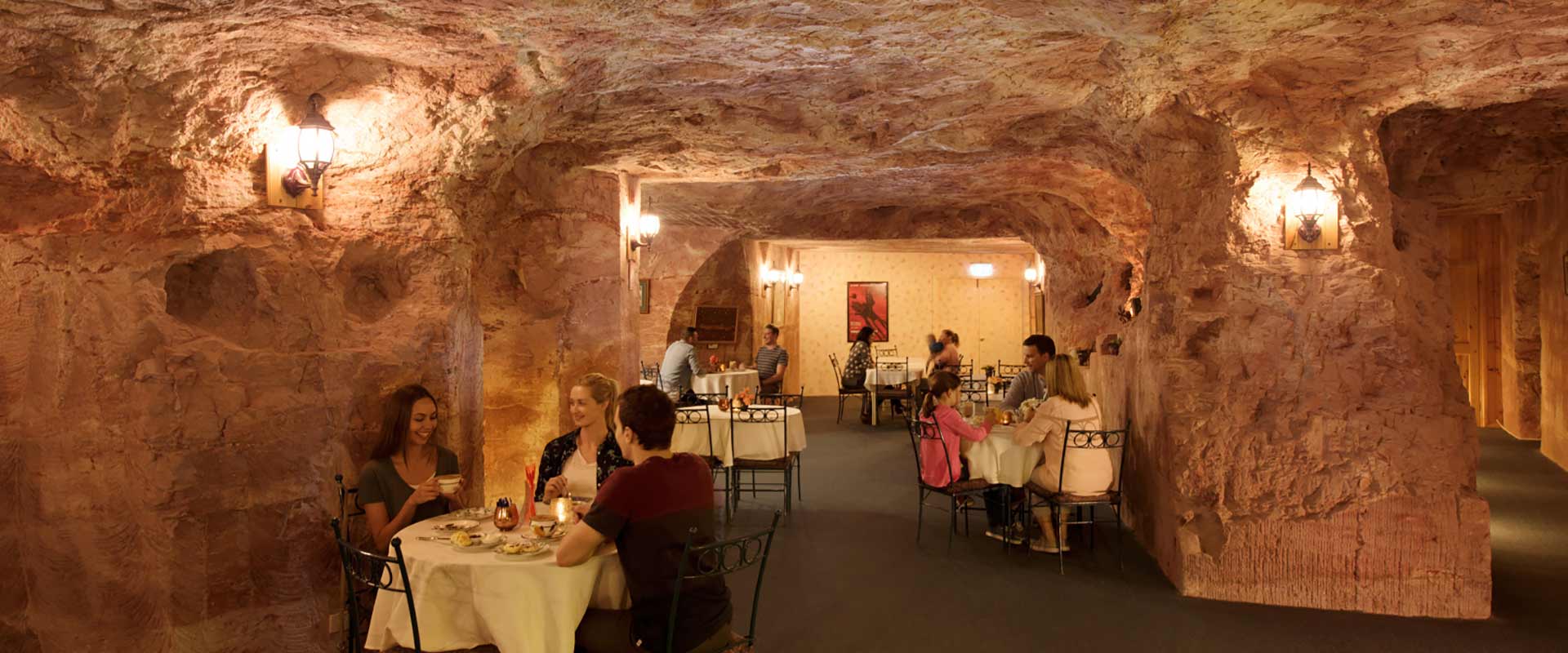 From mine to motel, the history of Comfort Inn Coober Pedy runs as deep as its myriad of underground rooms. Mined for opal from 1918 to the 1960s, the underground maze of tunnels was transformed into an underground motel complex in 1990. Dine underground at the on-site Soft Rock Café, learn about the opal-mining history of the desert town and see some of its impressive gems in the Opal Room.
5.
Underground Motel, Coober Pedy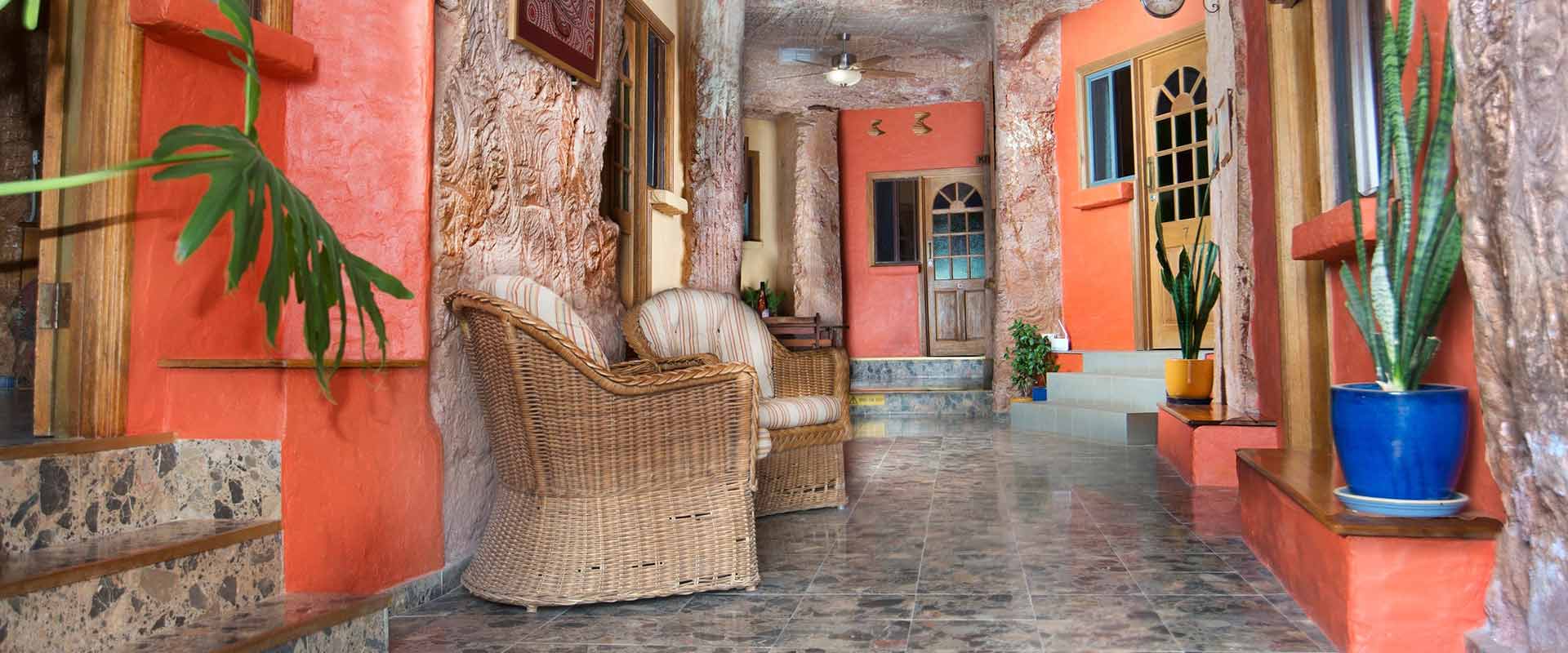 Soak in jaw-dropping views of the Stuart Ranges and the Breakaways from Coober Pedy's first underground motel. At the Underground Motel, you'll settle down for the night in a sandstone hill at the edge of town surrounded by the rugged beauty of the desert. The self-contained family suite is the perfect family-friendly accommodation option in Coober Pedy. Free WiFi and breakfast are also included in your stay.
6.
Underground Bed and Breakfast, Coober Pedy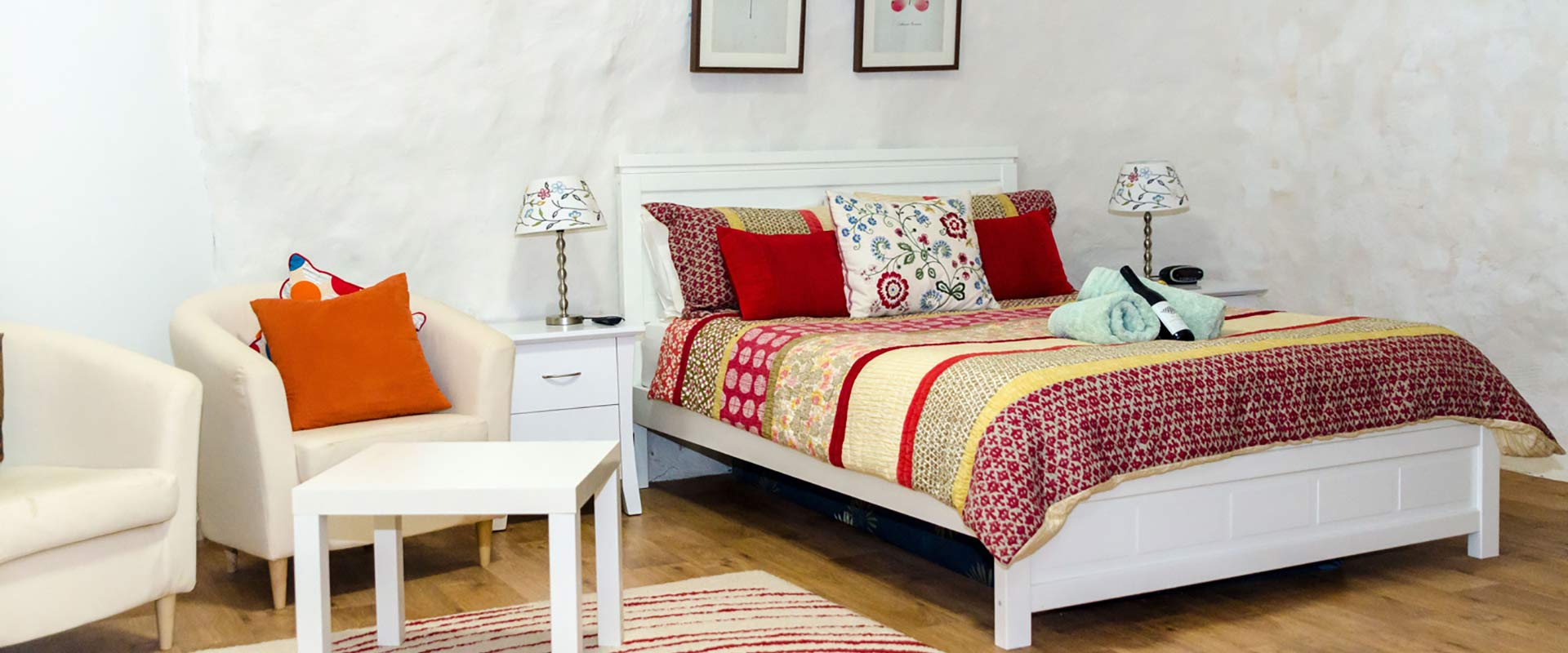 This award-winning underground accommodation is the perfect hideaway to rest and recuperate from the hot desert sun. Divided into two sections with five spacious bedrooms and four bathrooms, each area at the Underground Bed & Breakfast has its own lounge, kitchen and outdoor entertaining area. Better still, continental breakfast and a bottle of wine are complimentary on arrival. Some of the rooms are pet friendly, so don't leave your fur-baby at home.
7.
Fire In The Stone, Coober Pedy

Just two minutes out of town nestled among the stunning desert landscape awaits one of Coober Pedy's hidden gems. Fire In The Stone is a quirky bed and breakfast set in one of the town's famous underground dugouts. With three bedrooms sleeping up to eight guests, a private lounge, kitchenette and ensuite, you can escape the heat underground with a comfortable all-year-round temperature of 24 degrees. 
8.
Riba's Underground Camping, Coober Pedy

Pitch your tent underground just five minutes out of town in one of the most unique camping spots in Australia, Riba's Underground Camping. Tucked underground in a series of tunnels forming an epic dugout, you'll find plenty of spots for open camping in Coober Pedy away from the heat of the outback sun. Above ground caravan and camping sites as well as modest private underground rooms are also available.
9.
Radeka Downunder Underground Backpackers & Motel, Coober Pedy

Tunnelled out of Coober Pedy's sandstone surrounds, dorm up underground at Radeka Downunder Underground Backpackers & Motel. Radeka is conveniently located to all major tourist attractions (like the Big Winch) and is just a short stroll from the local underground book store and museums. Room options range from underground motel rooms with private en suites, to underground open dorms and air-conditioned above ground motel rooms. There's also a licenced bar on-site, opal gift shop and free WiFi.
Above ground, there's also some great places to stay in Coober Pedy.
10.
Mud Hut Motel, Coober Pedy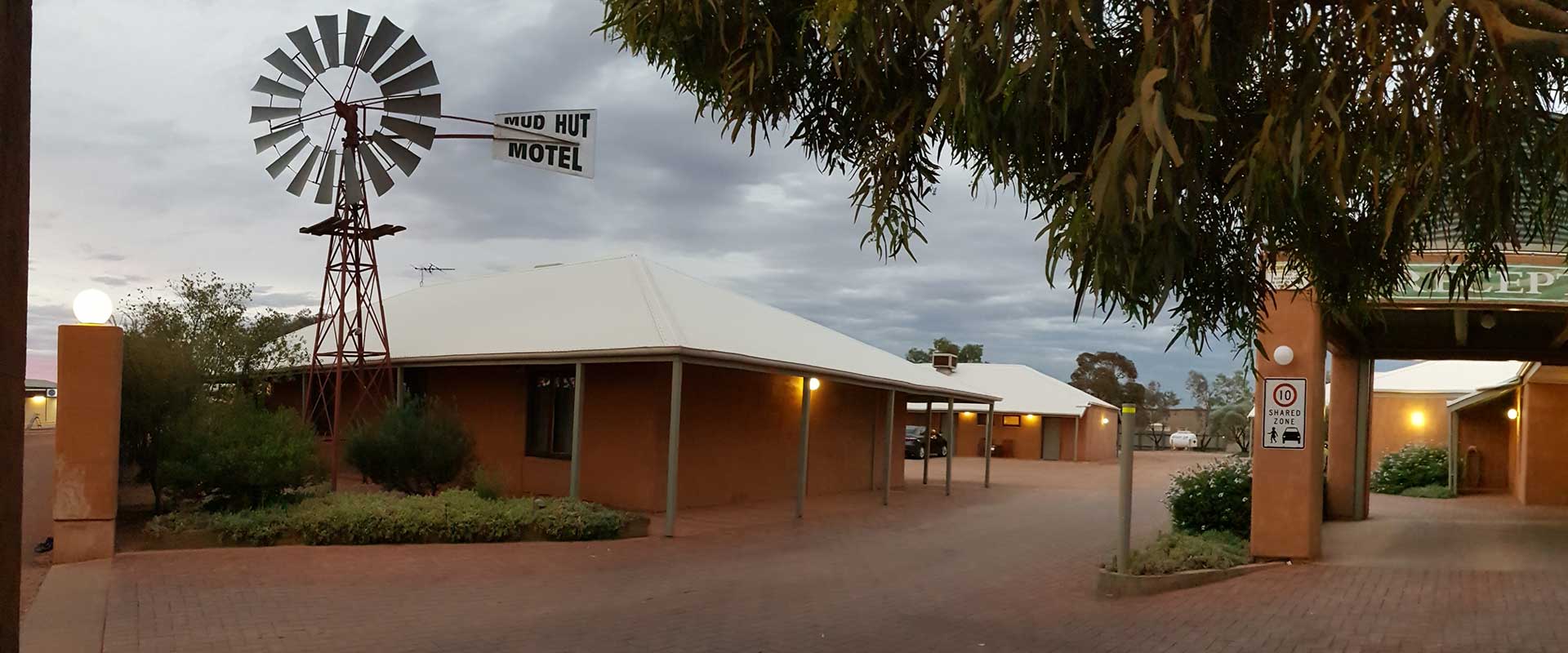 Built of rammed earth to keep the desert heat out, the Mud Hut Hotel is conveniently located just off Coober Pedy's main street. With accommodation options ranging from single rooms to two-bedroom apartments, free WiFi, airport transfers, breakfast available daily and friendly locals on hand to help with your trip, this motel is the perfect base for an epic outback adventure.
11.
BIG4 Stuart Range Outback Resort, Coober Pedy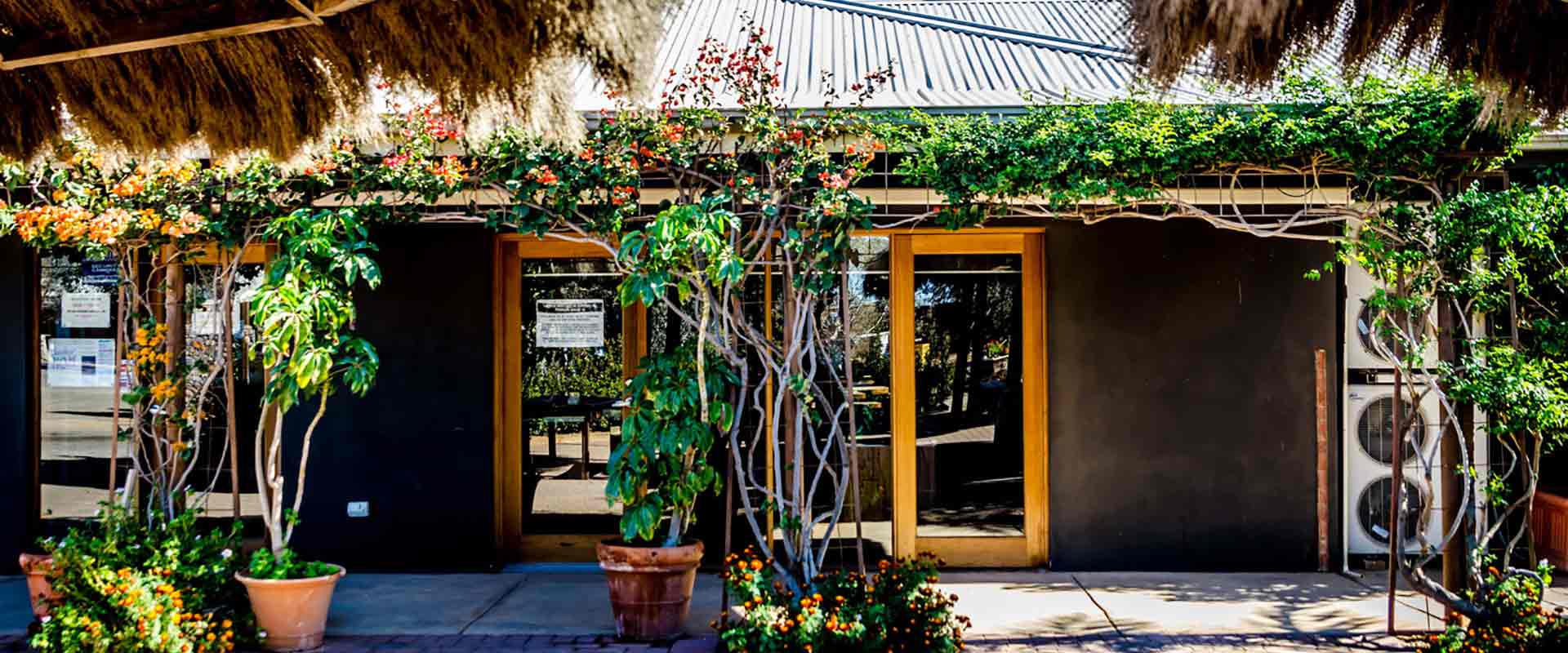 Just a 15-minute stroll from the centre of Coober Pedy is BIG4 Stuart Range Outback Resort. With more than 150 powered and unpowered sites, spacious one and two bedroom apartments, a playground and on-site restaurant, this is a great option for families visiting Coober Pedy. If you need some help to plan the perfect Coober Pedy adventure, tours also run out of the park visiting the Breakaways, Dog Fence, Moon Plain, an opal field and mine, and an underground home and church. Hungry travellers will be well fed with Nostimo Pizza dishing up some of the best pizzas in town, right on site.
In the middle of the Coober Pedy township, the Opal Inn Hotel and Caravan Park and Oasis Tourist Park are also centrally located for outback exploration.
How To Get There
Fly two hours from Adelaide to Coober Pedy with REX Airlines or road trip nine hours from Adelaide.
Discover more in the outback
Unearth more of the iconic outback town with our guide to exploring Coober Pedy or venture further with our guide to the best experiences and tours for an unforgettable outback adventure.