In South Australia, gin is the word on everyone's lips. Sip your way around the state at distilleries, in bars and further afield in our beautiful regions.
BAROSSA DISTILLING COMPANY, BAROSSA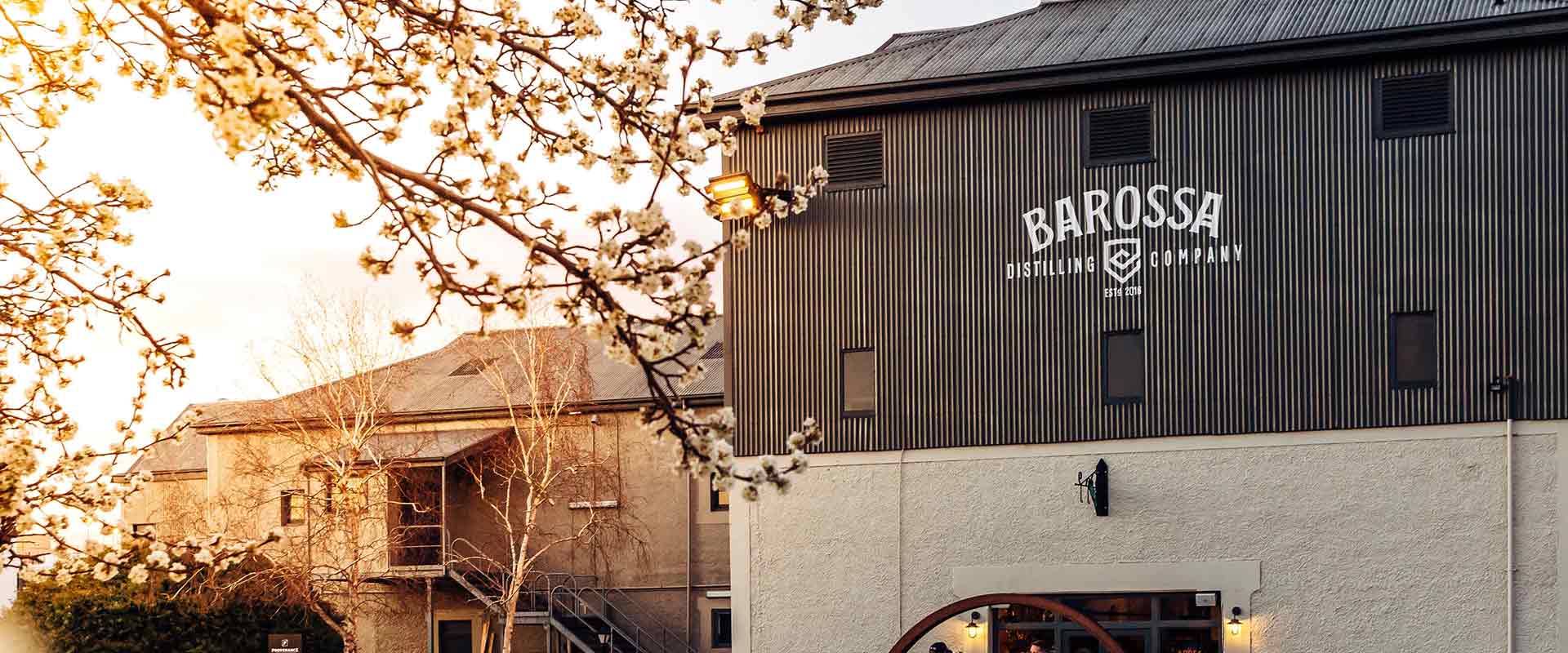 Barossa Distilling Company wanted to create a handcrafted gin that was as distinctly Barossa as its famous shiraz. Generations Gin uses Barossa grape spirit and is infused and distilled with 12 botanicals. Other Barossa overtones include the use of toasted French oak and limited edition magnum bottles. This new producer is certainly one to watch. On the drawing board are seasonal gins with fresh ingredients including shiraz grapes and a plan to create a gin using botanicals found only on Krondorf Road in Tanunda. 
Where to find it: In bottleshops and bars across Australia including East End Cellars, Hains & Co, Barossa Brauhaus Hotel and The Clubhouse.
PROHIBITION LIQUOR CO, ADELAIDE CBD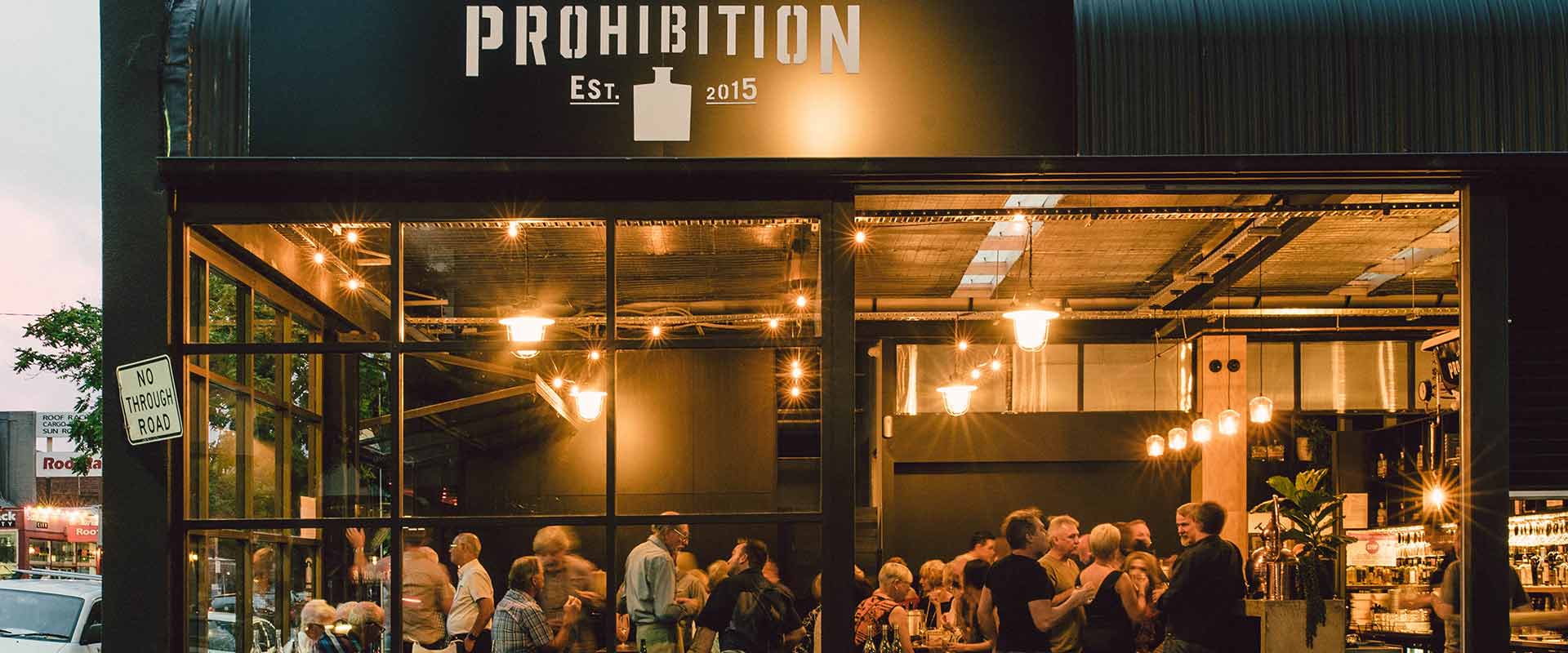 Channelling the "spirit" of the eponymous 1920s American era, Prohibition Liquor Co has created award-winning craft gins that bootleggers would be proud of. Prohibition Gin integrates 11 botanicals, including the unusual offerings of wormwood, pink peppercorns and green tea to generate a delicate, peppery palate and smooth finish. Bathtub Cut Gin is a rendering of 13 botanicals including orris root, cassia bark, star anise and almonds that delivers a gutsy nose and juniper aniseed flavour and is surprisingly mellow for a 69 per cent spirit. Best of all? Now, you can taste it all right in the heart of the city at the impressive distillery complete with a new 900L copper still installed. Enjoy clandestinely!

Where to find it: Visit Prohibition Liquor Co's bar at 22 Gilbert St in Adelaide or find their gin in bottleshops and bars across Australia including Alfred's Bar, Bank Street Social and Mr Goodbar.
Seppeltsfield Road Distillers, Barossa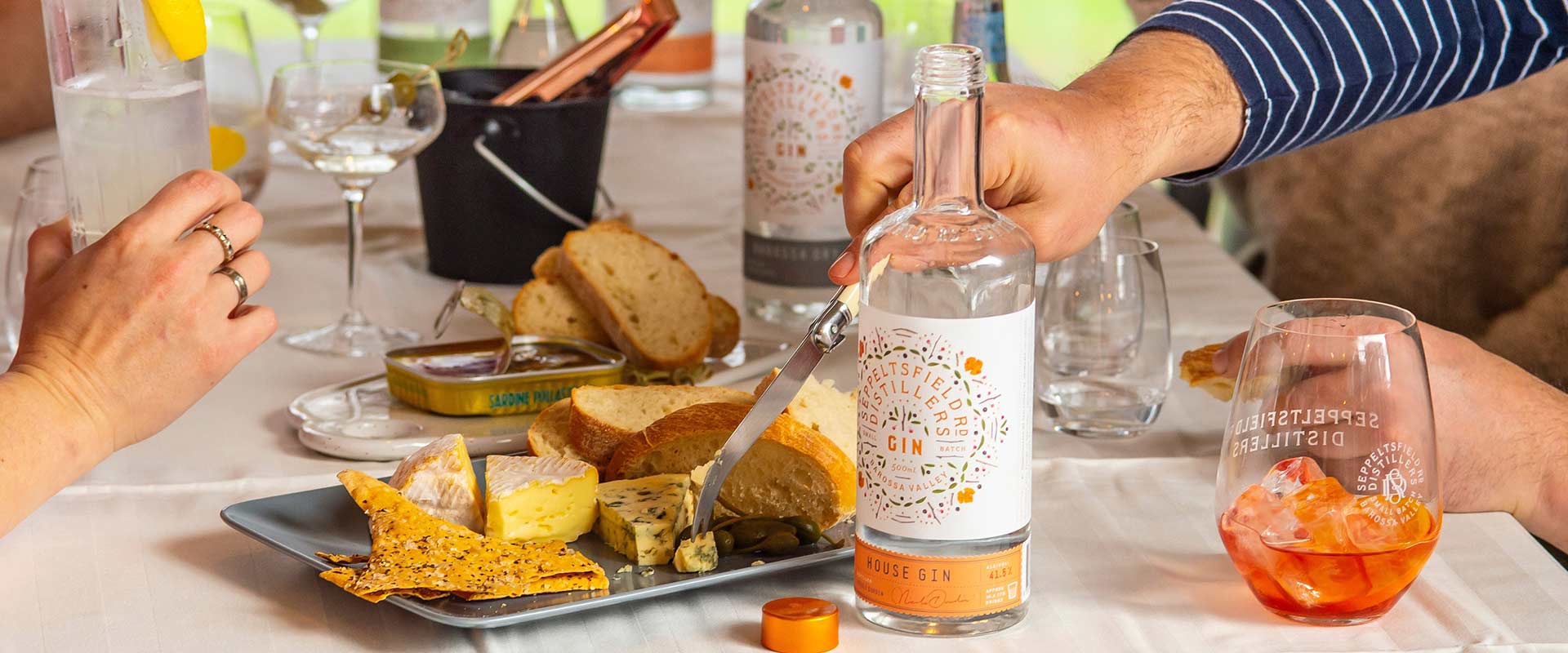 Tucked down iconic Seppeltsfield Road, just a stone's throw away from some of the Barossa's best wineries lies the aptly named Seppeltsfield Road Distillers. Created by husband and wife duo Jon and Nicole Durdin, the award-winning small-batch gin is distilled and bottled right on site using local botanicals, like lavender and pink peppercorns sourced from just down the road. The distillery prides itself on having a gin to suit every drinker with an impressive line-up including Barossa Dry, Savoury Allsorts and Barossa Shiraz Gin. Stop in at the distillery and sip your way through a gin flight all while watching the gin distillation take place right in front of you in the impressive German still, fondly known as Christine, which doubles as a work of art and centre piece to the tasting room. Add a fridge full of local produce and French cheese to create a DIY platter and you're set for the afternoon.
Where to find it: Visit Seppeltsfield Road Distillers at 436 Seppeltsfield Rd, Marananga in the Barossa.
KANGAROO ISLAND SPIRITS, KANGAROO ISLAND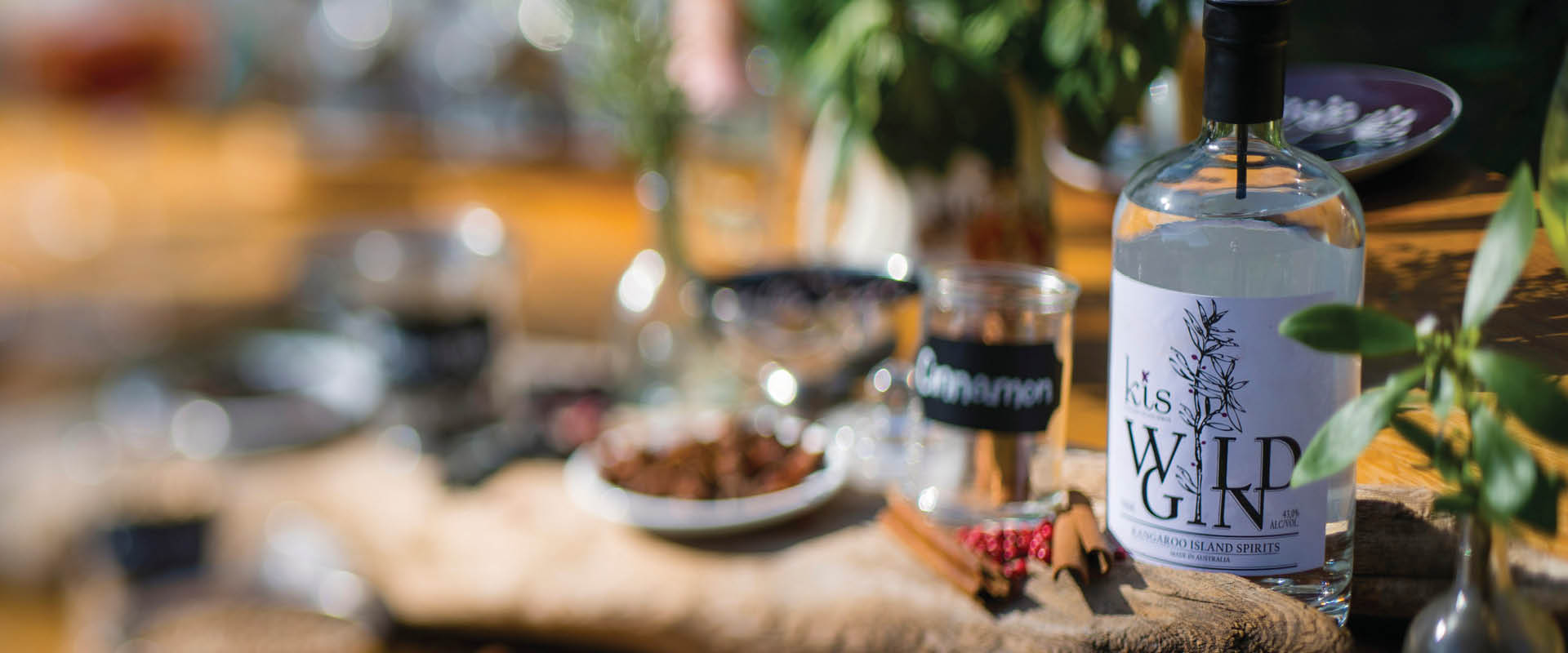 Kangaroo Island Spirits uses environmentally sustainable practices to produce its premium range, including the multi-award-winning Wild Gin, created from local juniper. Other flagship tipples include O Gin, Old Tom Aged Gin, the seasonal Mulberry Gin and the intriguing Whiskey Barrel Gin. KIS's "slow spirits" philosophy embodies a studious choice of ingredients and careful adherence to standards and process. The KIS cellar door is a must-visit on Kangaroo Island – you're guaranteed to fall in love with their affogato.
Where to find it: 856 Playford Hwy, Cygnet Rivet on Kangaroo Island, 35 minutes flight from Adelaide.
AMBLESIDE DISTILLERS, Adelaide Hills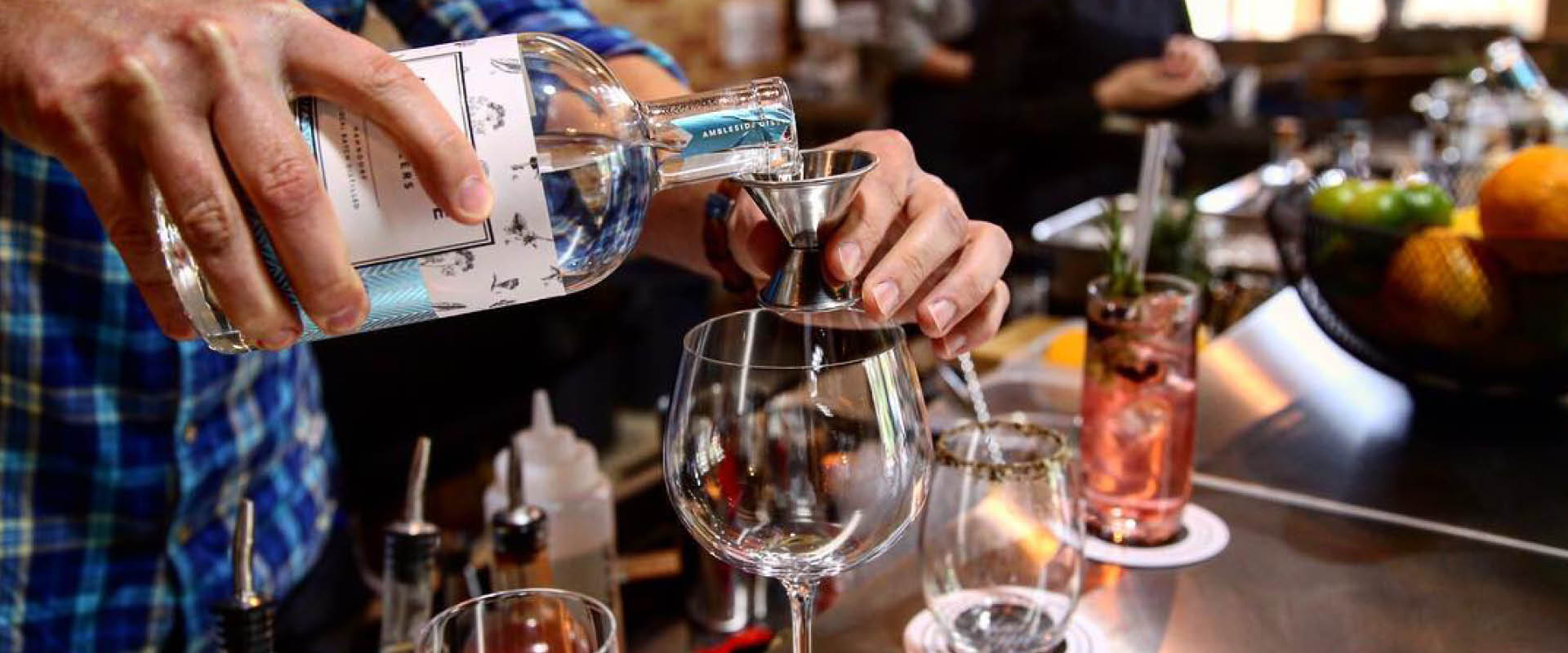 Located on a scenic acreage property at Hahndorf in the Adelaide Hills, owners Trudy, Steve and Matt invite all gin lovers to their distillery and tasting bar, Ambleside Distillers. Enjoy the picturesque setting while kicking back, relaxing and sipping one of the handcrafted signature gins and a food platter. The "Small Acre Gin" uses twelve ingredients including produce from the distillery garden, local and native botanicals.
Where to find it: 1 Ambleside Road, Hahndorf in the Adelaide Hills.
TWENTY THIRD STREET, RENMARK AND NORTH ADELAIDE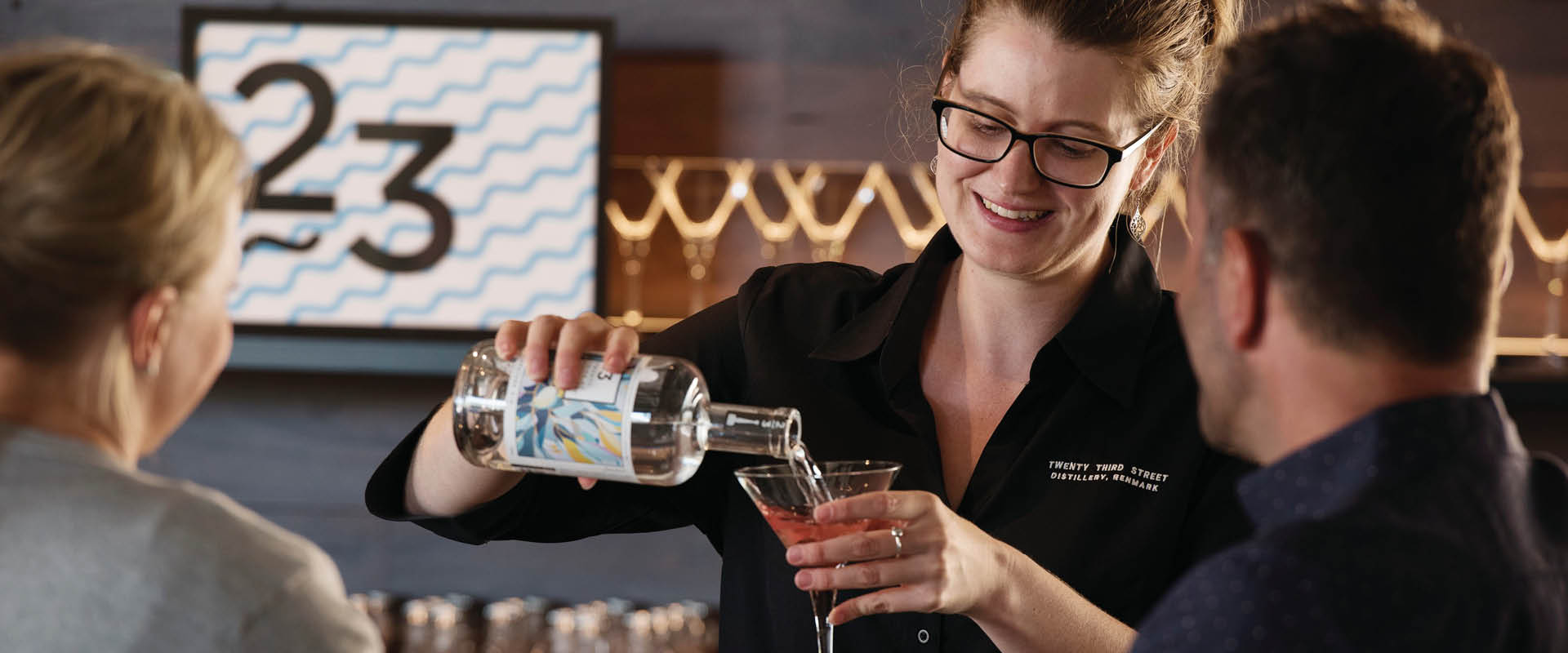 Twenty Third Street distillery was first built in Renmark in 1914. It has been resurrected using 21st century technology and "a spirit of anarchic invention" to create "prime spirits for the liberated palate". Two South Australian-built copper pot stills of the same vintage have been restored to their original glory. Twenty Third Street's range features Signature Gin blended with 10 botanicals, Not Your Nanna's Brandy featuring fruity aromas, vanillin sweetness and soft oak spice and Riverland Rose Vodka infused with rose petals and other blooms. Tour and tasting at Renmark: 11am, 1pm and 2pm daily, $25 per person. If you're feeling thirsty in the city, you're in luck too with the recently opened 23rd St Bar in North Adelaide pouring up all their best drops.
Where to find it: Corner of 23rd St and Renmark Ave, Renmark - about 3 hours drive from Adelaide. 23rd St Bar - 129 Melbourne St, North Adelaide.
Applewood Distillery, Adelaide Hills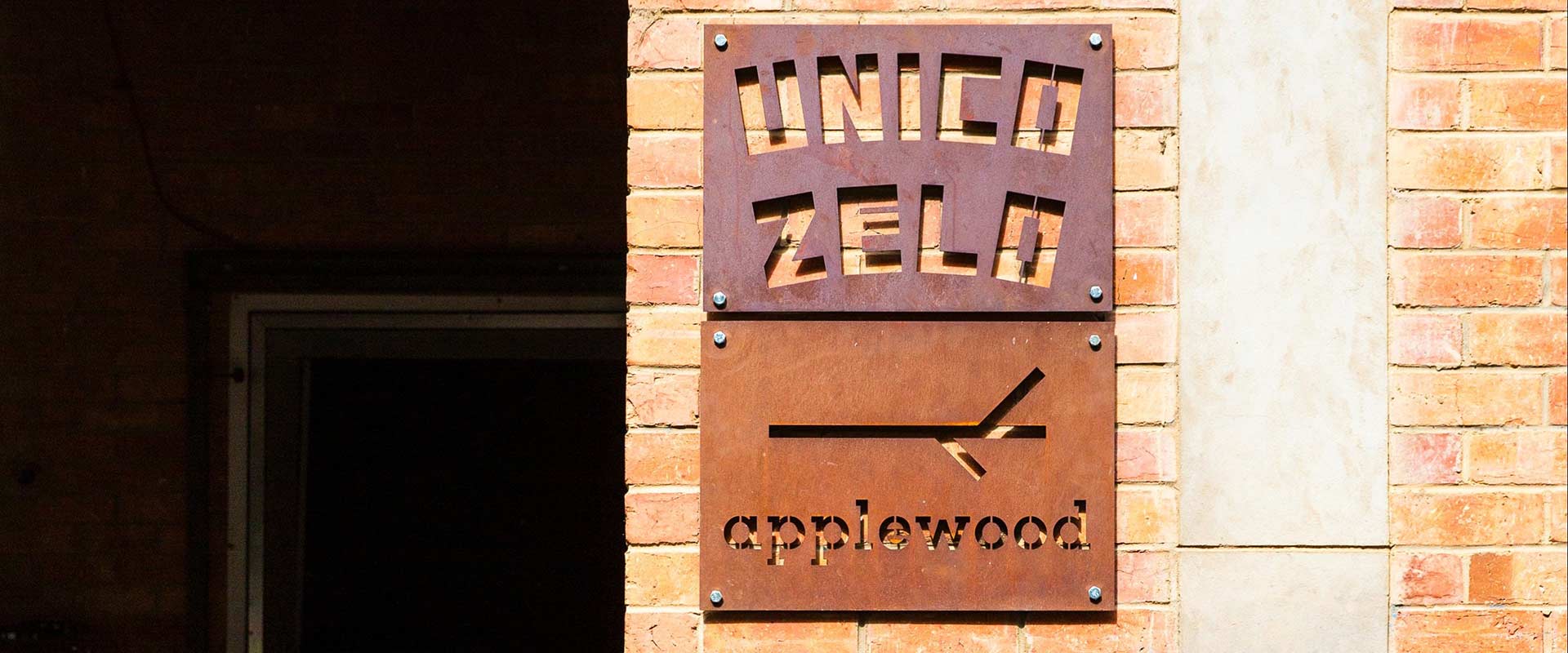 is attached to Unico Zelo Wines in the Adelaide Hills and is the creation of husband and wife team Brendan and Laura Carter. They have a deep passion for the land and its Aboriginal heritage and say they take their motivation and ingredients "from the land we belong to". The results are remarkable spirits, from the signature Applewood Gin, inspired by springtime in the Adelaide Hills, to the barley-based Applewood Colonial Malt, the tasting notes for which reads: "Treat it like moonshine, drink with responsible gusto!".
Where to find it: 24 Victoria Street, Gumeracha, about 50 minutes drive from Adelaide.
Durand Distillery
A school dedicated to teaching the art and flavours of gin? No, we're not dreaming! At Durand Distillery in the Barossa, you can become a distiller for a day and craft your very own gin creation from scratch to take home. During the boutique hands-on experience, you'll be guided through the entire process of making gin, creating your own recipe with organic juniper berries and botanicals chosen from the extensive apothecary. Once the recipe is perfected, the distillation begins. Wait for the magic to happen over lunch - happily Durand Distillery is located at Maggie Beer's farm and lunch is included in the experience - before collecting your creation straight from the still! You can also taste the latest creations from Durand Distillery inside Maggie Beer's Farm Shop.
Where to find: 1/50 Pheasant Farm Rd, Nuriootpa in the Barossa.
Never Never Distilling Co
The world's best gin? Yep, it's made right here in South Australia. Voted the World's Best Classic Gin at the prestigious 2019 World Gin Awards in London, Never Never Distilling Co's Dark Label Series packs maximum flavour and intensity. With a focus on championing juniper in every bottle of gin through a triple-juniper distillation process, this bold beverage has become a favourite across Australia and the three gins in their core range, Triple Juniper, Southern Strength and Juniper Freak, can be found in most good bottle shops. Currently distilling out of Thebarton, big things are in stall for Never Never Distilling Co this year with plans to open a distillery and cellar door in McLaren Vale. Stay tuned!
Where to find: In bottleshops and bars across Australia, with a distillery in McLaren Vale due to open this year.
Red Hen Gin, Adelaide
Red Hen is Adelaide's first city-based distillery, located in the south-west of the CBD, where bootleggers operated in the 1880s. Red Hen pursues the classic London dry style, combined with native botanicals. According to co-owner Michael Vallelonga, the self-confessed "gin-thusiasts" took two years to perfect their recipe. Red Hill is "slightly juniper-forward with crisp citrus and earthy cassia notes," Michael says. "We enjoy Fever-Tree Mediterranean and Schweppes tonic from a glass bottle but if you want to really treat yourself, add some muntrie berries, one of our star botanicals."
Where to find it: In bars in Adelaide and Adelaide Hills including Mr Goodbar, The Archer and The Stirling Hotel.
Settlers Spirits, McLaren Vale
Located within Rowland and Shelley Short's boutique Maximus Wines in McLaren Vale, Settlers Spirits is an artisan product created from grapes grown on the property and distilled and bottled by hand. The grape spirit base is softer in the mouth and more floral than spirits made from grain. Settlers also uses vapour distillation to infuse the botanicals, blended for peak aromatics and clean flavours. It offers five gins, including Rare Dry, Oak Aged and the cleverly named G & Tea.
Where to find it: 197 Foggo Road, McLaren Vale - about 45 minutes drive from Adelaide.
36 SHORT, ADELAIDE PLAINS
A small family business, 36 Short is a tribute to the Lioulios brothers' father – Pando. Pando's suit size was 36 Short, and the brothers have continued their father's tradition by handcrafting gin and rakia made on the Adelaide Plains using the secret recipes handed down from father to son over three generations. Beginning with Australia's only rakia – a wine based spirit, made from premium South Australian shiraz - 36 Short now produces a blood orange gin, original gin, barrel aged gin, rhubarb gin and a blood orange vodka. The Original Gin received a platinum award at Sip, a prestigious American-based competition. 
Where to find it: In some of Adelaide's best bars including Alfreds Bar, Udaberri, Bank Street Social, Gin Long Canteen and Malt & Juniper.