Looking for an island escape with a hint of luxury? 
Kangaroo Island is teeming with native wildlife, pure white sand and warm azure blue waters. Sounds like paradise, hey? It's a true slice of Australiana - with the best the continent has to offer all in one place. But while Kangaroo Island evokes images of fluffy joeys, cuddly koalas and towering gum trees for most, it is also home to some of South Australia's most luxurious accommodation. Thanks in part to its isolation, Kangaroo Island is dotted with off-grid beach houses, spa retreats and cabins surrounded by native bush and boasting an uninterrupted island vista. Below we have collated the crème de la crème of Kangaroo Island accommodation to inspire your next 'overseas' trip to this Australian island. 
1. One kangaroo island
One Kangaroo Island offers one of Kangaroo Island's best private luxury beachfront accommodation and wildlife experiences. Situated on the beautiful north facing Brown beach, this stunning architectural accommodation features five double king bedrooms (four with en-suites), internal and external entertaining areas, and an expansive deck space providing amazing views along the coastline.
2.  HAMILTON & DUNE
Hamilton & Dune are two properties overlooking the pristine, north facing Emu Bay. Hamilton House is a 1960's beach house just 100m from the beach which underwent a complete renovation in 2018 which brought in modern contemporary fittings and luxuries without sacrificing the old world charm. Nearby Dune House is an architecturally designed, light filled and modern house which provides views from every room.
3. LIFETIME PRIVATE RETREATS
Four separate properties make up this Kangaroo Island retreat, aptly named LifeTime Private Retreats. The spectacular and private villas and holiday houses are all beautifully appointed, luxurious and set among natural bush land with views over Snellings Beach and its surroundings. Choose from The Sky House, The Settlers Homestead, Sheoaks and the most recent addition, the Beach Retreat.  
4. Stowaway Kangaroo Island
This Kangaroo Island lodge allows guests to see wildlife up close without having to leave the comfort of a cosy window seat. At Stowaway Kangaroo Island, which boasts two luxury self-contained lodges situated on 80 hectares of private land, wildlife spotting is guaranteed. Guests can also enjoy sweeping views over native bushland down to Kangaroo Island's north coast and the beautiful beaches of Stokes Bay. Designed to be the ultimate couple's retreat, features include a king bed, alfresco hot tub on a private deck, glass fronted sauna and double-sided wood fire.
5. Ecopia retreat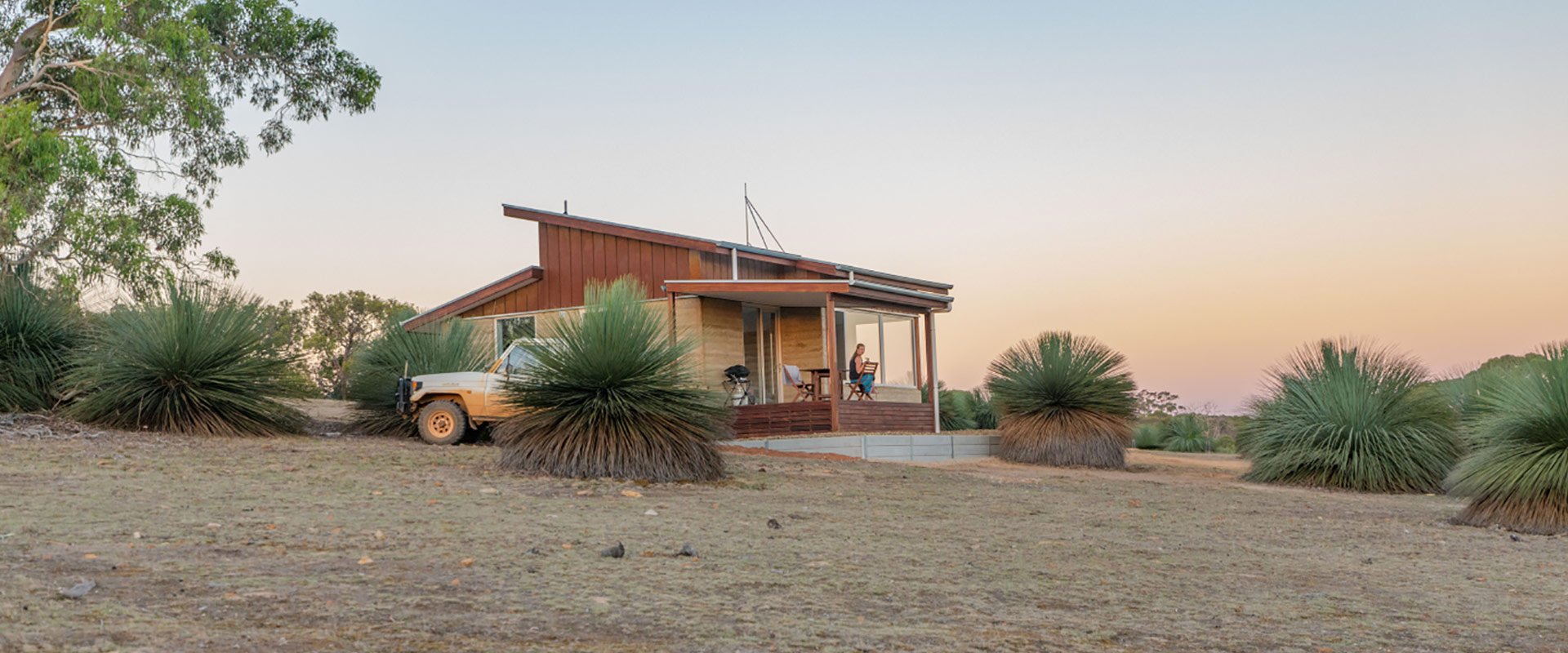 More than 60 hectares of natural wilderness surrounds Ecopia Retreat, located in the centre of the island. From this Kangaroo Island retreat, guests are given "front row seats" to the untouched bushland and native animals that roam the island freely. Choose from three bespoke luxury retreats – two Villas and the Residence – each designed to be eco-friendly using 100% pure Kangaroo Island rainwater and an off-grid solar energy system. Ecopia Retreat is perfectly positioned to explore Kangaroo Island; Seal Bay is located just 15 minutes away and Flinders Chase National Park is just 45 minutes.
6. Oceanview Eco Villas, Kangaroo Island
A seamless connection between sustainability and luxury, at Oceanview Eco Villas you can kick back in complete comfort while doing your bit for the environment. Perched cliff-top on a secluded and private 500-acre property on the stunning Kangaroo Island coastline, these brand-new villas are just a short stroll to the beach. A fully hosted experience, your hosts Tim and Tamsin will ensure your every need is catered for including gourmet meals. And this property has serious eco-cred; designed by leading eco specialists, the property is completely off-the grid and solar-powered, and every element has been carefully considered, down to luxe furnishings made from recycled materials. All that's left to do is kick back in 5-star comfort with the reassuring feeling that your stay is having a minimal impact on the environment.
7. ALCHEMY ON ISLAND BEACH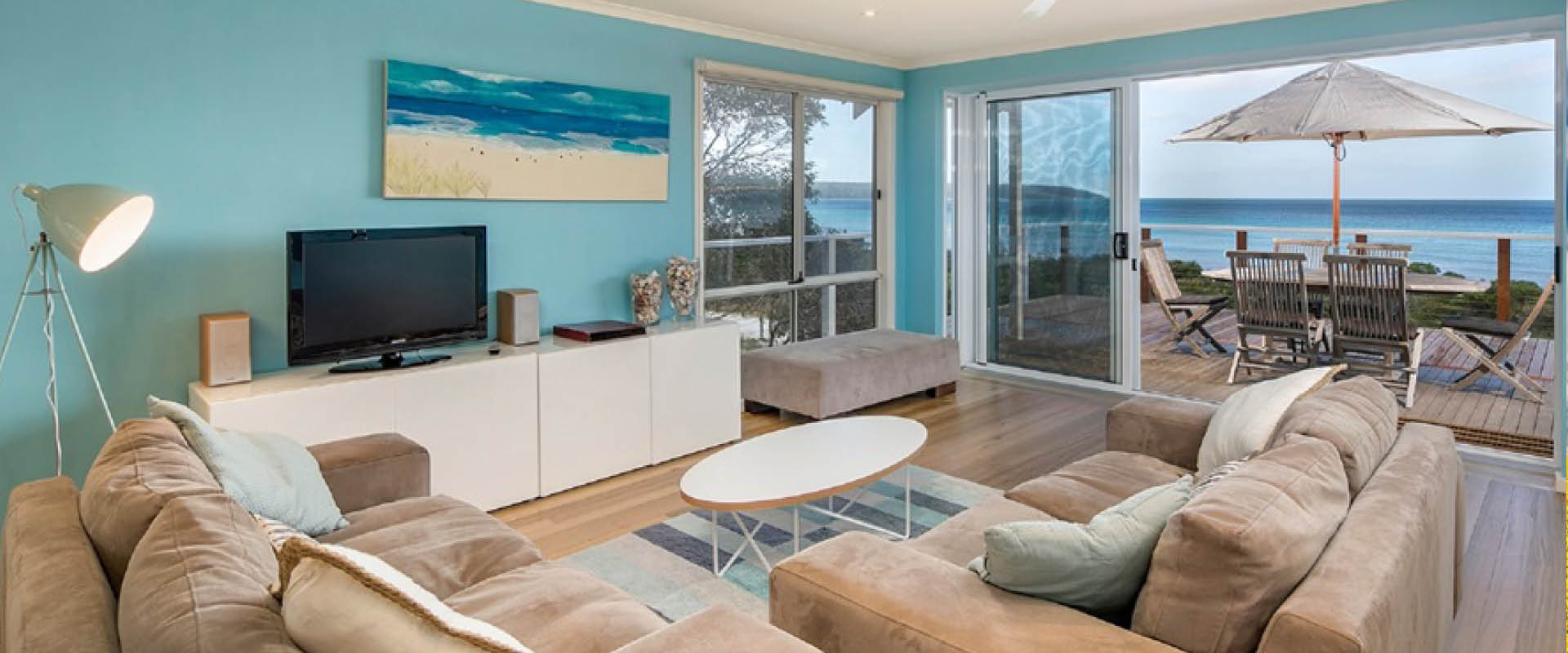 Alchemy on Island Beach offers families a special place to stay on Kangaroo Island. With an absolute beachfront location and 180 degree sea views, these two properties are only 50 steps from the deck to the water's edge. The glorious, white sandy Island beach spans for more than three kilometres, making it convenient for long morning walks or endless summer days lapping in the crystal blue waters.
8. CABN X CAPE ST ALBANS
This South Australian company recently expanded its off-grid offerings with boutique accommodation on Kangaroo Island - and the new CABN X Cape St Albans is not to be missed! On the eastern tip of the island, you'll find five eco-cabins overlooking Antechamber Bay, each with the added luxury that comes with the CABN X name. Treat yourself to a little self-care with the indoor sauna, curl up by the crackling fireplace and soak away your worries in the outdoor bathtub, while the sounds of the bush and ocean below create the ultimate calming playlist. 
9. ANTECHAMBER BAY RETREATS
Looking for a cosy Kangaroo Island hideaway? Welcome to
Antechamber Bay Retreats
- two homesteads on a working farm, a stone's throw from the ocean. With a private beach and wildlife at your doorstep, take your pick from either
Nat's
or
The Kona
, then soak up the island's tranquility. Swim with dolphins in the aquamarine water below, or watch ships pass from the comfort of your king-sized bed. It doesn't get muchg more serene than this!
10. WANDER PODS
Want a luxury escape that won't cost the environment? The name of this eco-accommodation says it all: Wander Pods are made for those who want to explore their natural surrounds, without leaving a trace. Resting gently atop Kangaroo Island's northern bluff, the WanderPods are designed with community and connection at their core. Guests are encouraged to take part in a range of curated experiences around the island - from marine discovery tours to exclusive wine tastings and unique dining experiences, Wander promotes connection to the land and the locals.
Explore Kangaroo Island
Make the most out of your Kangaroo Island getaway with our guide of things to do, tours to join and the best places to eat and drink. Get back to nature on a camping holiday or kick back with a group of friends in a holiday rental.