Want to go camping but can't bear to leave your best friend behind? We've got you covered, because we're the same!
From the Outback to the river and beaches, there's plenty of spots to pitch a tent with your pooch around South Australia. Here's our guide to the best dog friendly caravan and camping grounds in South Australia.
1. Cooper Creek Camp, Birdsville Track, Outback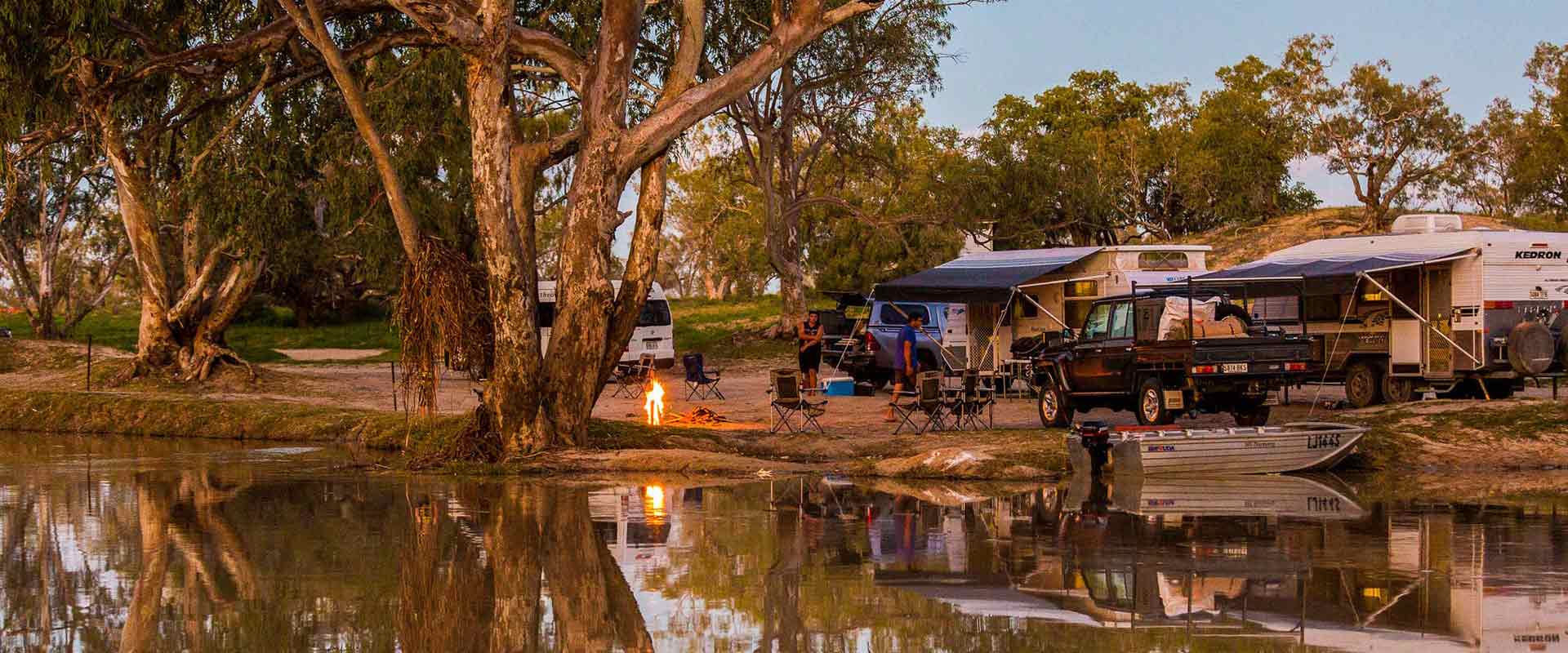 If you're heading Outback to explore South Australia's red centre, Cooper Creek Camp on the Birdsville Track is a good spot to set up camp with your best friend in tow. About five hour's drive from Maree in Etadunna, the remote campsite is on the doorstop of Kati-Thanda Lake Eyre, the Simpson Desert and the Strzelecki Track and is a convenient stop over point when travelling up through the Outback on the Birdsville Track. The free pet-friendly pit stop has basic toilet facilities but be sure to travel with plenty of fresh water and check out these outback safety driving tips before you go.
2. Moonta Caravan Park, Yorke Peninsula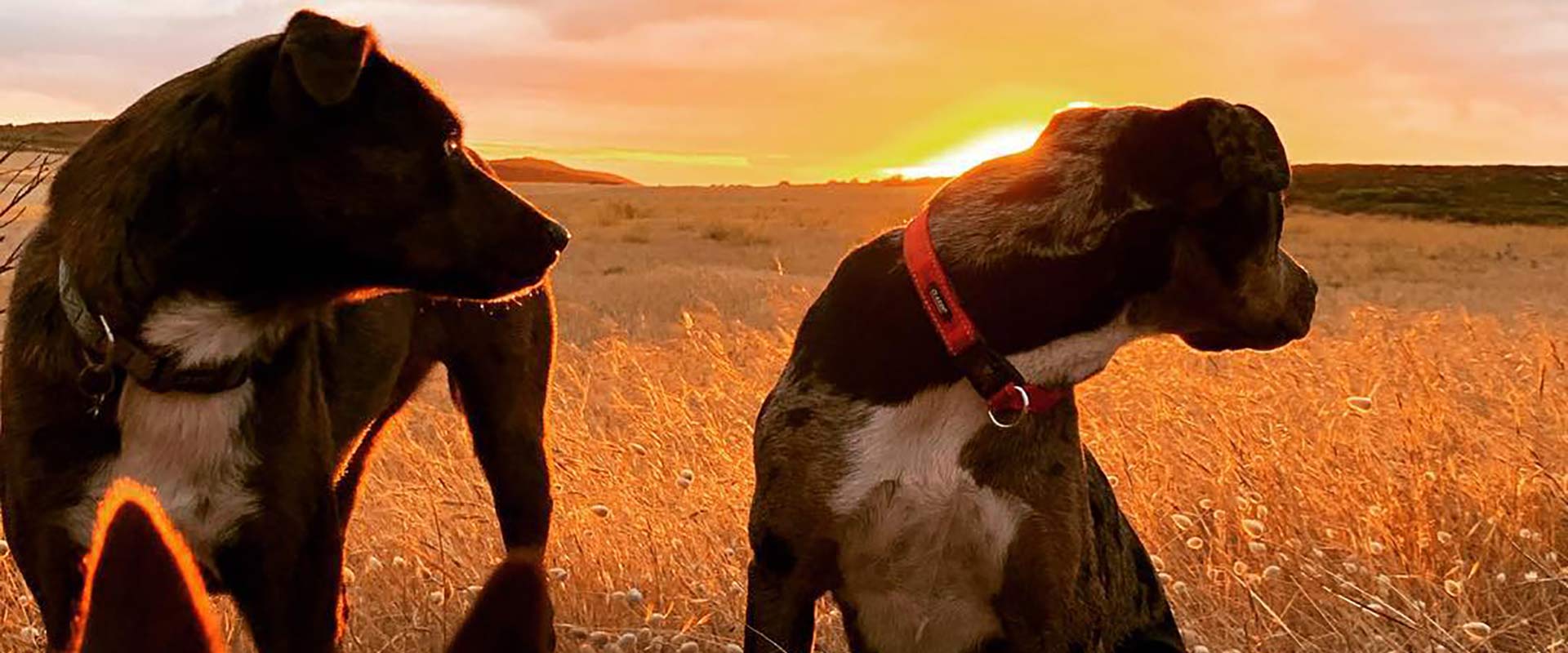 Wake up beachside with your canine companion and soak up the sun and surf on the Yorke Peninsula. With a plethora of some of South Australia's best beaches like Moonta Bay and Port Hughes on its doorstep, the Moonta Bay Holiday Park is the perfect base to explore with the beach, shops, pubs and cafes just a short stroll away. Think long walks on snow-white sandy beaches with your precious pooch paddling in turquoise waters. The dog-friendly campground is free and offers drinking water as well as public toilets a two-minute walk away.
3. Coulta Memorial Park Rest Stop, Eyre Peninsula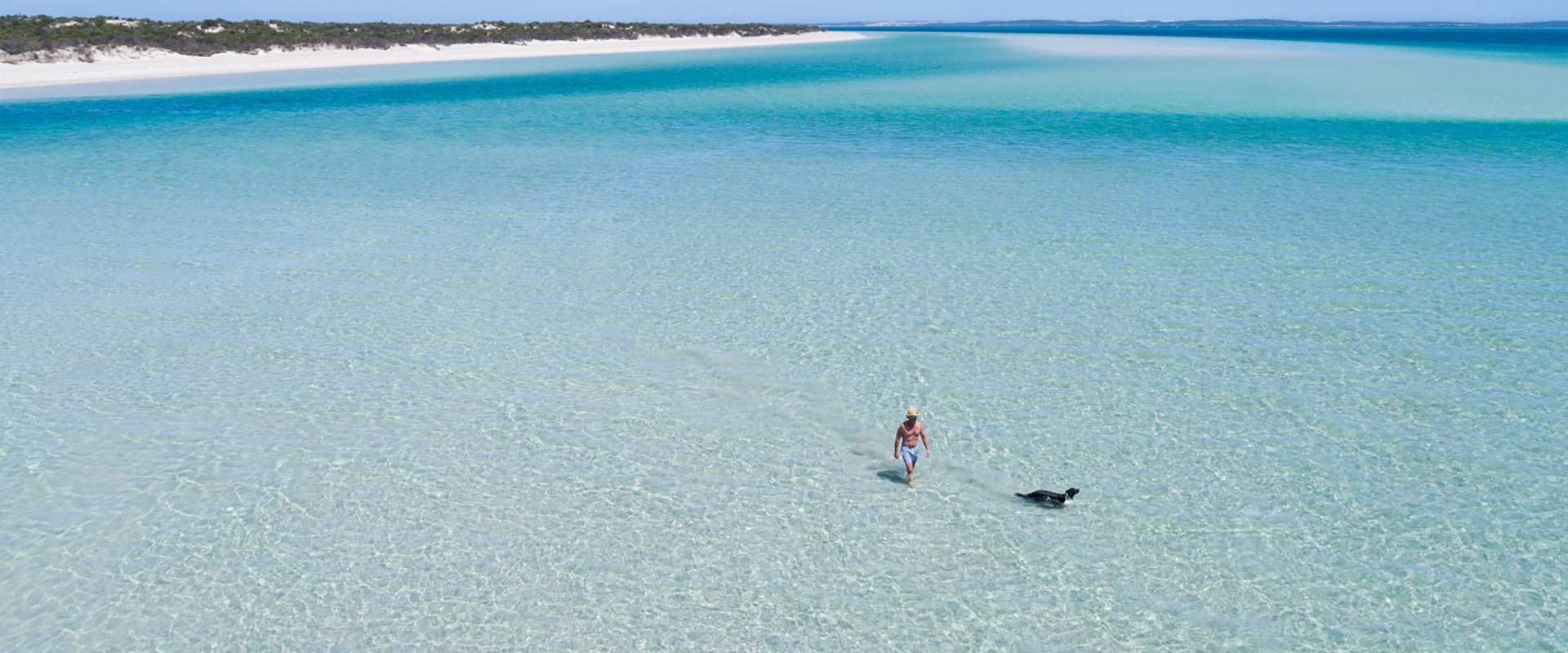 Take your four-legged friend on a seaside escape to the Eyre Peninsula, a land rich in succulent seafood, packed with pristine beaches and teeming incredible wildlife. A 40-minute drive from Port Lincoln and a stone's throw from some of the Eyre Peninsula's best beaches, settle down at Coulta Memorial Park rest stop after a day of frolicking on sandy shores and splashing in sparkling waters. Chill out rockpool-side at Greenly Beach with a freshly shucked oyster in one hand, a glass of famed local wine in the other and your best friend by your side. Seek solace on the sandy shores of Farm Beach, a local favourite for fishing and swimming just a short drive from Coulta Memorial Park Rest Stop. 
4. Cohen Rest Area, Penong, Eyre Peninsula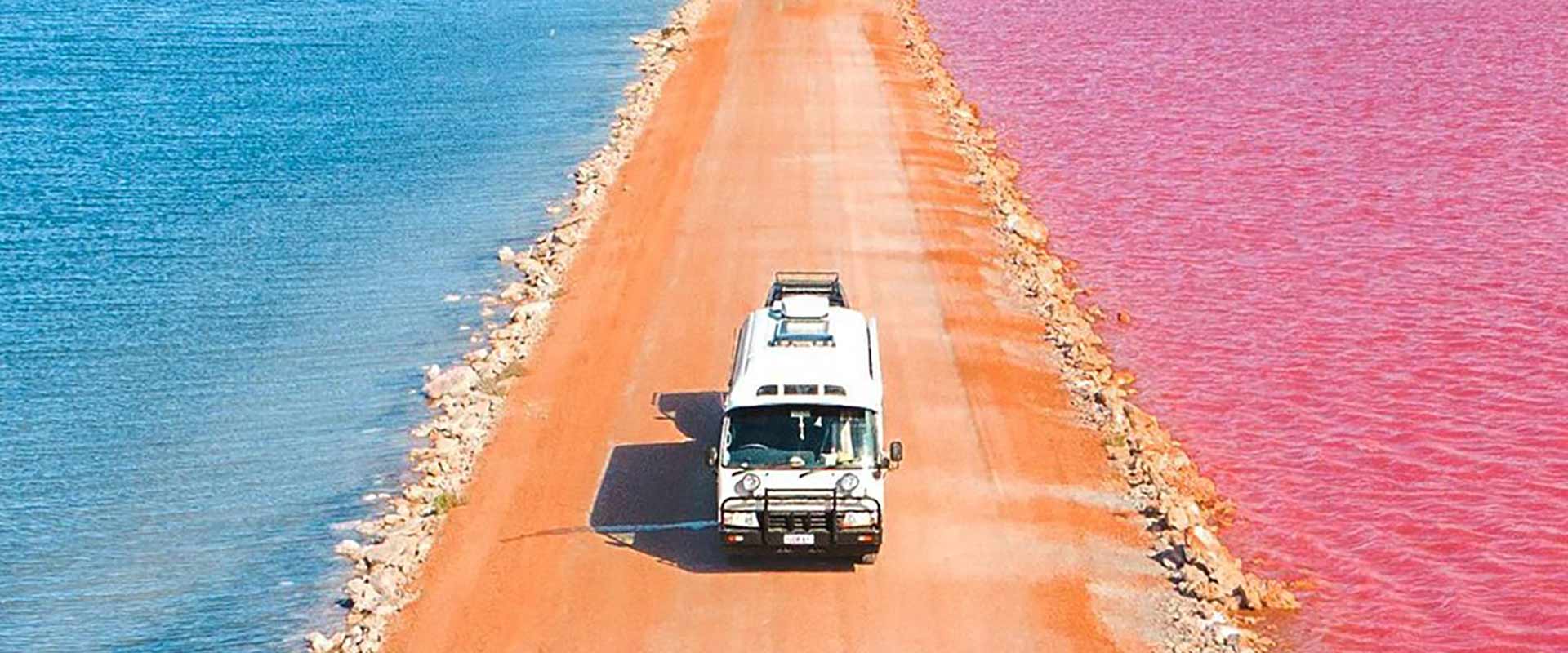 Just minutes from the insta-worthy shores of Cactus Beach and the jaw-dropping pink waters of Lake MacDonnell, Cohen Rest Area is the perfect pet-friendly base camp to explore the Eyre Peninsula's picturesque coastline. A stone's throw away from camp, Mother Nature's full palette is on show at Lake MacDonnell with a super-high salt concentration resulting in some seriously intense colours at one of SA's most photographed pink lakes. A little further, discover Cactus Beach: an oceanic wonderland, drawing surfers from across the world to its powerful breaks and Southern Ocean swells. Venture on… just an hour's drive away from camp lies coastal playground Fowlers Bay, home to boundless wildlife, rugged cliffs, endless sand dunes and crystal-clear waters. Between May and September you'll experience a natural phenomenon as Southern Right and Humpback Whales make their way along the coastline with their calves on their annual migration. Cohen Rest Area is also a good stop over point on the Nullabor trip from Perth to Adelaide, but you'll need to be self-sufficient to stay here - there are no toilets or water on site.
5. Kimba Recreation Reserve, Eyre Peninsula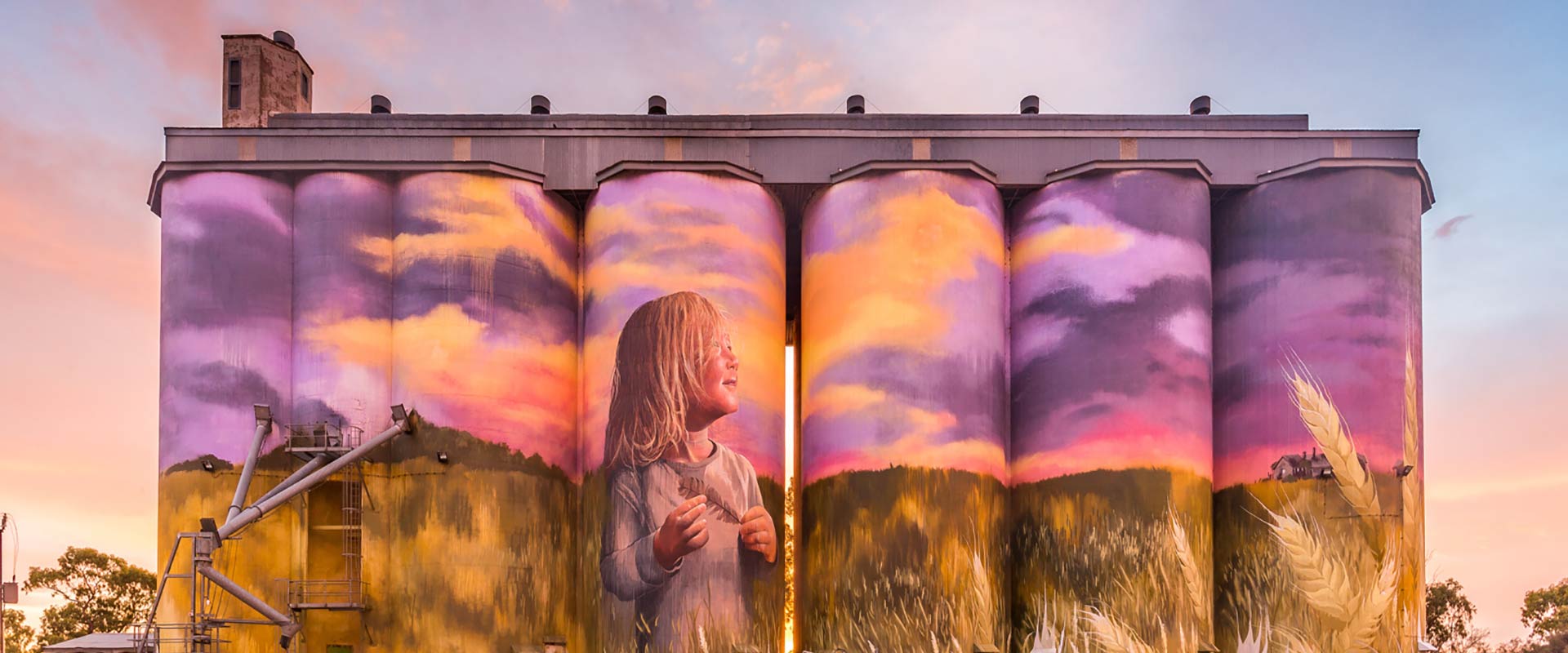 Set up camp at the gateway to the Eyre Peninsula at the Kimba Recreation Reserve. This free, dog-friendly campground is kitted out with toilets, a coin operated shower and water, and there's plenty of opportunity to stretch your legs with a playground, oval, courts and the Roora Reserve walking trail nearby. Conveniently located just off the Eyre Highway, it's also the perfect rest stop on the drive from Perth to Adelaide. While you're in town, be sure to check out the towering silo artworks or head an hour's drive to the coast and soak up the sun with your dog in the picturesque seaside town of Cowell.
6. Bendleby Ranges, Flinders Ranges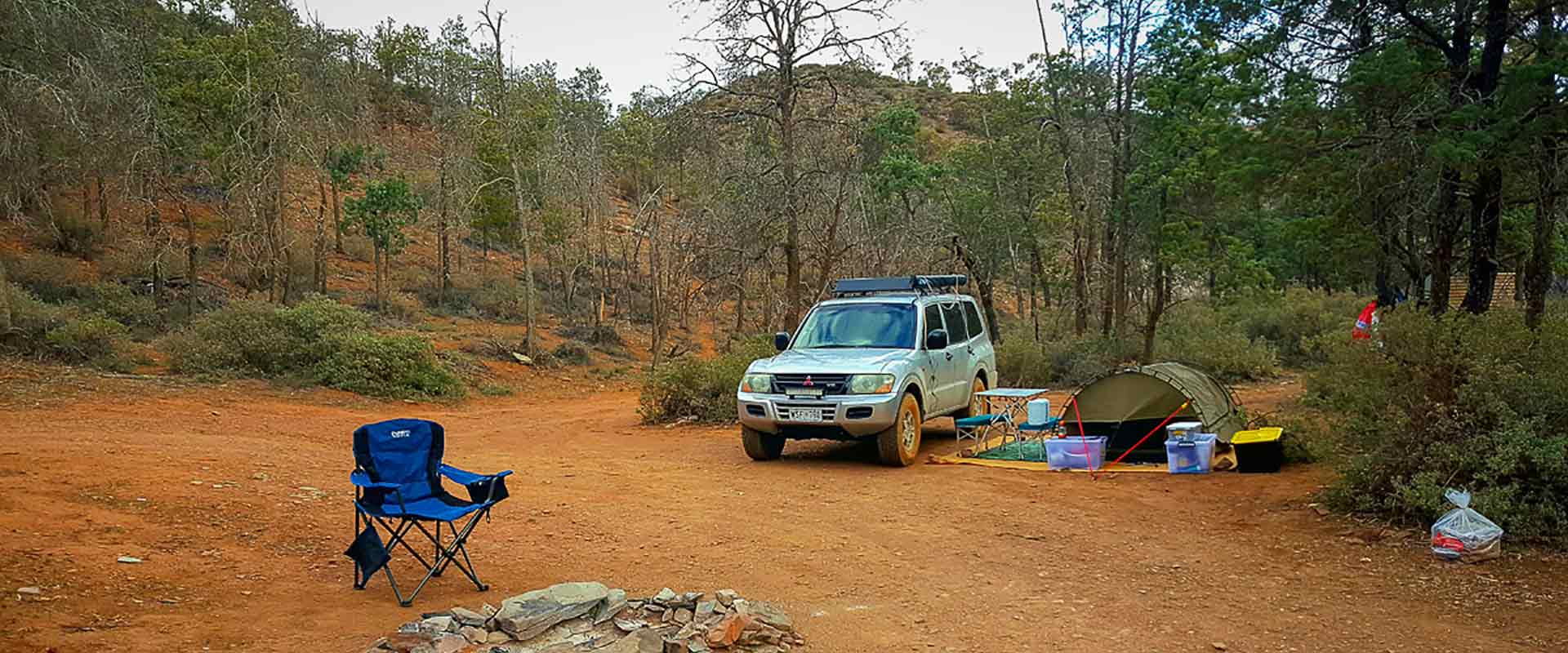 Immersed in a working station within the Flinders Ranges, is Bendleby Ranges. Just three and half hours north of Adelaide this serene and tranquil dog-friendly campsite is surrounded by exhilarating 4WD tracks, bush walking, mountain biking and bird watching. With panoramic views over Wilpena Pound, Lake Frome and the vast plains of the Flinders this pet-friendly campground is one of the best places for families to feel safe and protected while having all the picturesque perks of the intrepid camping life.
7. Cradock Hotel Campground, Flinders Ranges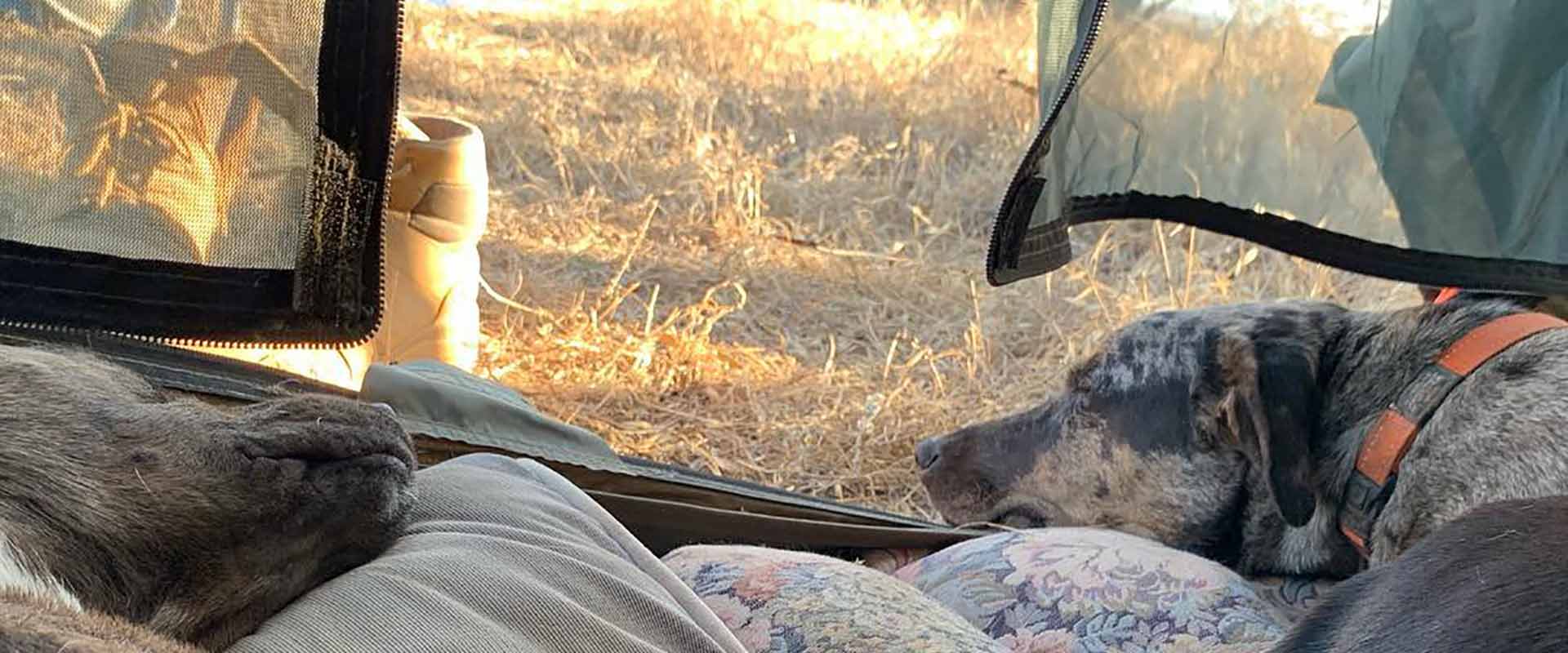 Want to explore the Flinders Ranges with your dog? A 20-minute drive from Hawker and less than an hour to the rugged mountain ranges, dramatic gorges and abundant wildlife of Ikara-Flinders National Park, the Cradock Hotel Campground is the perfect spot to set up camp. As for the practical side of things, this campsite has toilets and hot showers are available for $2. Keep the billy in the car – if you buy a beer (or dinner!) from the Cradock Hotel, camping is free. Ikara Flinders Ranges is a national park, so Fido will need to 'keep guard at camp' with plenty of shade, water and cool breezes – this would be a great autumn or early spring camping option and not recommended with your pooch in the thick of summer.
8. Lake Leake campground, Limestone Coast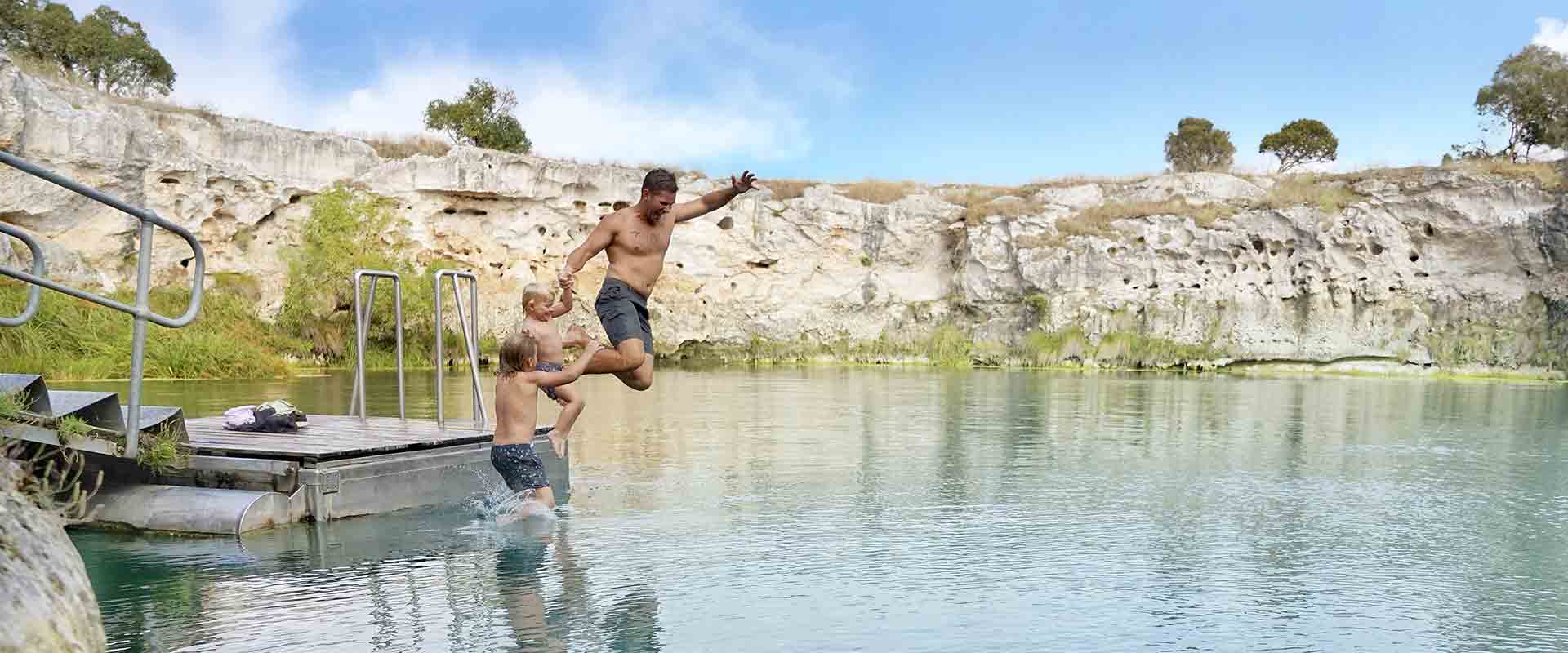 Stay on the banks of an extinct volcano in the land of natural wonders on the Limestone Coast. Plonked in prime position just half an hour from Mount Gambier's biggest attractions, Lake Leake campground is a waterside paradise and a popular dog-friendly campground for water activities including swimming, boating, fishing, skiing, rowing and sailing. Kick back by the lake or spend the weekend exploring the aptly-named Blue Lake, the underground oasis, Umpherston Sinkhole or a New Orleans-style jazz club, or taste test your way around over 40 stunning cellar doors in the famed Coonawarra region. A barbecue, picnic facilities and toilets are available at camp.
9. Mallee Fowl Restaurant and Camp, Monash, Riverland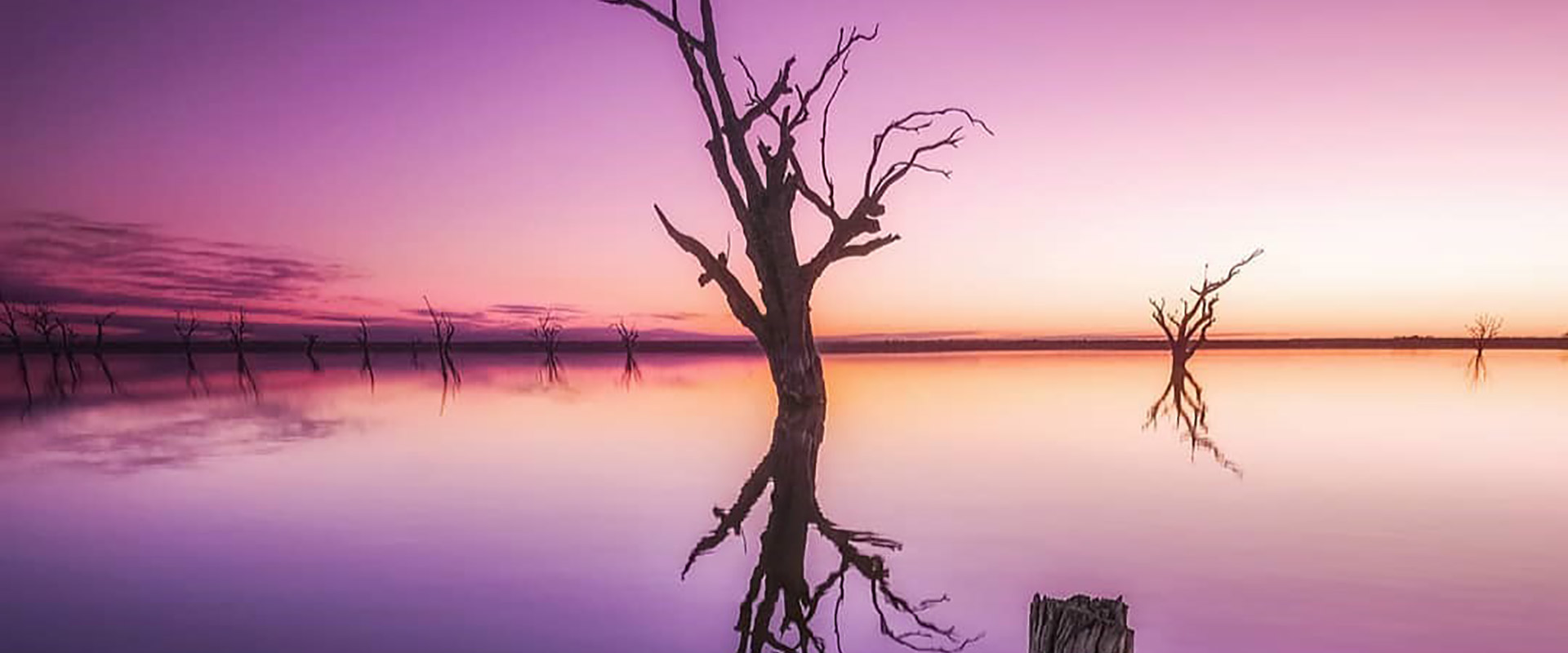 Wind back your clock to river time and take your pup to relax riverside. Pitch your tent or rig up your caravan in the heart of the Riverland just outside Berri at the dog friendly Mallee Fowl Restaurant and Camp ground. Attached to a quirky Australiana-style restaurant and set on more than 20 acres of picturesque bushland with chooks, geese, emus (perhaps keep your doggo on a leash) and even a quandong plantation, the Mallee Fowl Restaurant and Camp is just a short stroll to the flourishing banks of the Murray River. Plus, you can take a break from camp food and pull up a seat at the restaurant, home to a fascinating collection of eclectic Australiana paraphernalia serving country-style meals. While you're in the Riverland, be sure to take your pooch to see the sights – the insta-famous tortured trees of Lake Bonney are just minutes away while a refreshing G&T awaits just down the road at Renmark's Twenty Third Street Distillery.
10. Murray Bridge Marina Camping and Caravan Park, Murray River, Lakes and Coorong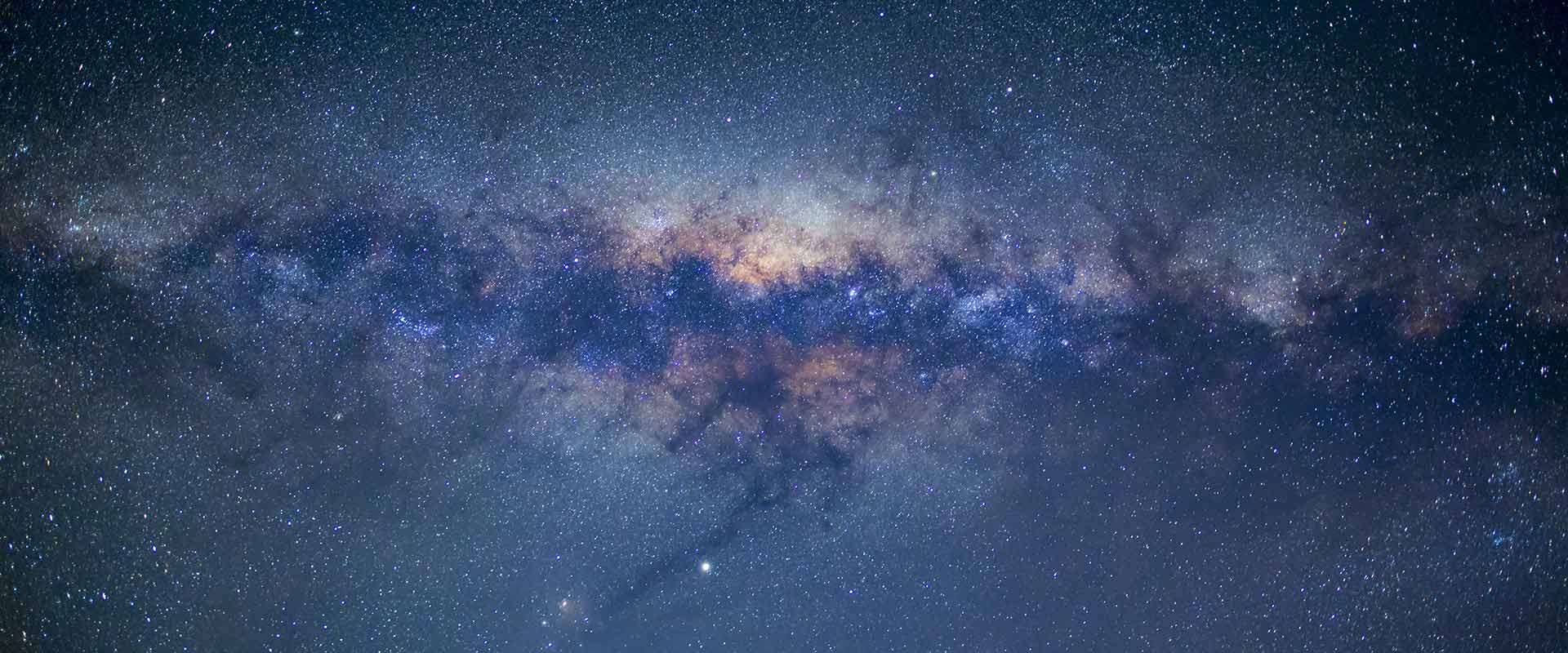 Fall asleep wrapped in a blanket of stars on the banks of the Murray River at Murray Bridge Marina Caravan and Camping Park. Tucked just 90 minutes' drive from Adelaide on the doorstep of South Australia's Dark Sky Reserve, starry solitude awaits stargazers with low rainfall, clear skies and virtually no light pollution creating the perfect conditions to explore the cosmos with your canine. As well as having front row seats to arguably the clearest skies in the state, the caravan and campground also has dedicated dog-friendly camping spaces and cabins perfect for a riverside slumber party with the stars (and your dog). Come daylight, explore the Murray River; the riverside towns of Murray Bridge, Mannum and Younghusband are a just short drive away. 
11. Pine Country Caravan Park, Limestone Coast
Doggy daycare, a dog park, a dog friendly cabin with enclosed yard and dog friendly camping - Pine Country Caravan Park has thought of it all when it comes to holidaying with your pup. A haven for fur-loving families, here your dog can run free in the two-acre off lead area before curling up by a roaring campfire as you swap stories and roast marshmallows. Tucked just a short stroll from Mount Gambier's Blue Lake, the park is perfectly positioned to explore the Limestone Coast, and if you're heading out for the day or have dinner plans, you can leave your dog at the on-site daycare. Talk about dog heaven!
Camping in South Australia
For more camping tips, check out the WikiCamps Australia app. To have the best trip possible and for the safety of your beloved pooch, be sure to check weather conditions before heading off on your camping adventure and check out these outback safety tips before you go.