Join Flying the Nest as they eat, drink and swim their way around the Eyre Peninsula: South Australia's seafood & coastal paradise.
Just an hour's flight away from Adelaide lies a land rich with succulent seafood, boasting abundant wildlife and blessed with natural beauty. Watch Stephen and Jess from Flying the Nest explored this region and told us their top tips on what to see and do in the Eyre Peninsula.
1. EAT FARM-FRESH OYSTERS WITH COFFIN BAY OYSTERS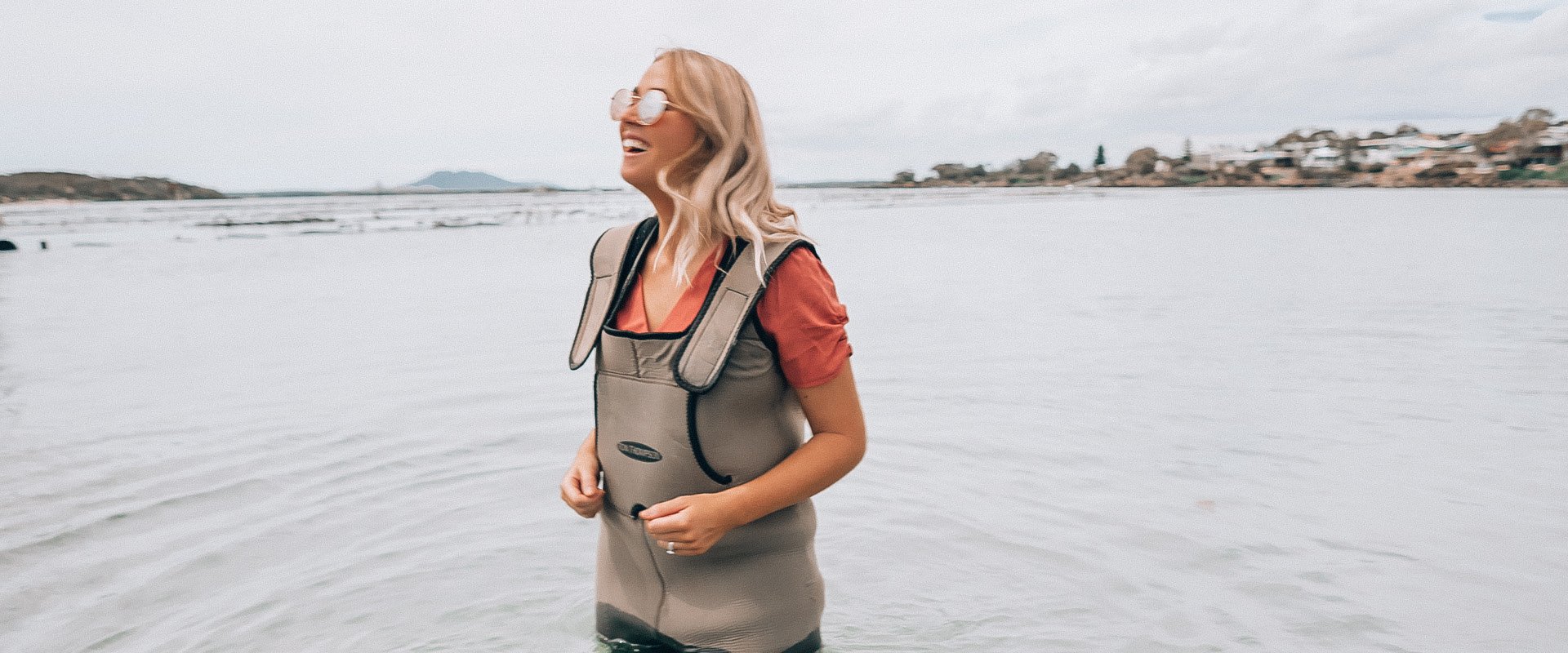 Pull-up in Coffin Bay, just 30 minutes from Port Lincoln, and step into waders and out into the beautiful waters of Coffin Bay with Coffin Bay Oyster Farm Tours. As you sit in the waters of a working oyster farm, you'll be served freshly plucked Pacific Oysters, taught how to shuck like a pro and encouraged to wash it all down with some local white wine. It's a once in a life-time experience and by the looks of Jess above, we think she's on an oyster high!
2. SWIM WITH SEA LIONS AT BAIRD BAY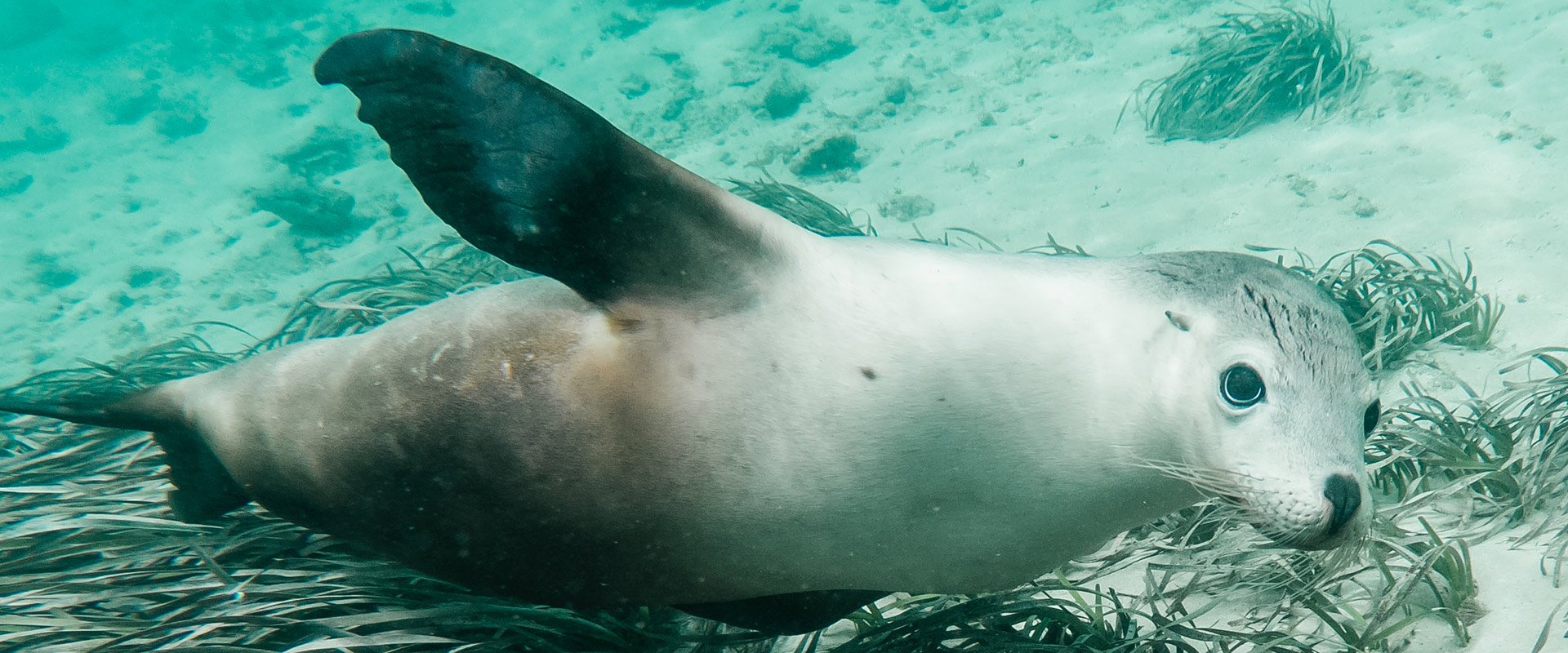 Rising bright and early, Stephen and Jess headed to Baird Bay for an epic Sea Lion Swimming Tour. After squeezing into wetsuits and slapping on their snorkels, they spent the day meeting and greeting playful sea lions in crystal-clear Eyre Peninsula waters. As they learnt first-hand, the more active you are, the more these puppy dogs of the sea want to play.
3. EXPLORE THE COASTLINE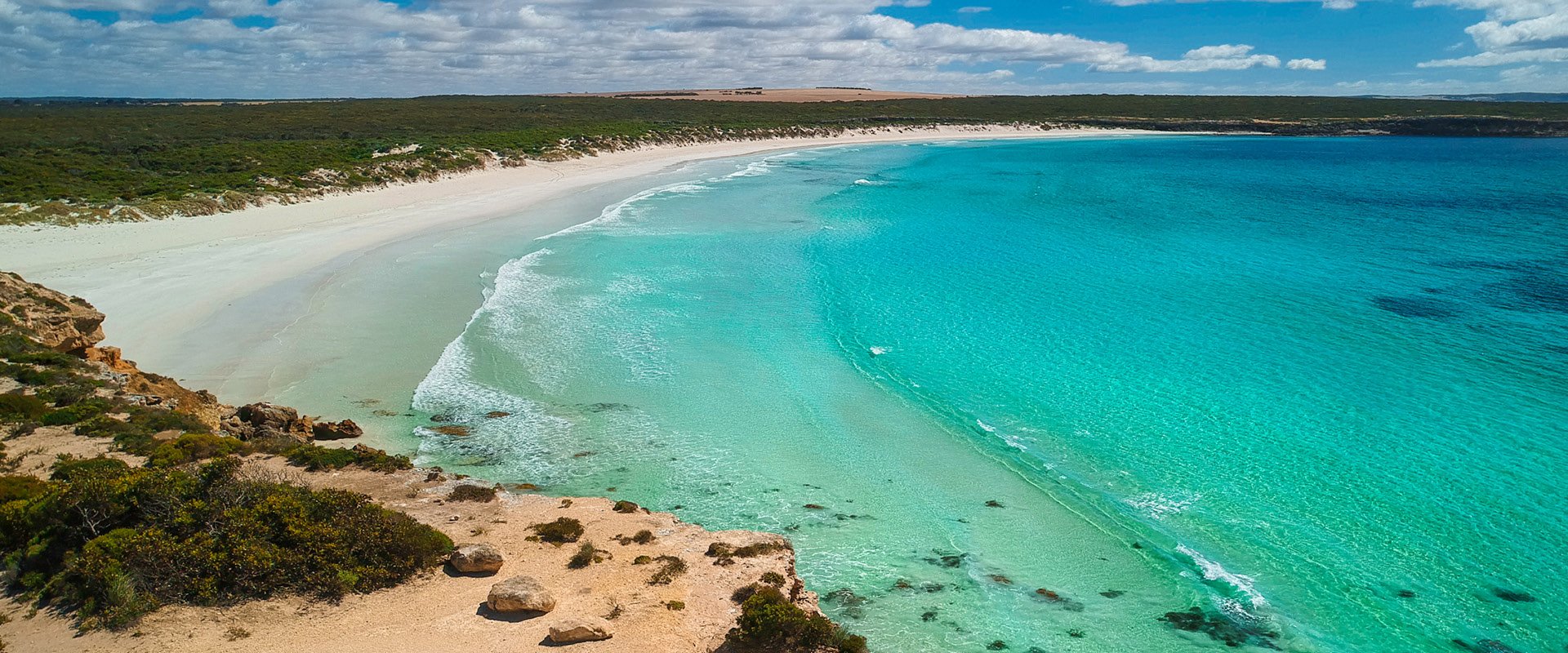 The Eyre Peninsula is a pristine region abundant in not only seafood, but spectacular, sprawling coastline. If you're a crystal-clear-water-craving-beach-goer, you'll need days dedicated to uncovering this region's beaches. Stephen and Jess, although at the mercy of the rain gods, were keen to spend some quality time exploring the pure white sand and lapping aquamarine waves like Fishery Bay. Follow in their footsteps, by purchasing a dozen local oysters directly from the farmer before finding the perfect sandy patch to sip and savour the flavours.
4. HAVE LUNCH AT THE FRESH FISH PLACE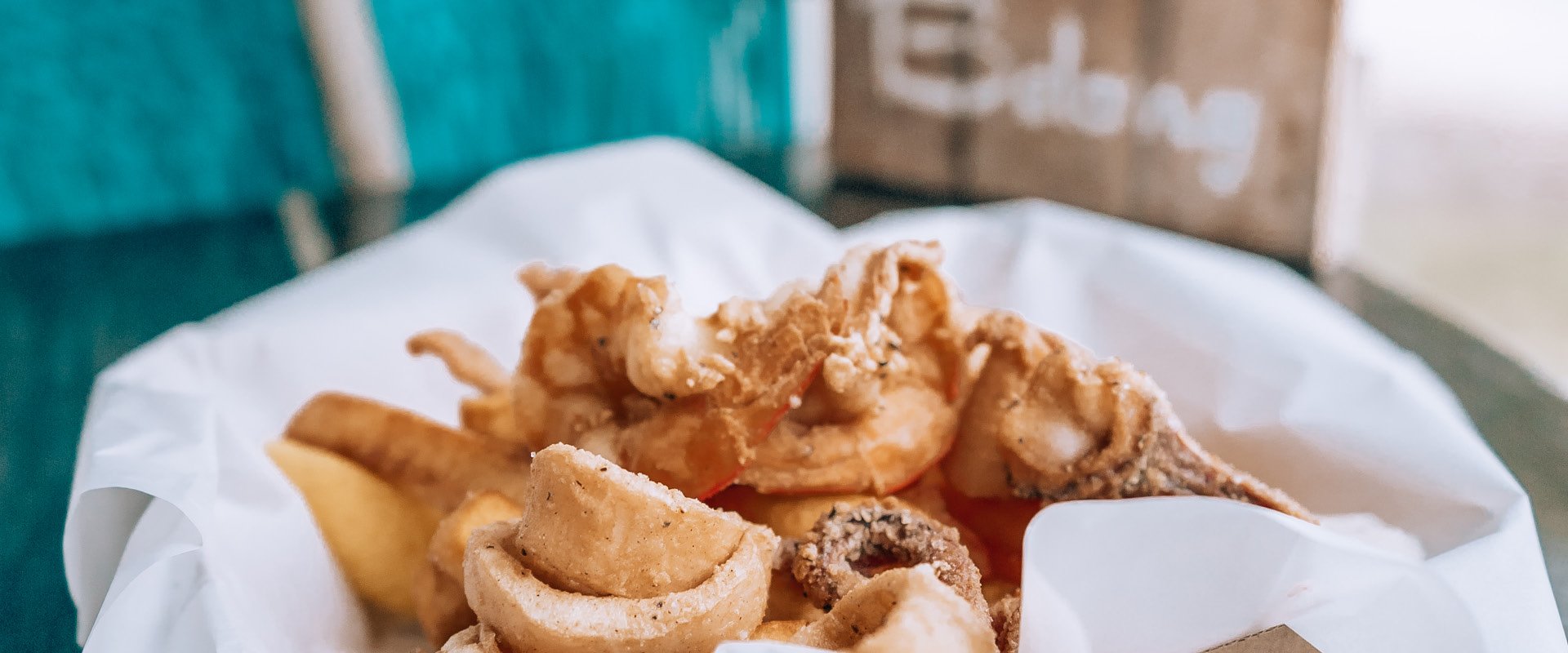 The Fresh Fish Place is the one stop shop for local seafood: a restaurant and fishmonger, legendary among Port Lincoln locals. Stephen and Jess took their pick from freshly-caught whiting, snapper, crayfish, prawns, Boston Bay mussels and Coffin Bay oysters which are cooked fresh and served straight to your table.
5. explore WHALERS WAY & lincoln National park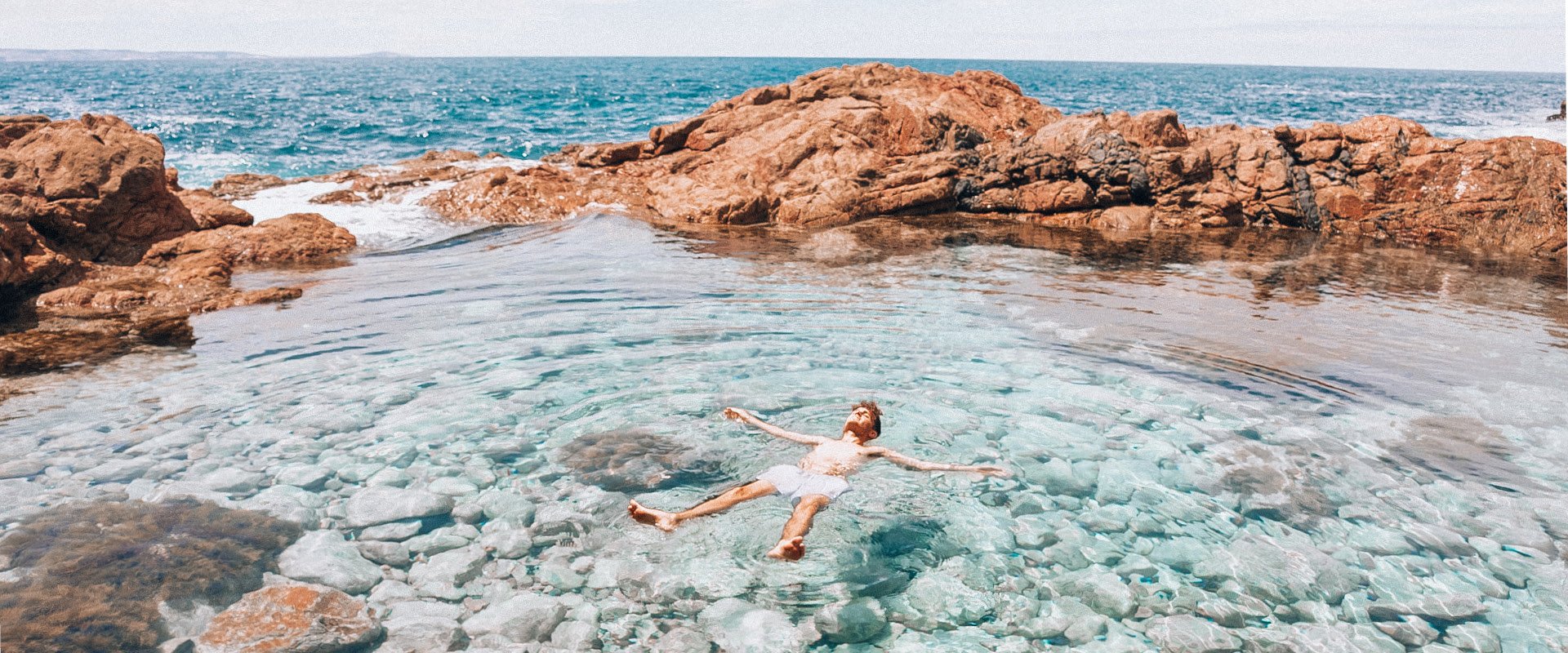 The rugged coastline of Whalers Way and Lincoln National Park beckoned and our travellers heeded its call. Taking the road (much) less travelled, they followed winding coastal paths to Whalers Way beach. Stepping onto the sand, they took-in ocean eye candy, watching waves crash, and discovering a private natural swimming pool.
6. GRAB A COFFEE AT THE BOSTON BEAN COFFEE COMPANY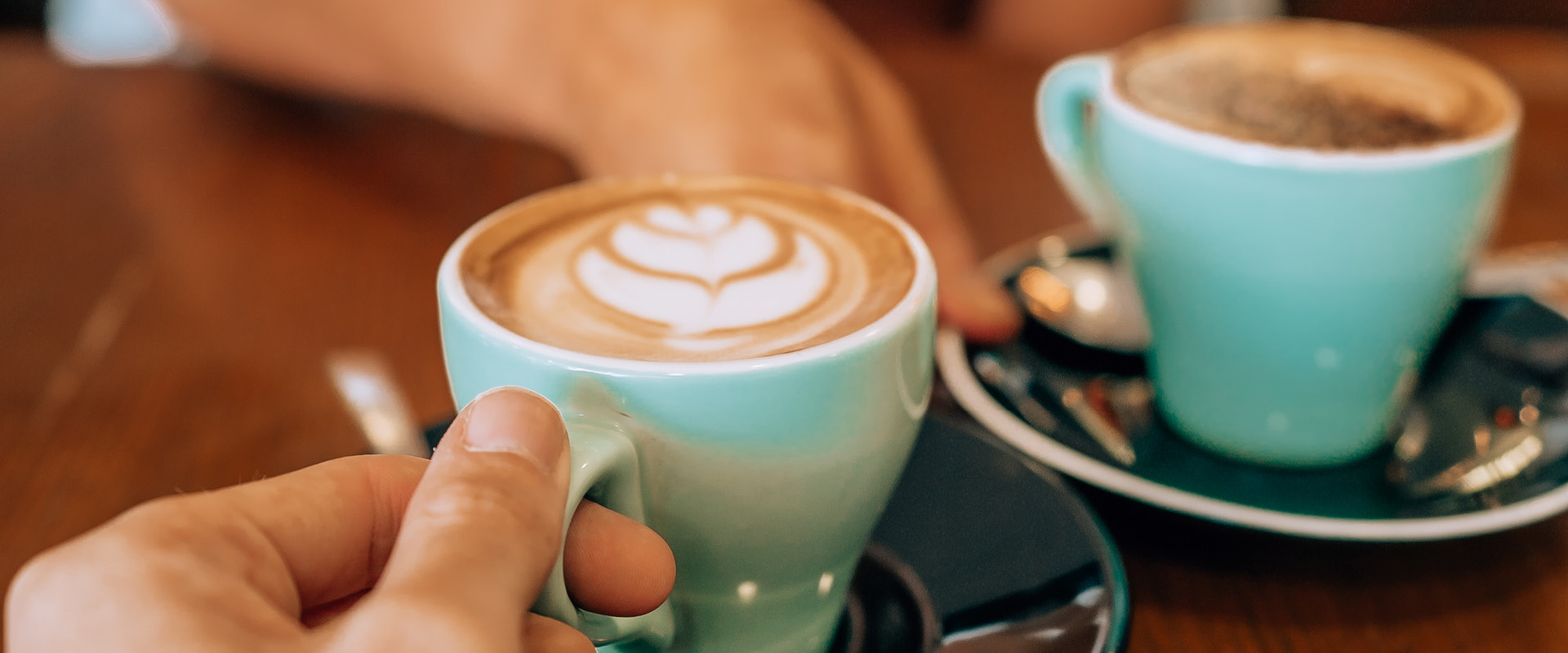 Port Lincoln's Boston Bean roasts-up arguably the best coffee in town. Their green specialty coffee is multi-award-winning and sourced from around the world. As the only specialty coffee roastery and bar in South Australia, they encourage customers to learn more about what they're drinking and tour the roastery. Needless to say, Stephen and Jess were in caffeinated heaven.
7. CAGE DIVE WITH GREAT WHITE SHARKS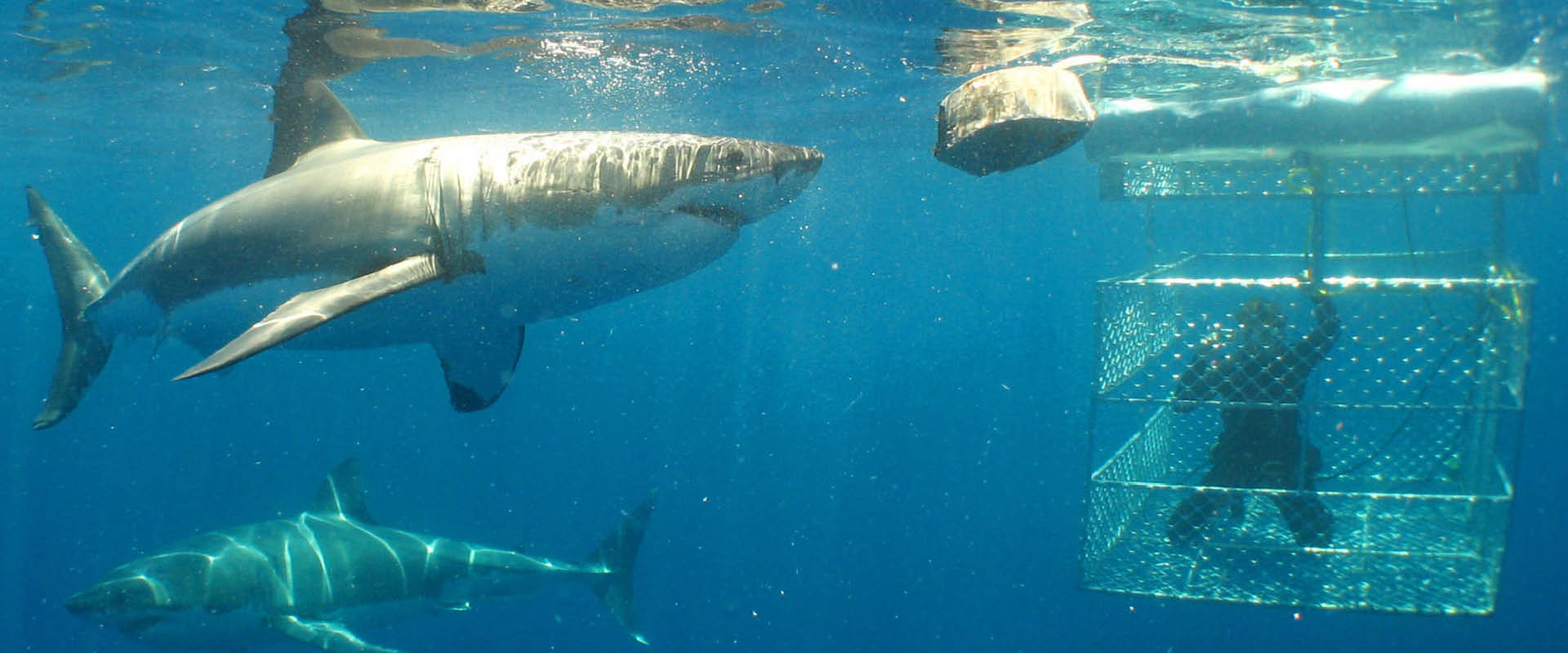 Push yourself to the limit on an adventurous great white shark cage diving expedition with Calypso Star Charters. The Neptune Island off Port Lincoln is the only place in Australia where you can come face-to-face with great whites in their natural environment. For those not wanting to get wet, Adventure Bay Charters offers prime viewing of the underwater action from the safety of a glass aqua-sub. Regrettably, the tour Jess and Stephen were booked on was cancelled to due an unusual reduction in shark sightings over the weekend they were in Port Lincoln.
8. EXPLORE THE TALIA CAVES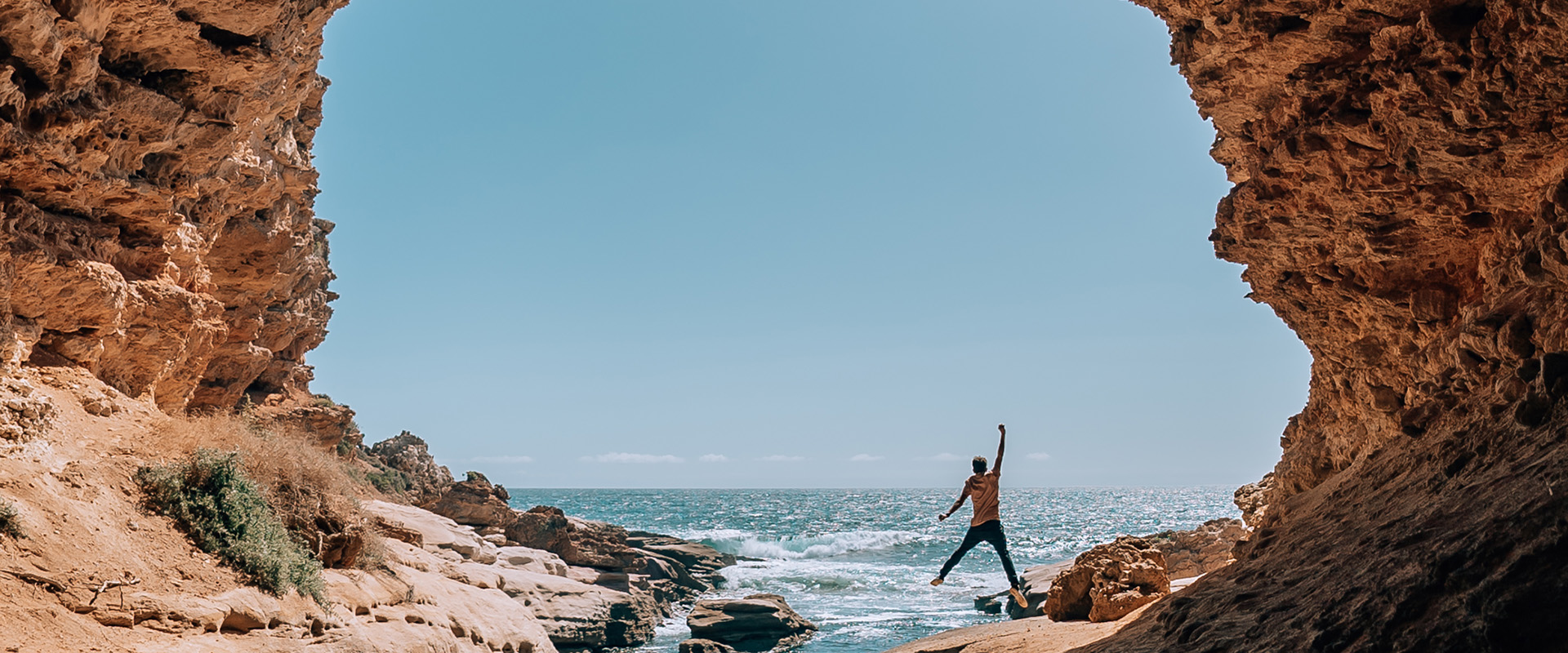 Just an hour and a half's drive from Baird Bay lie the monumental Talia Caves. Stephen and Jess peered out at the wild ocean from the Woolshed Cave: a huge cavern set deep in a granite cliff, formed by pounding waves over thousands of years. Further along the coast, they discovered dramatic cliffs, offering amazing views to the south along Talia Beach.
9. EXPLORE COFFIN BAY NATIONAL PARK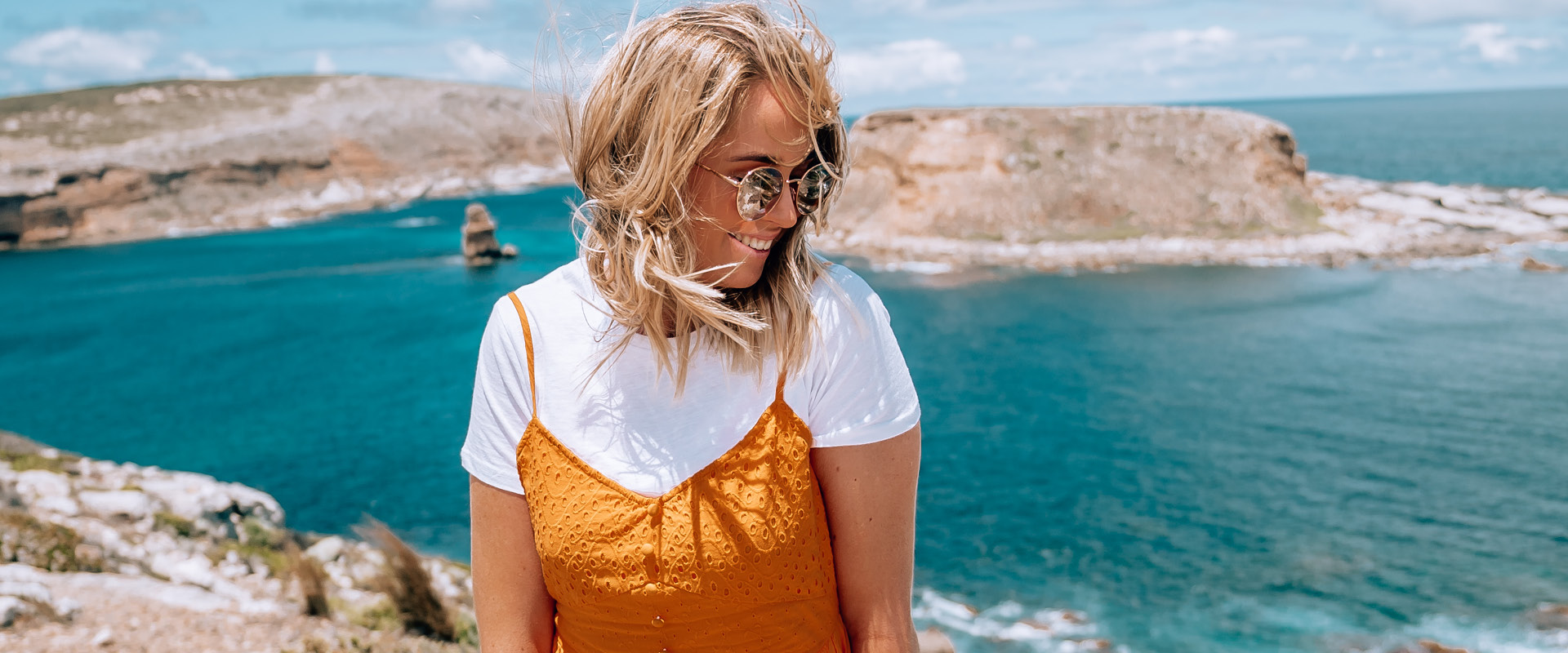 Coffin Bay National Park is a must-visit location. Known for its remote coastal scenery, the national park's bays and coastline are ideal for boating, camping, fishing, sailing, scuba diving and windsurfing. Spend the afternoon exploring the park's high windswept cliffs and massive dunes; pounding surf beaches and sheltered sandy bays. In the park you can almost guarantee seeing emus (and their chicks in the spring) wandering across the roads. 
10. Enjoy breakfast and coffee at the Rogue and Rascal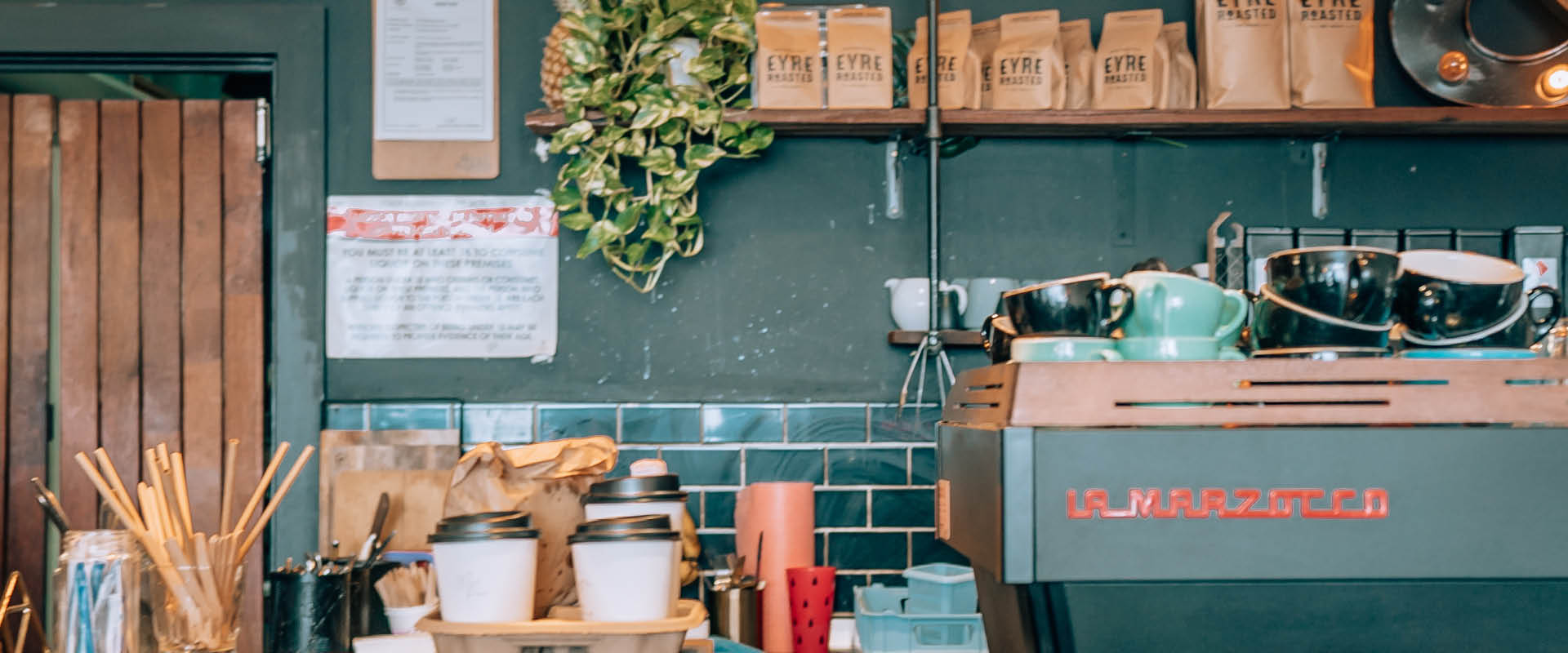 If you follow Stephen and Jess you know the sun doesn't rise without coffee, so first thing's first: coffee. The Rogue & Rascal is a bold, buzzing local haunt, bringing Adelaide's café and small-bar scene to the seaside town of Port Lincoln. Follow their lead and start the day sipping a coffee looking out at the town jetty and Boston Bay during the day, or kick-back with a boutique scotch or whiskey at night.
11. have dinner at Line & Label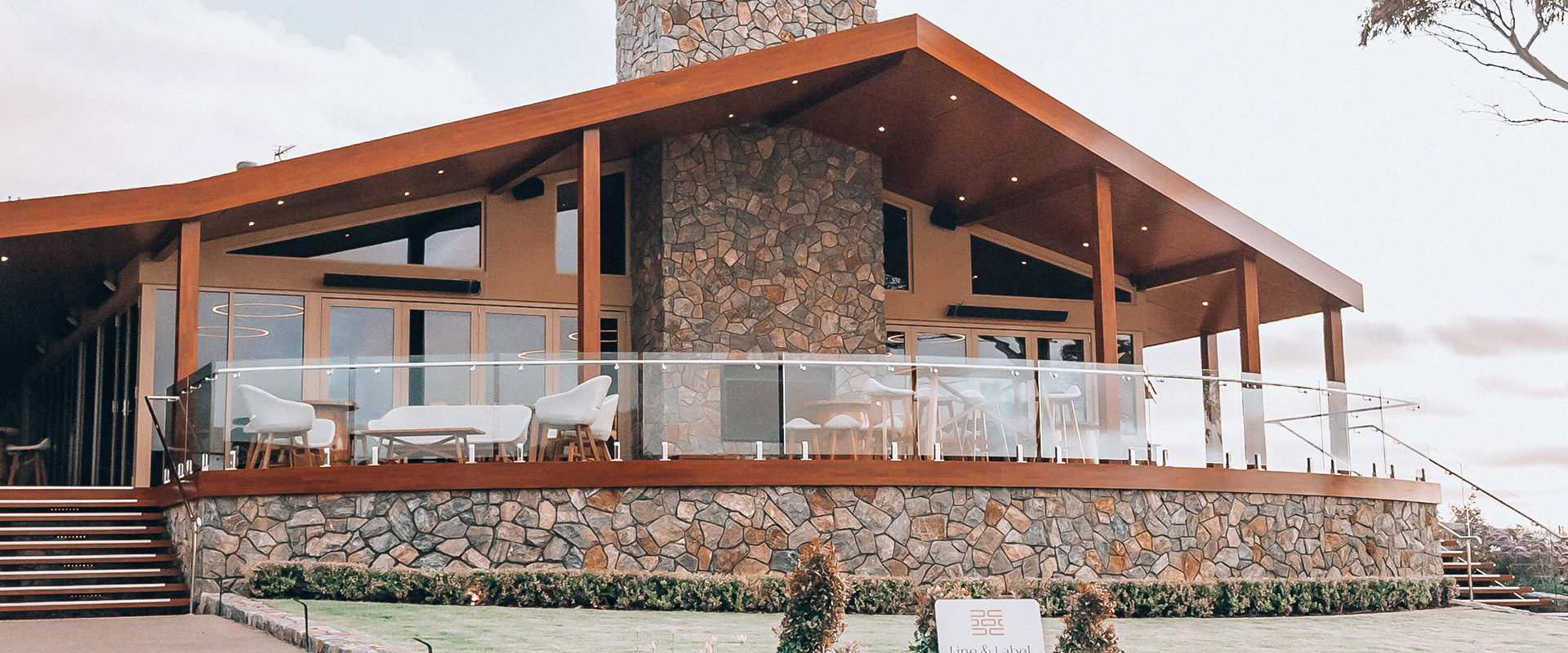 The Line & Label is one of Port Lincoln's premier dining destinations, set among the sprawling vineyard of Peter Teakle Wines. Here, Stephen and Jess drank and dined on South Australia's finest produce, selecting from a rotating menu that changes every four to six weeks. Meals are matched with exceptional wines, all on display within a spectacular eleven-metre-long polished wood bar.
12. STAY AT PORT LINCOLN HOTEL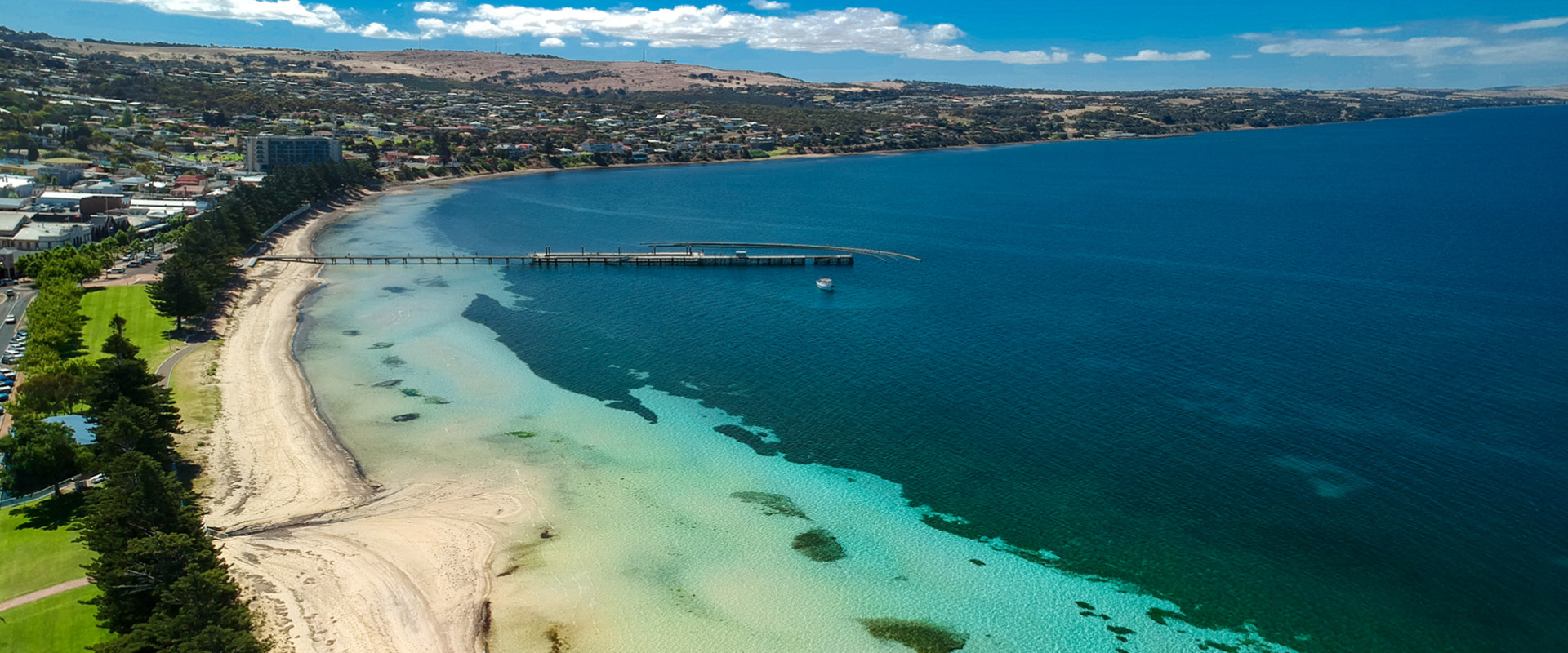 With views over Boston Bay and the jetty, Port Lincoln Hotel is the perfect base to explore the region. The hotel has travel arrangements with the shark tour operators for early morning pick-ups and it's perfectly positioned to stroll into the city of Port Lincoln. Stephen and Jess spent their time in Eyre Peninsula staying at Port Lincoln and loved it! 
Spend summer in the Eyre Peninsula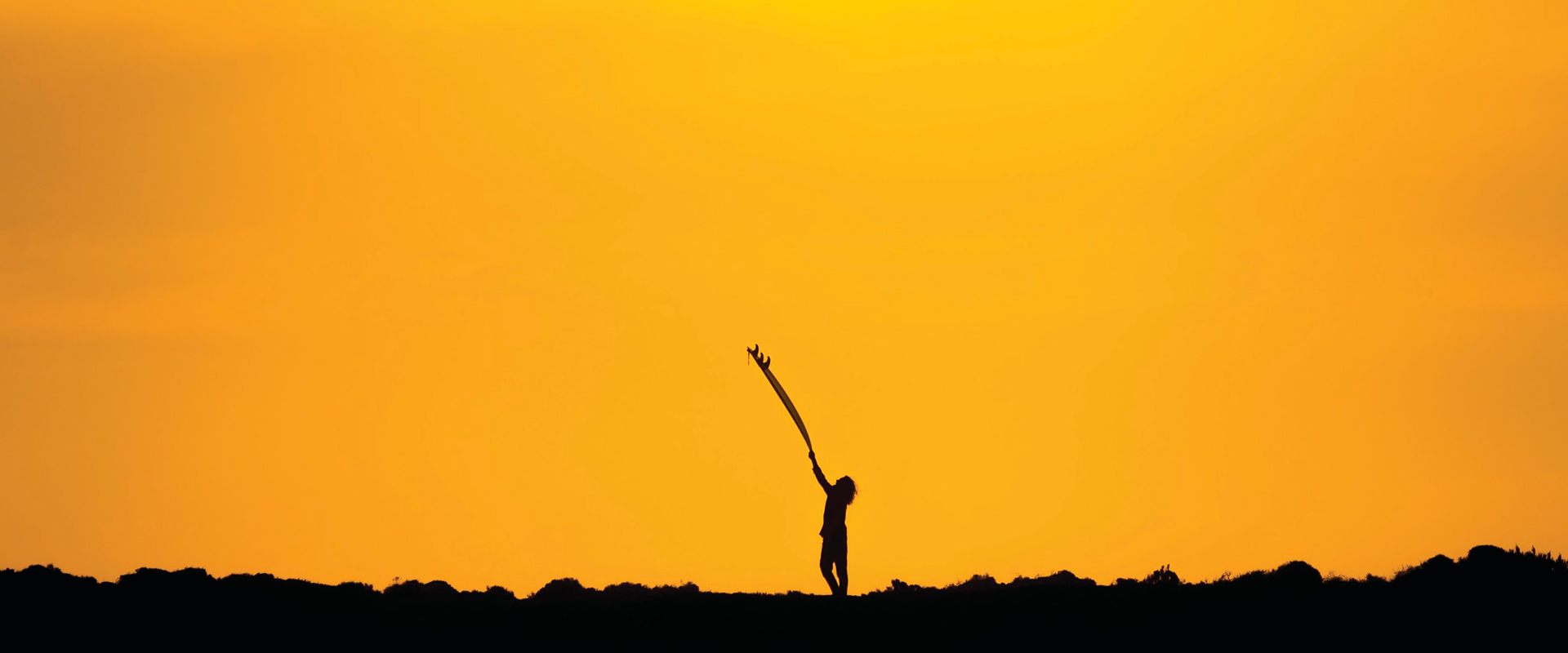 Liked Flying the Nest's Eyre Peninsula itinerary but want more? Find out what to do in summer along the Eyre Peninsula with our top summer activities, tours, events and accommodation.