From luxury hotels to wineries and wildlife, an accessible escape to South Australia has never been easier.
Experience the best of South Australia with our top accessible accommodation, experiences and attractions.
Accommodation
The Mayfair Hotel, Adelaide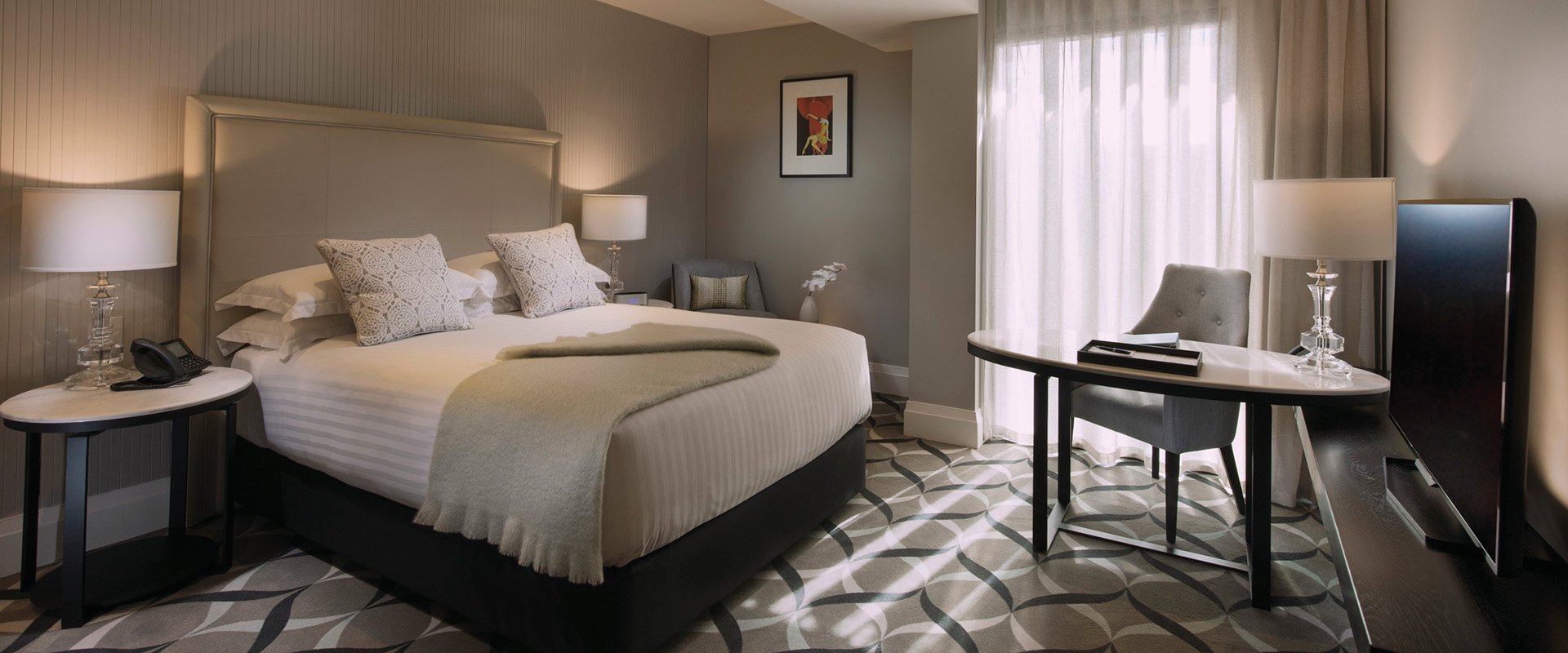 The Mayfair is Adelaide's premier five-star boutique hotel, listed as one of the top hotels in Australia and New Zealand by Condé Nast Traveller and taking home the award for Best Bed in Australia at the Gourmet Traveller 2018 Australian Hotel Awards. Located right in the heart of the city, The Mayfair offers luxury accommodation, contemporary dining, as well as the stunning Hennessy Rooftop Bar.
Accessibility: The Mayfair offers accessible Superior Queen and King Deluxe rooms. These rooms come with lowered beds and wider, easy-to-access showers and bathrooms. There is 24-hour assistance available at reception, and public areas including the hotel bar and restaurant are accessible by ramp and elevator.
The Stamford Grand, Glenelg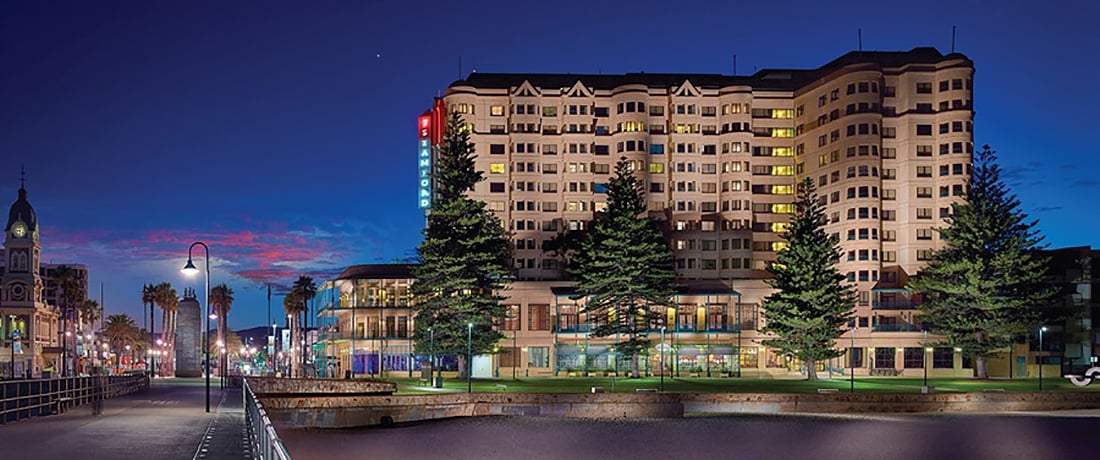 The Stamford Grand is perched overlooking Glenelg Beach, one of Adelaide's most popular seaside destinations. The hotel boasts 220 luxurious rooms with magnificent ocean and hills views. Bookended by fabulous sun and sea on one side and a bustling retail and restaurant precinct on the other, it's the perfect escape, just 20 minutes' drive or wheelchair-accessible tram ride away from Adelaide's CBD.
Accessibility: The Stamford Grand offers luxuriously appointed accessible rooms with plenty of transfer room on both sides of the bed. The accessible bathroom features a height-adjustable shower head, easy-to-access toilet, grab rails and roll-in access.
The Crafers Hotel, Adelaide Hills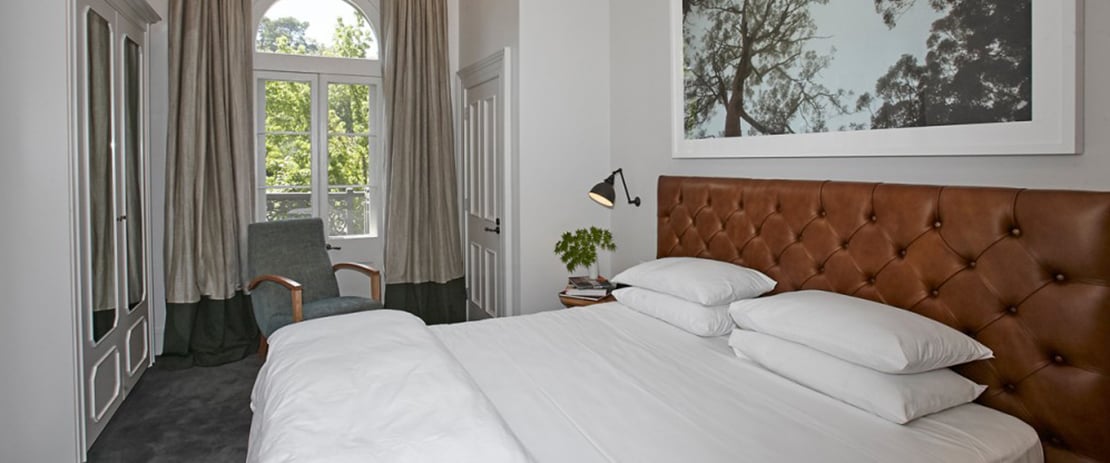 Winner of Best Overall Hotel in South Australia at this year's Hotel Awards for Excellence, the stunning Crafers Hotel oozes charm, combining bold modern décor with 1830s heritage architecture. Located in the leafy hamlet of Crafers, the hotel is elegant and airy with a downstairs bistro offering meals seven days-per-week and a gorgeous bar where you can enjoy a glass of famed local wine by the roaring fire.
Accessibility: The Crafers Hotel's beautifully appointed Norfolk Room is designed for optimum wheelchair access. Situated right next to the lift, the bedroom is spacious with ample transfer room on both sides of the plush bed. The toilet features grab rails and a large, accessible shower with detachable head. All amenities are at an accessible height.
The Louise, Barossa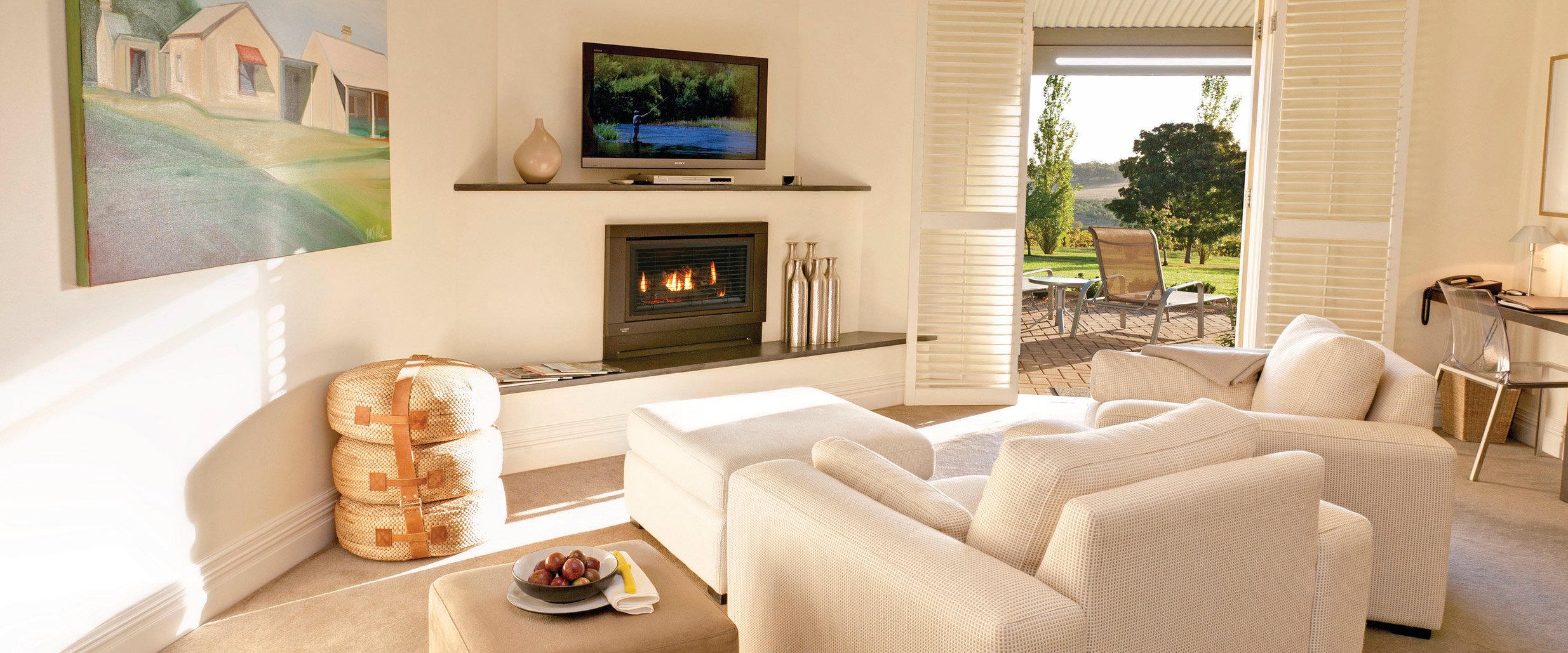 Surrounded by hundreds of acres of vines, overlooking the world-renowned Barossa, The Louise is one of South Australia's most luxurious escapes. Just one hour's drive away from Adelaide, The Louise features fifteen luxuriously appointed suites, each with its own terrace, overlooking prime South Australian wine country.
Accessibility: The Louise's Vineyard Suite features a wheelchair-accessible toilet and shower.
Inkwell Wines, Hotel California Road, Fleurieu Peninsula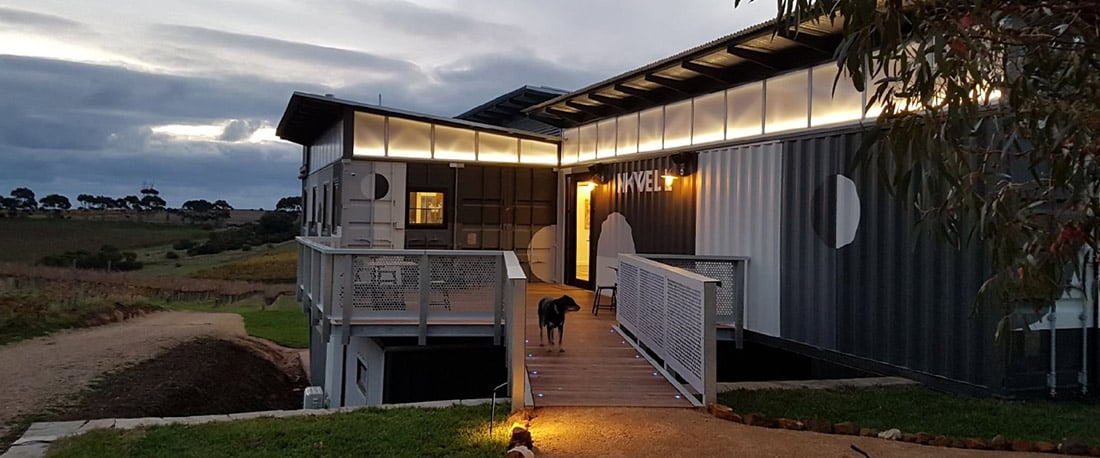 Inkwell Wines' luxe, contemporary Hotel California Road is comprised of three luxury vineyard suites, nestled in a secluded valley near South Australia's famed McLaren Vale wine region. Each private suite features a huge soaking tub overlooking rows of vines as well as floating king-size beds, large private decks and dual showers and vanities. Guests receive a private tasting and are offered a concierge service to famed Fleurieu Peninsula restaurants and wineries nearby.
Accessibility: Hotel California Road features a fully-accessible bathroom, roll-in shower and toilet with grab rails.
Experiences
Escape to the Adelaide Botanic Garden and National Wine Centre of Australia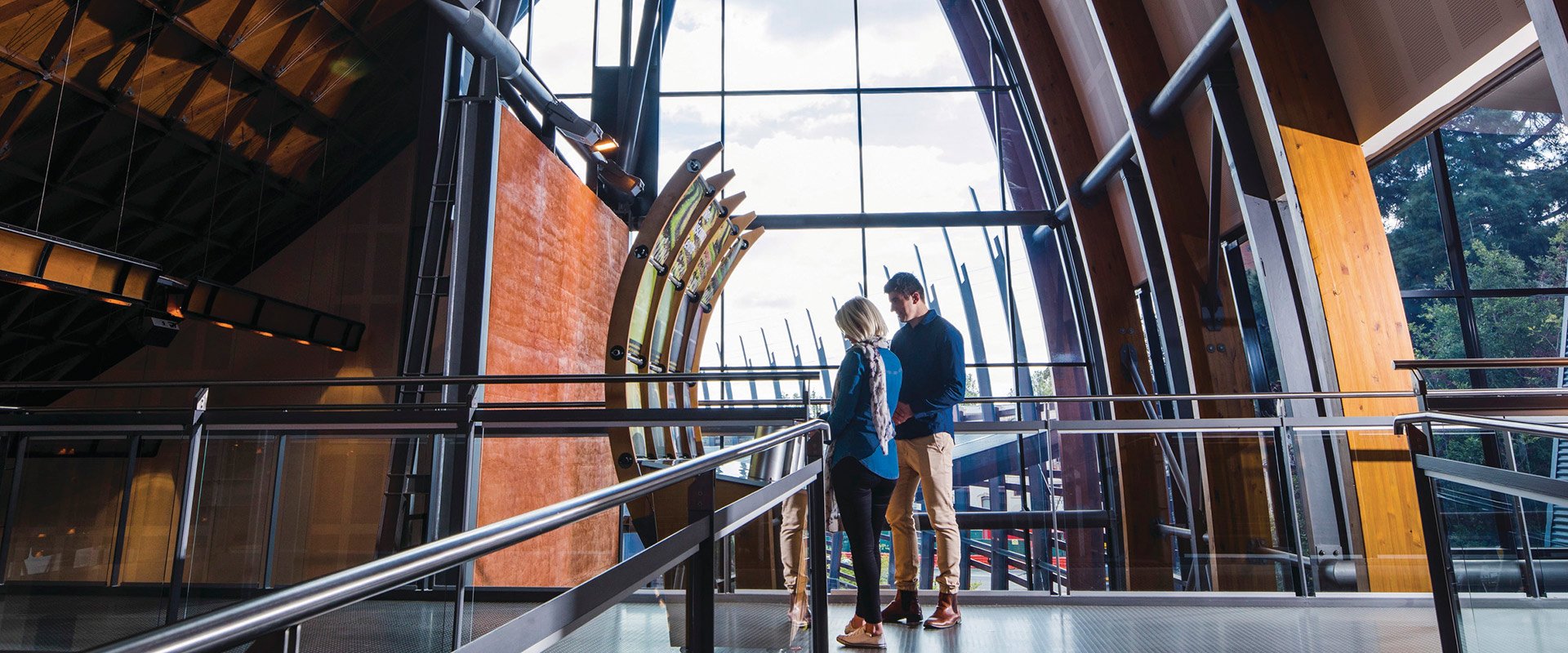 Spend a day exploring South Australia's inner-city oasis – the Adelaide Botanic Garden, before visiting the world-renowned National Wine Centre of Australia.
The sprawling Botanic Garden spans 50 hectares, featuring stunning architecture, majestic avenues and some of Australia's finest plant collections. The garden is easy to access and navigate with paved and bitumen paths running throughout. Stop for lunch at the multi-award-winning Botanic Gardens Restaurant, where you'll dine under a heritage rotunda, overlooking ponds and lush greenery.
Right next to the Adelaide Botanic Garden lies the National Wine Centre of Australia. Easily accessible by wheelchair, spend the afternoon digging into a fantastic selection of Australian cheeses and over 120 wines including iconic Penfolds Grange and Henschke Hill of Grace.
Spend the day at South Australia's Seacliff Beach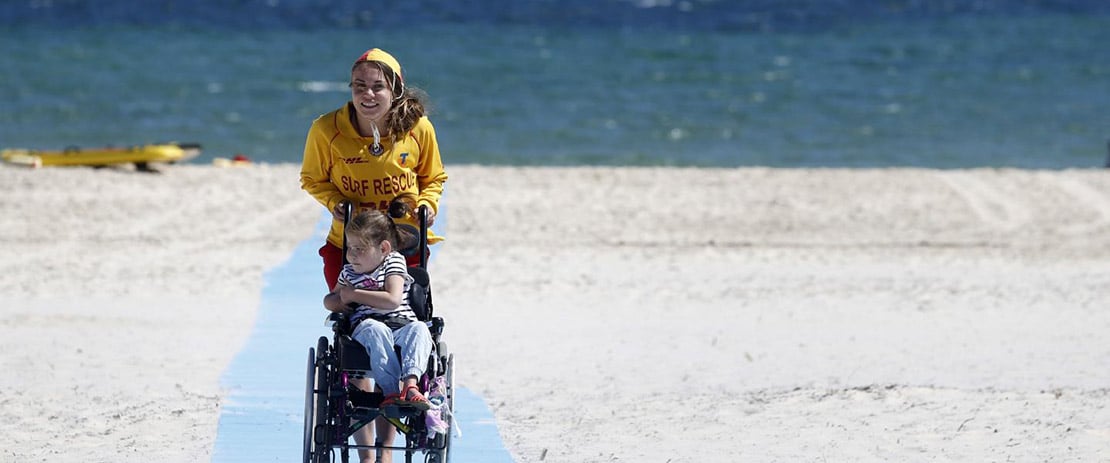 Just 26 minutes' drive away from the city, and just around the corner from boutique Jetty Road Brighton, Seacliff Beach was the first in South Australia to roll-out an accessible beach mat. The mat is set-up on weekends and public holidays from 1pm to 5pm, when the beach is patrolled by lifeguards. Grab lunch at Brighton, then drive 5 minutes to the Seacliff Pub, where the mat extends from the bottom of the wheelchair ramp, out to the lapping ocean.
Wine and dine at McLaren Vale's Mitolo Wines & Bocca di Lupo restaurant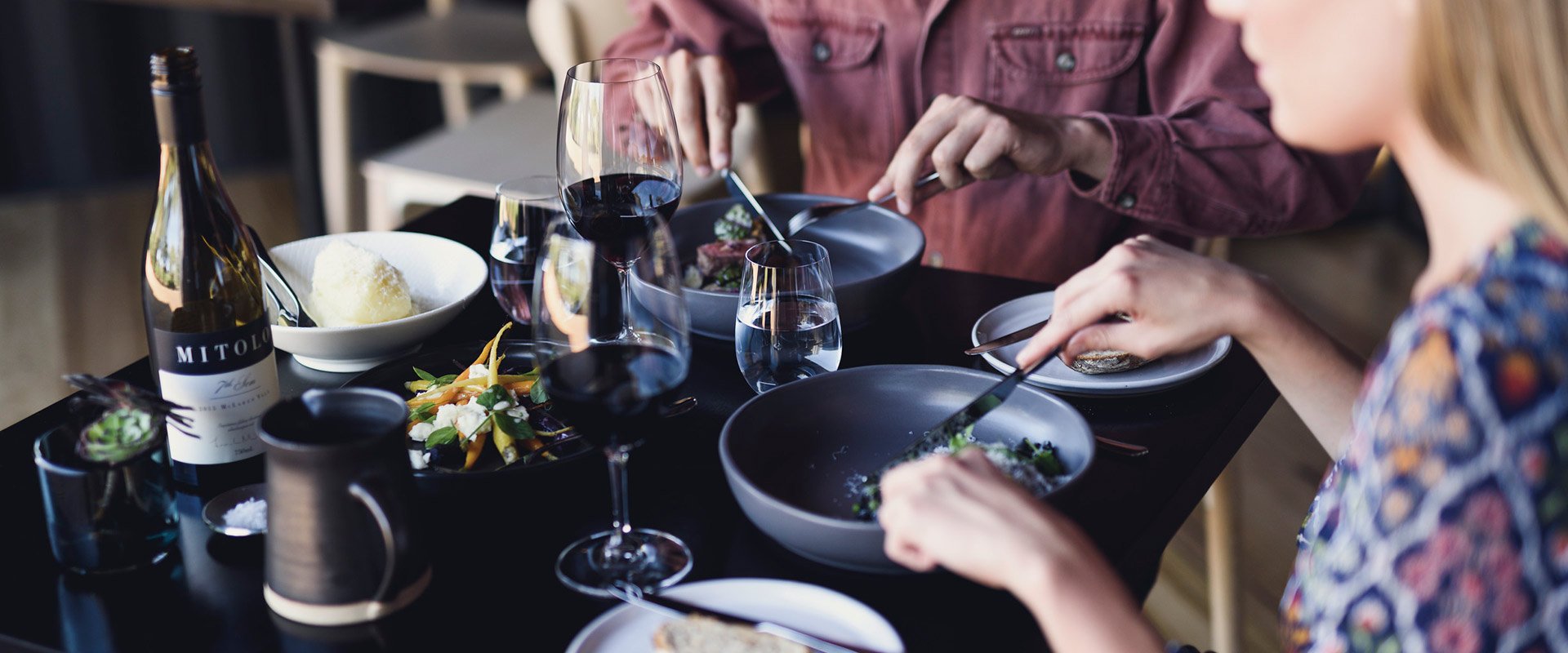 Situated in the heart of McLaren Vale, accessible Mitolo Cellar Door offers unique and personalised tastings of luscious single vineyard wines. Sit back and relax as their passionate team personally guide you through a range of Italian inspired wines, overlooking stunning creeks and vineyards. Linger longer and treat yourself to a fusion of modern Australian, Italian and Asian cuisine at Bocca Di Lupo restaurant – winner of the AFGF Chef Hat award in 2018.
Explore the lush, leafy Adelaide Hills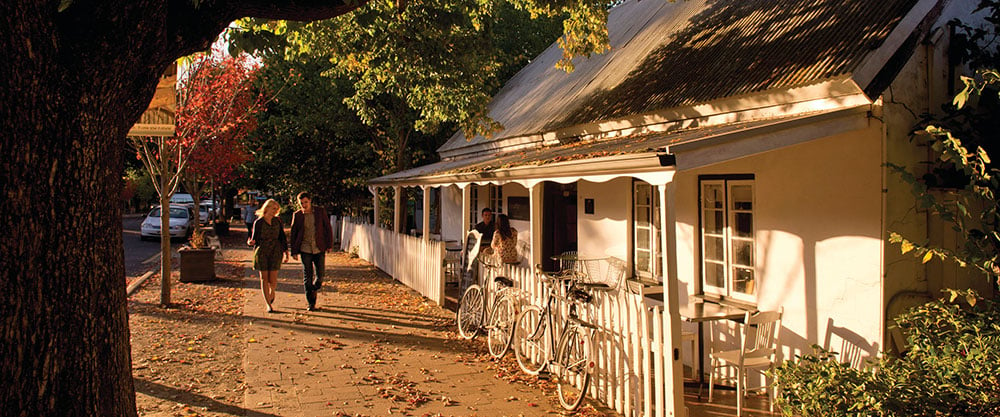 Taste some of Australia's best cool-climate wines, food and produce, straight from nature's top shelf in the Adelaide Hills. Explore the charming town of Hahndorf, lose yourself in the leafy wonderland of Stirling, then stop for lunch at Uraidla's Lost in a Forest – a quirky renovated church, serving South Australia's finest gourmet pizzas.
Embark on the ultimate Flinders Ranges experience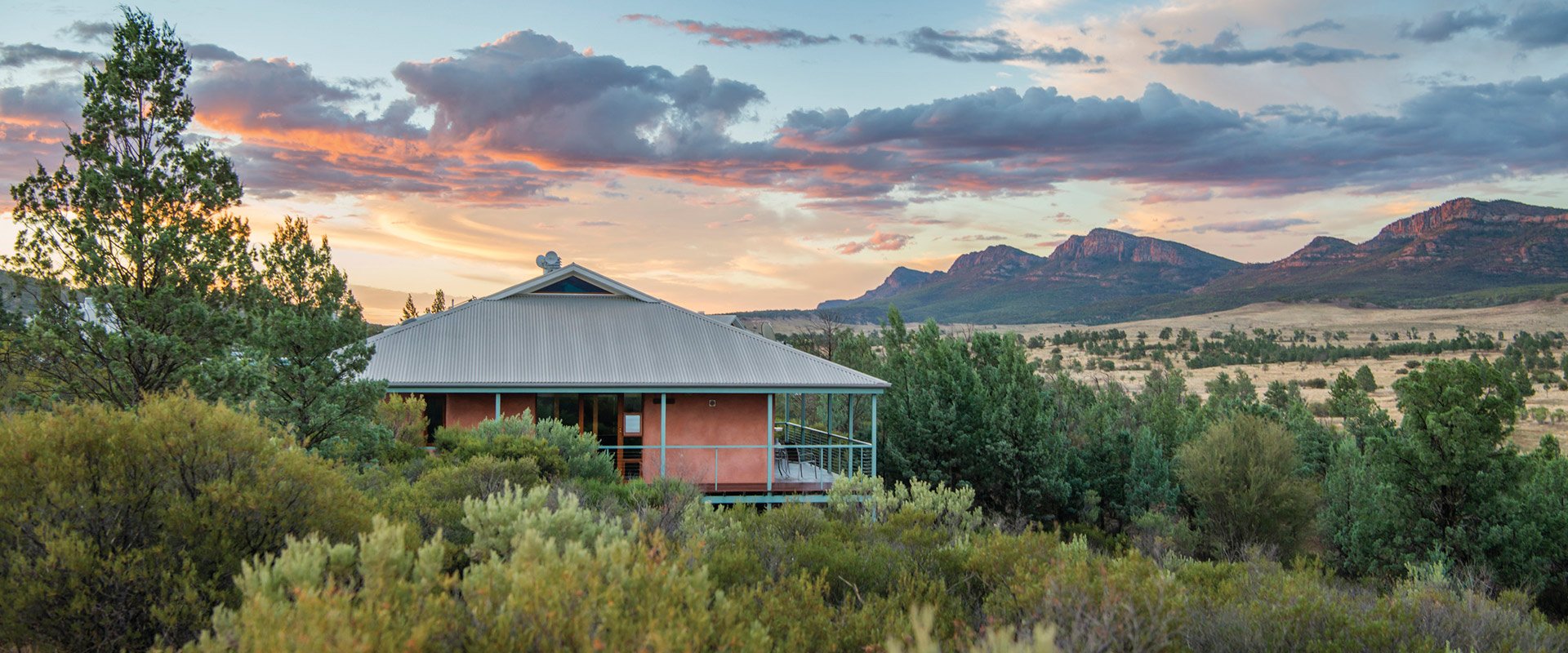 Embark on an unforgettable journey to the ancient, rugged Flinders Ranges, basing yourself at Rawnsley Park Station. Set at the foot of the awesome Rawnsley Bluff, Rawnsley Park Station's Accessible Holiday Unit features three bedrooms with an accessible bathroom and a large roll-in shower. From here, spend your days driving through jaw-dropping landscapes to historic, outback South Australian towns, sprawling national parks, fascinating Aboriginal cultural sites, ancient peaks and craters. The walk from the Wilpena Pound Visitor Information Centre is wheelchair accessible, taking you through prime Flinders Ranges scenery.
For the ultimate Flinders Ranges experience, take to the skies with Rawnsley Park Station's helicopter flight over Rawnsley Bluff, Wilpena Pound, Bunyeroo Gorge and Edeowie Gorge.
Attractions
Cleland Wildlife Park, Adelaide Hills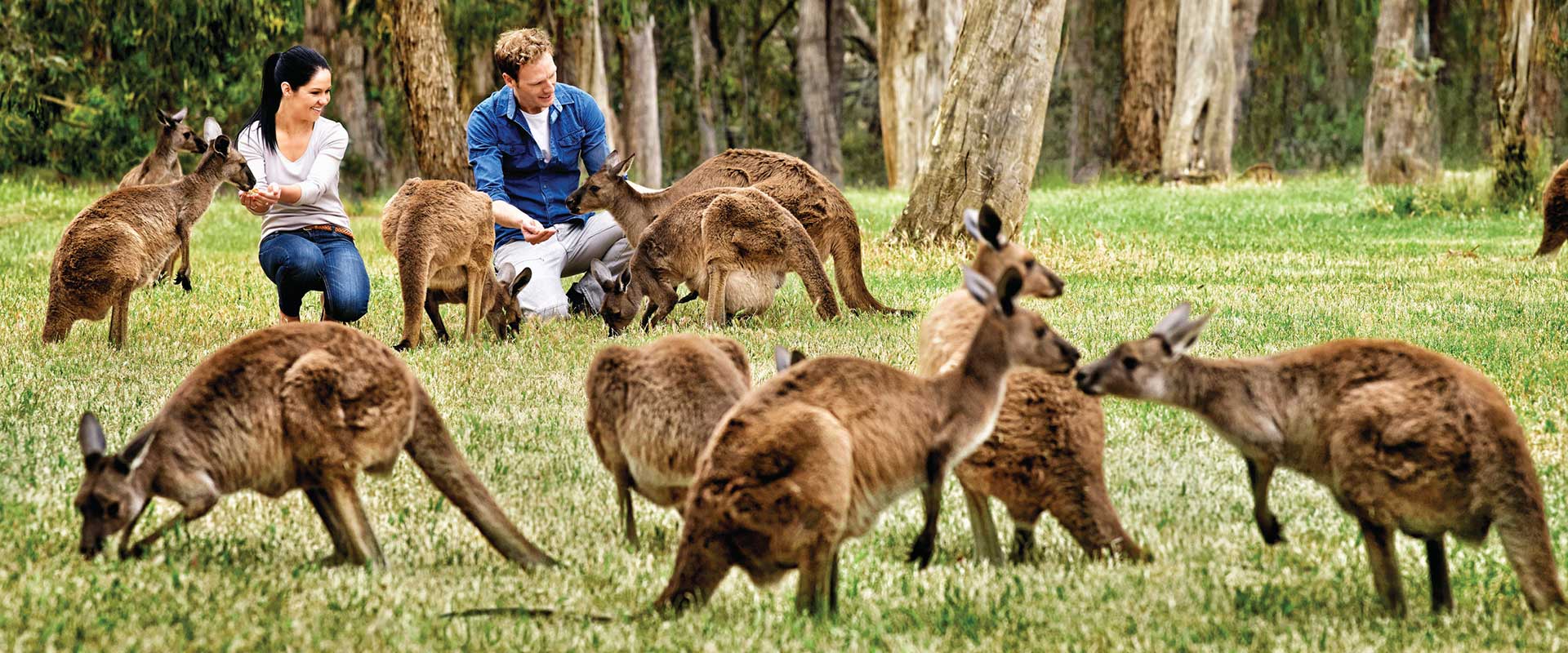 Ever wished you could see Australia's cute, cuddly, and not so cuddly animals in one convenient location? Discover must-see native species at Cleland Wildlife Park in the Adelaide Hills, just 30 minutes' drive from Adelaide's CBD. Get up-close to kangaroos, koalas, wallabies, reptiles and emus. The park features accessible trails, toilets, parking, ramps, picnic areas and more. See their Disability Access Map for more information.
Flinders Chase National Park and Seal Bay, Kangaroo Island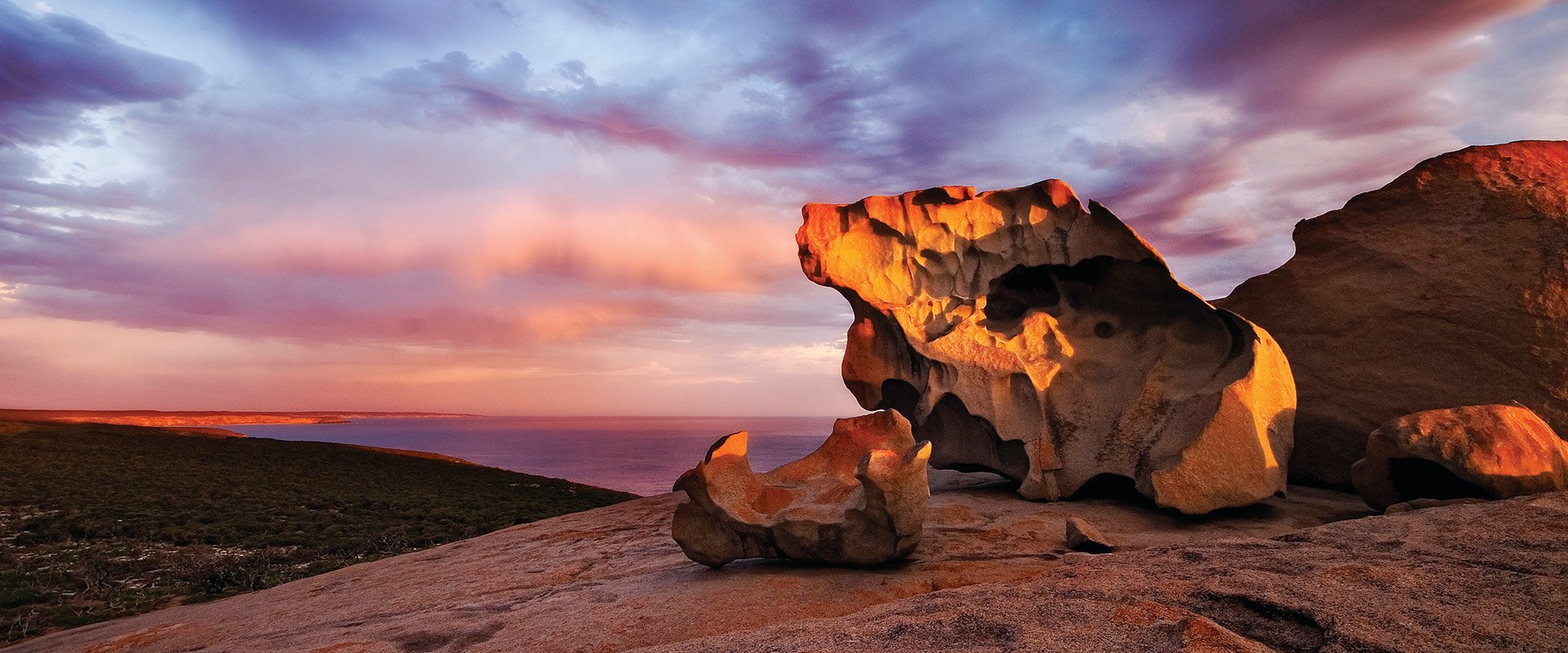 Kangaroo Island's Flinders Chase National Park is one of South Australia's most naturally beautiful destinations. With jaw-dropping coastal scenery and iconic wildlife at every turn, it's at the top of most tourists' South Australian bucket lists. Watch the sun disappear beneath Admirals Arch: a giant natural cathedral, dripping with fossilised tree roots or take a seat at Remarkable Rocks: a cluster of gigantic granite boulders overlooking savage cliffs and deep-blue swells.
The Remarkable Rocks Walk is an accessible boardwalk, starting at the Remarkable Rocks car park, following wind-sculpted coast until it reaches the rocks themselves.
The Admirals Arch Walk is partially accessible. Start at the car park and continue along the boardwalk with stunning views of the coast and seal colonies below. The incline on the return may require assistance.
Seal Bay has been home to an Australian sea lion population for thousands of years and offers one of the most exceptional nature-based experiences in the world. See sea lions in their natural habitat from a 900 metre-long accessible boardwalk, meandering through the dunes to impressive coastal lookouts.
Coffin Bay Oyster Walk, Eyre Peninsula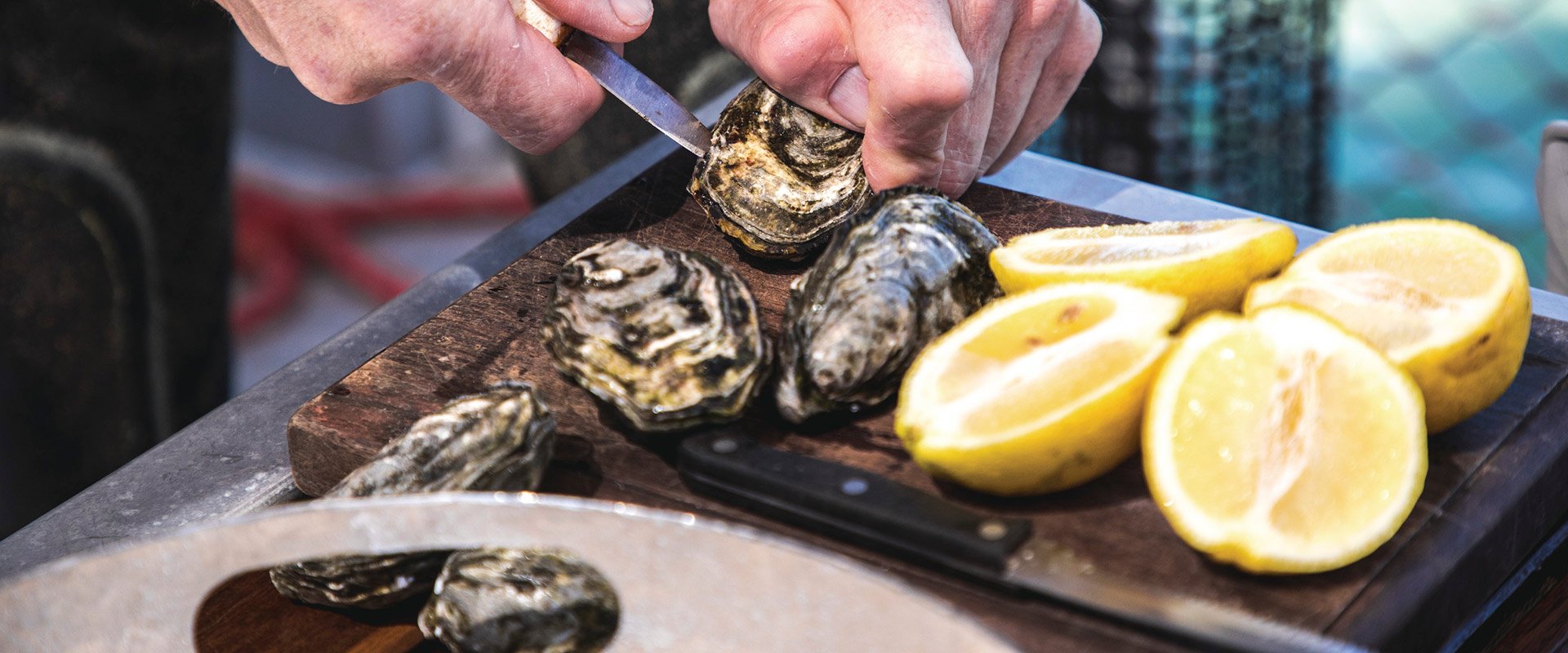 Eyre Peninsula's Coffin Bay is synonymous with succulent seafood. After sinking your teeth into world-famous oysters at 1802 Oyster Bar and Bistro, wander along the picturesque foreshore from the caravan park to Crinoline Point and Kellidie Bay lookout: part of the eight-kilometre wheelchair accessible Oyster Walk.
Robe Obelisk Walking Trail, Limestone Coast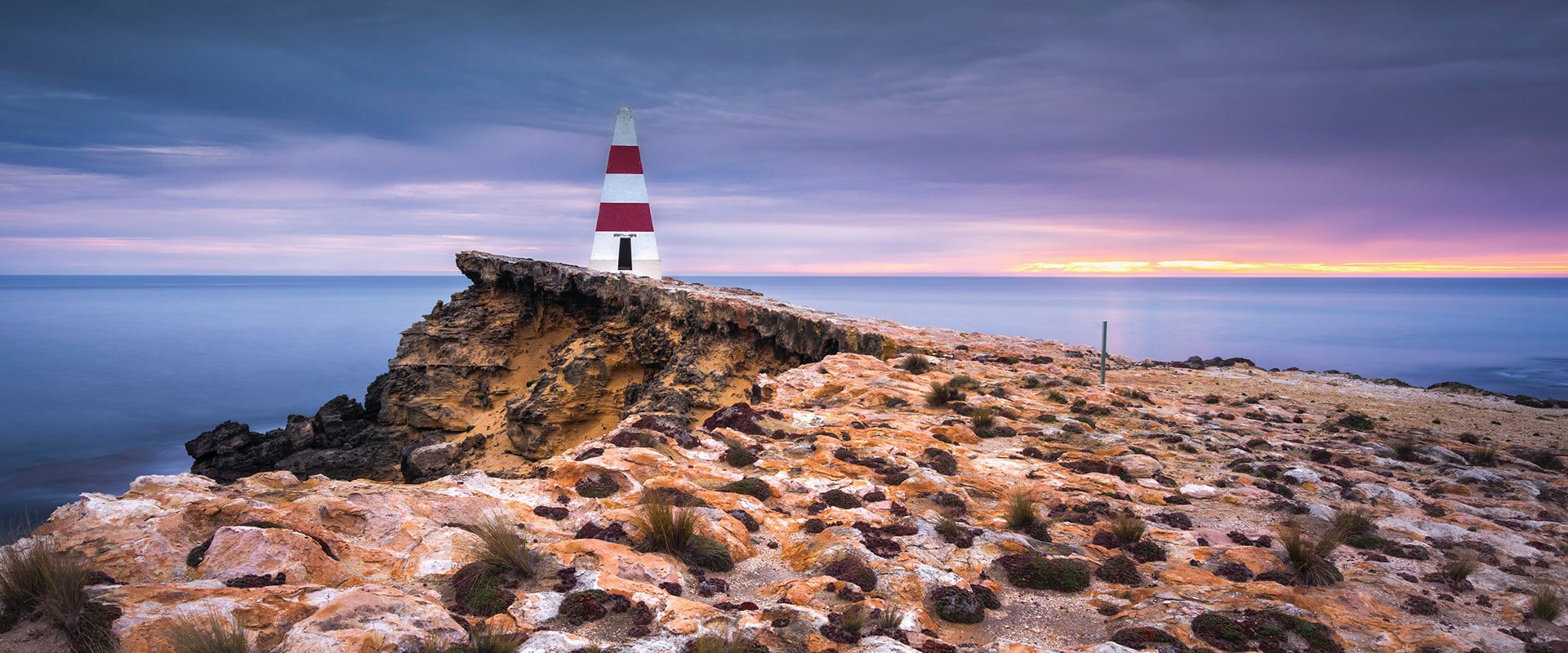 Boasting rugged natural scenery, interspersed with a stunning range of boutiques, restaurants and high-end accommodation, the Limestone Coast's Robe has something for everyone. Drive down 17 kilometres of pure white sand on the aptly named Long Beach or embark on the beautiful, wheelchair-friendly Obelisk Trail passing the town's Old Gaol, jetty, marina and Factory Bay.
Mount Lofty Botanic Garden, Adelaide Hills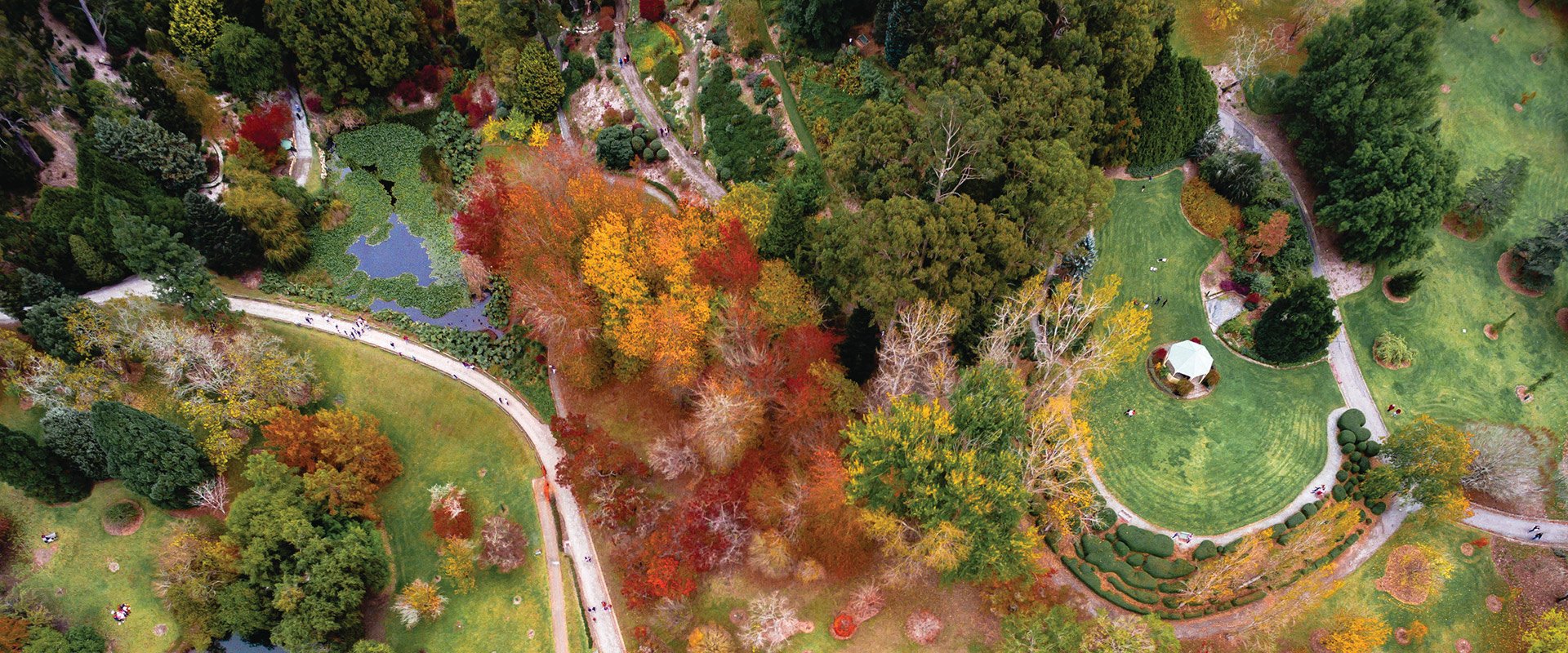 Just 30 minutes' drive from Adelaide, the 97-hectare Mount Lofty Botanic Garden is a kaleidoscope of colour, boasting lush gullies, leafy trails and flowery groves. The wheelchair-friendly Lakeside Trail passes the garden's majestic lake, taking-in the Botanic Garden's most beautiful scenery.
See South Australia with a Medical Travel Travel Companion
Medical Travel Companions (MTC) help travelers with specific medical needs, creating independence for customers who love to travel but require assistance. MTC operates globally from most major cities and all companions are qualified carers, nurses or paramedics.
Getting here and getting around
From rail to bus; taxi to ferry; find out more about South Australian public transport, taxis and car hire.