five DAY KANGAROO ISLAND ITINERARY.
Spend five days surrounded by natural wonders, rugged beauty and wildlife with our guide to three days on Kangaroo Island.
Minutes from the mainland but a million miles away, Kangaroo Island is a sanctuary for wildlife and natural, rugged beauty. Slip away to Australia's zoo without the fences with our five-day itinerary, trading the hustle and bustle of city life for unique wildlife, mouth-watering food and wine, breathtaking scenery, luxury accommodation and a laid-back lifestyle. 
DAY 1
LUNCH AT millie mae's Pantry
Millie Mae's Pantry is a labour of love created by Jan, a sixth generation Kangaroo Islander. The cafe's concept has been born from her wholesome childhood centered around food, farming and fresh produce. Millie Mae's Pantry is in Penneshaw and its lovingly sourced and prepared Kangaroo Island food is dished up daily for breakfast and lunch. Relax in the garden under the established fruit trees and leave with some of the local produce from their pantry store.
swim with dolphins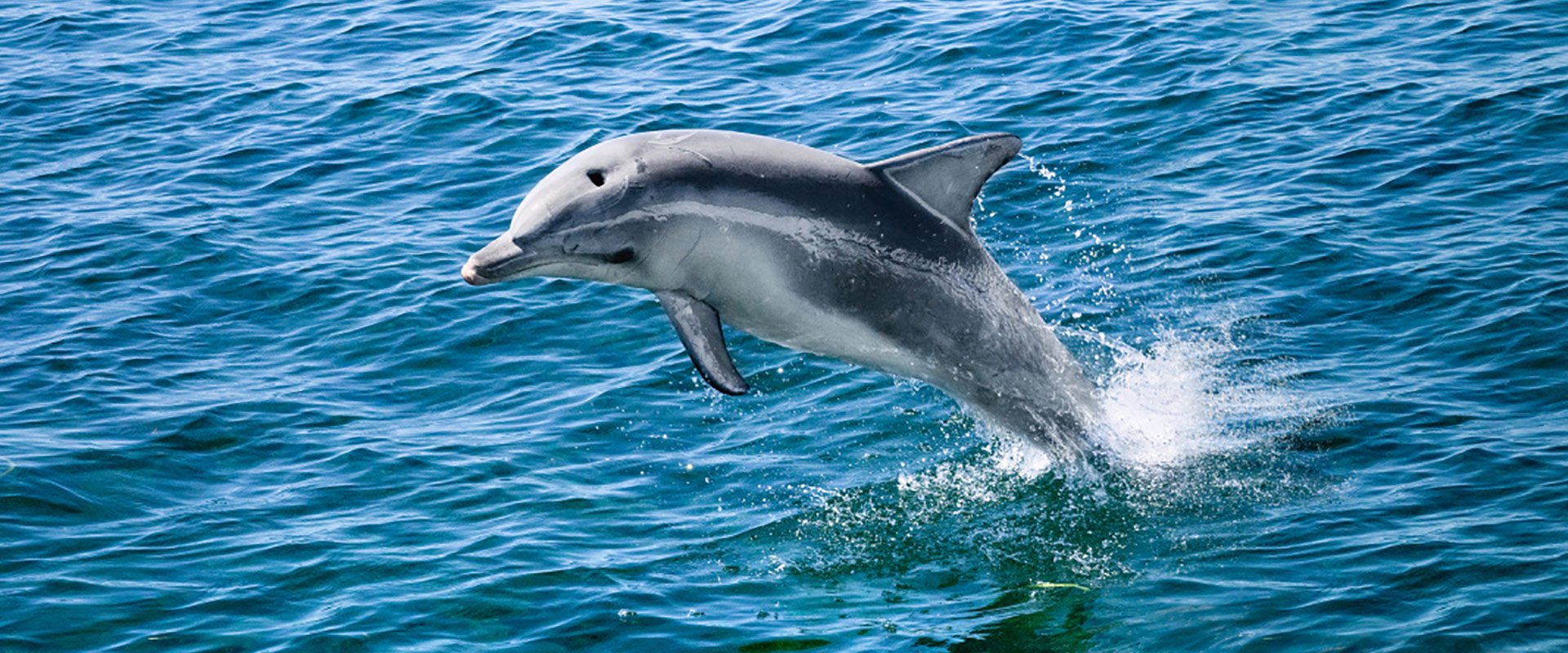 The eastern part of Kangaroo Island is incredibly picturesque. The area includes Cape Willoughby lighthouse, Antechamber Bay and the stunning seaside town of Penneshaw. You can also get another perspective from the water by taking a tour with  Kangaroo Island Ocean Safari. On tour, you'll swim with wild dolphins and seals in these crystal clear waters, encounter Osprey, Sea Eagles and Wedge Tail Eagles. If you'd rather stay dry, then book the 75 minute coastal cruise and soak it all in from the comfort of the boat. If you're on the north coast near Emu Bay can also swim with dolphins with Kangaroo Island Marine Adventures or catch some fish with Emu Bay Fishing Charters.
STAY at sea dragon lodge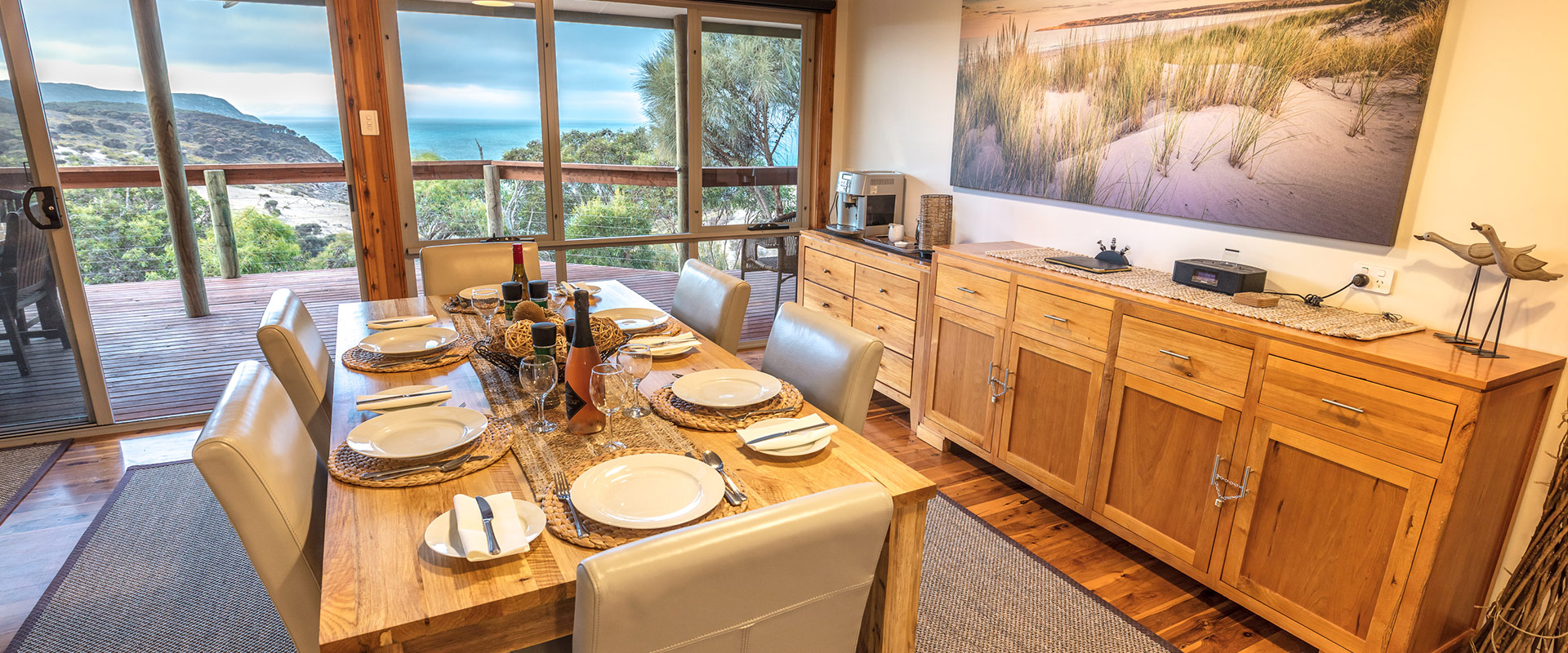 Shack up in style at Sea Dragon Lodge just down the road from the incredible Cape Willoughby Conservation Park. Nestled in nature and surrounded by an abundance of wildlife, spend your days at your own private beach or taste test the local Kangaroo Island produce as the sun sets. Indulge in their all-inclusive Holiday Package with breakfast, lunch and dinner hampers proudly featuring the Kangaroo Island produce, all beverages and a private 4WD touring itinerary.
With so many incredible accommodation options on Kangaroo Island, check out more options here or our list of Top 10 Places to Stay on Kangaroo Island.
DAY 2
breakfast in kingscote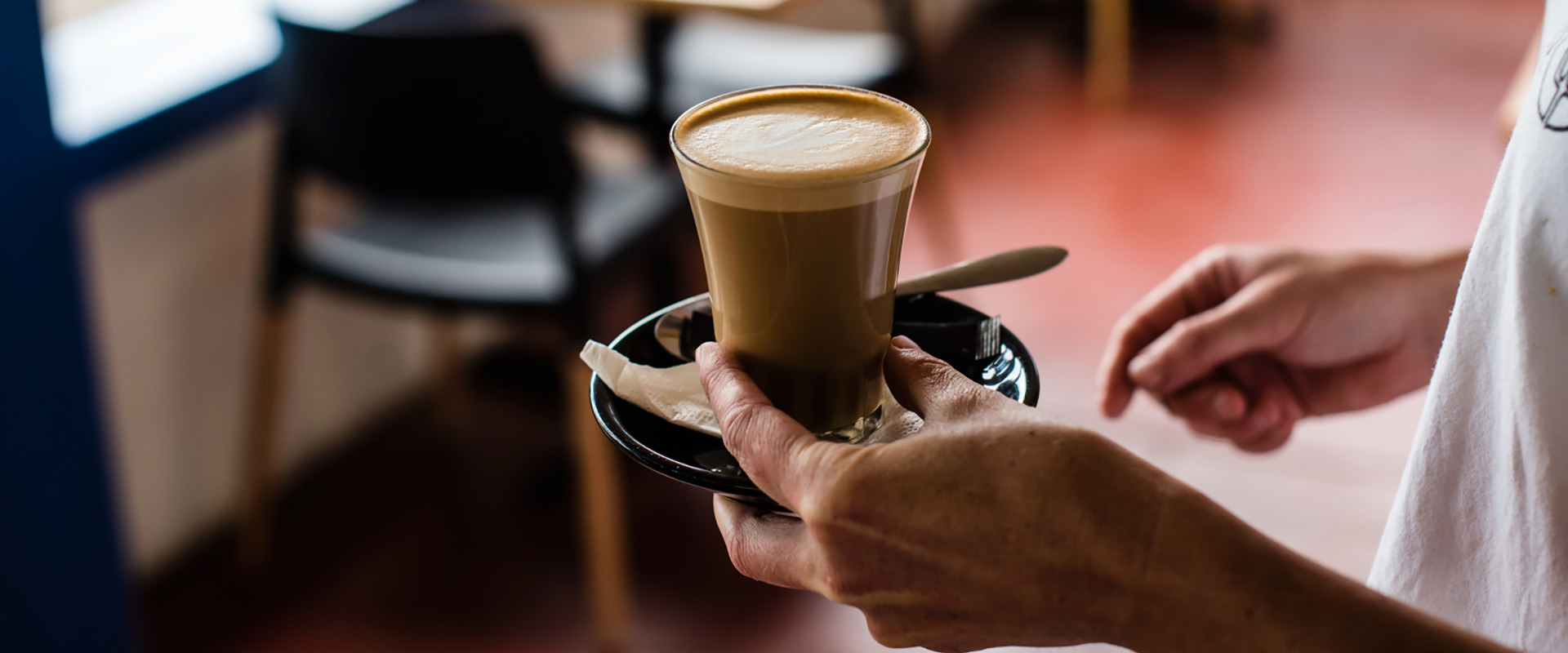 For good coffee, always go where the locals go. In this case it's Cactus in Kingscote. The coffee is smooth and perfect every time, the food is bursting with flavour and the setting is a mix between laid back Tulum, Mexico vibes with a kick of country KI. 
KANGAROO ISLAND BREWERY
Kangaroo Island Brewery is the Island's first cellar door microbrewery. Offering great craft beer and excellent food, sip your way through eight different craft beers available to sample; it's an awesome place to chill and enjoy a few handmade beverages. 
COCKTAILS BY THE BEACH AT MINI DE LIGHTS
 Just up the road from the Kangaroo Island Brewery is Mini De Lights, a pop-up retro installation at Emu Bay. Perfectly perched by one of the Island's most spectacular beaches (that you can drive on), sample your way through the cocktail menu - a Kangaroo Island itinerary staple! Re-charge with a barista coffee or one of the many tasty handmade treats like the popcorn chicken. Nothing but local produce is sourced and served at Mini De Lights. 
STOP OFF AT KANGAROO ISLAND SPIRITS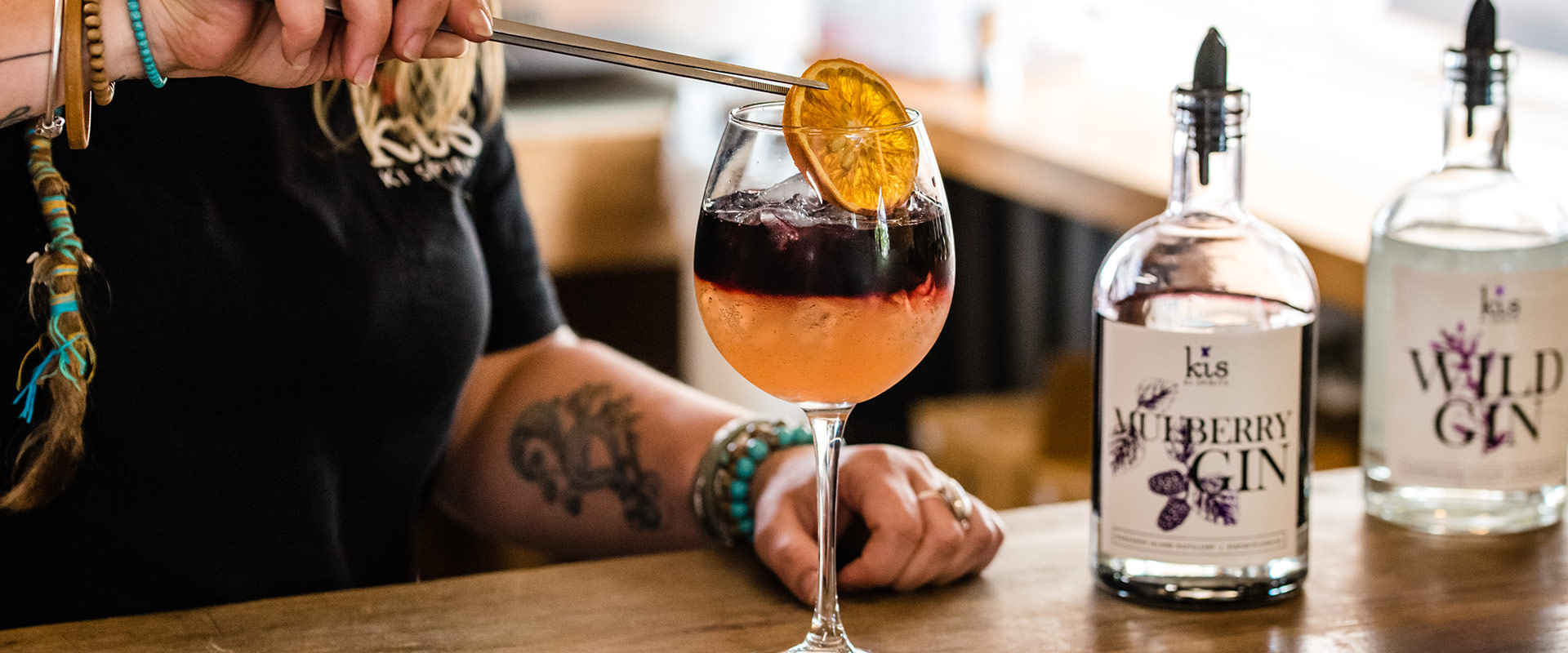 Whether you're on tour or not, you need to stop in at Kangaroo Island Spirits (KIS)! This is South Australia's first boutique distillery and was established in 2005. Their O'Gin has just been named as the 2019 best contemporary gin at the International Wine and Spirits competition in London. Located half an hour's drive away from Kingscote in Cygnet River, taste your way through the tasting notes before settling down in their tranquil gin garden with some good food from the onsite food van, Mini De Lights. All KIS products are handmade in small batches using hand crafted copper pot stills and continue to receive major awards in London, New York, San Francisco and Hong Kong.
DINE AT SUNSET FOOD AND WINE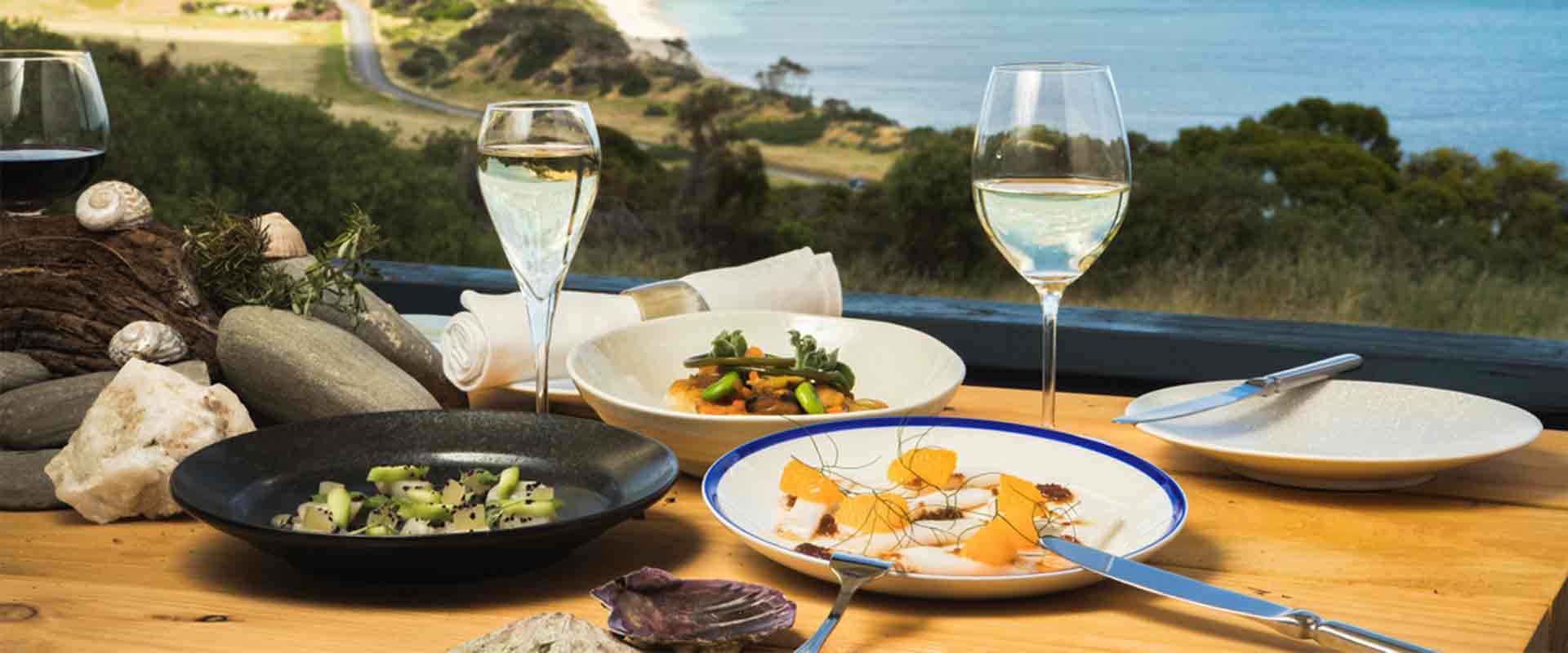 If you feel like dining out, there's no better place in this area on the eastern end than Sunset Food and Wines. A modern bistro with sweeping views over rolling plains and American Beach, Sunset Food & Wine work closely with local, quality producers and growers for their seasonal modern Australian menu. Sample as much Kangaroo Island produce as possible with their six course Chef's tasting menu or try their Kangaroo Island King George whiting 'millenese' from their a la carte menu.
On the otherside of the Dudley Peninsula and just a 20-minute drive away, False Cape Wines is a new cellar door where you can now sample and buy their minimal intervention wines that honour sustainable and time-honoured wine practices. With a deck that looks onto the Terra Rosa soils of limestone on the banks of the Willson River flat, False Cape Wines' cellar door has an idyllic Australian setting. Keep your eyes open for the local mob of Kangaroos!
DAY 3 
GET COFFEE ON THE COAST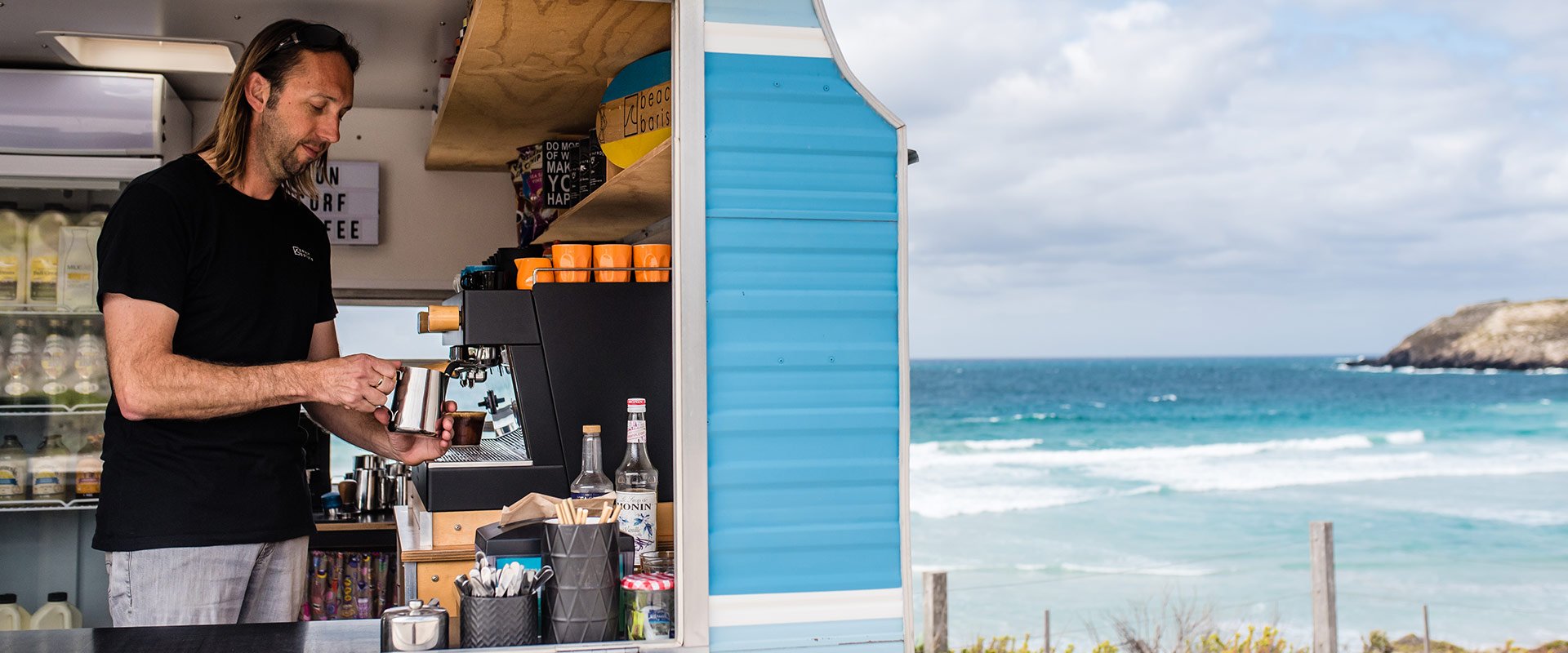 Need a caffeine fix to kick off another day of adventure? Make a quick detour to Pennington Bay where one of the most unique spots for your morning pick-me-up awaits. Mobile café Beach Barista brews up specialty South Australian coffee roasts by the beach, and you can also grab homemade cakes or a toasted sandwich to go (or sit down by the beach and soak in the view over breakfast).
SAND BOARDING AT LITTLE SAHARA
Stop for a spot of surfing…on sand! Little Sahara, is a series of epic sand dunes popular with adrenaline junkies. Hire a sandboard or taboggan from Kangaroo Island Outdoor Action and work on your cardio – the only exercise required of you whilst on Kangaroo Island! The views and adrenaline rush are worth the increase in heart rate.
SEAL BAY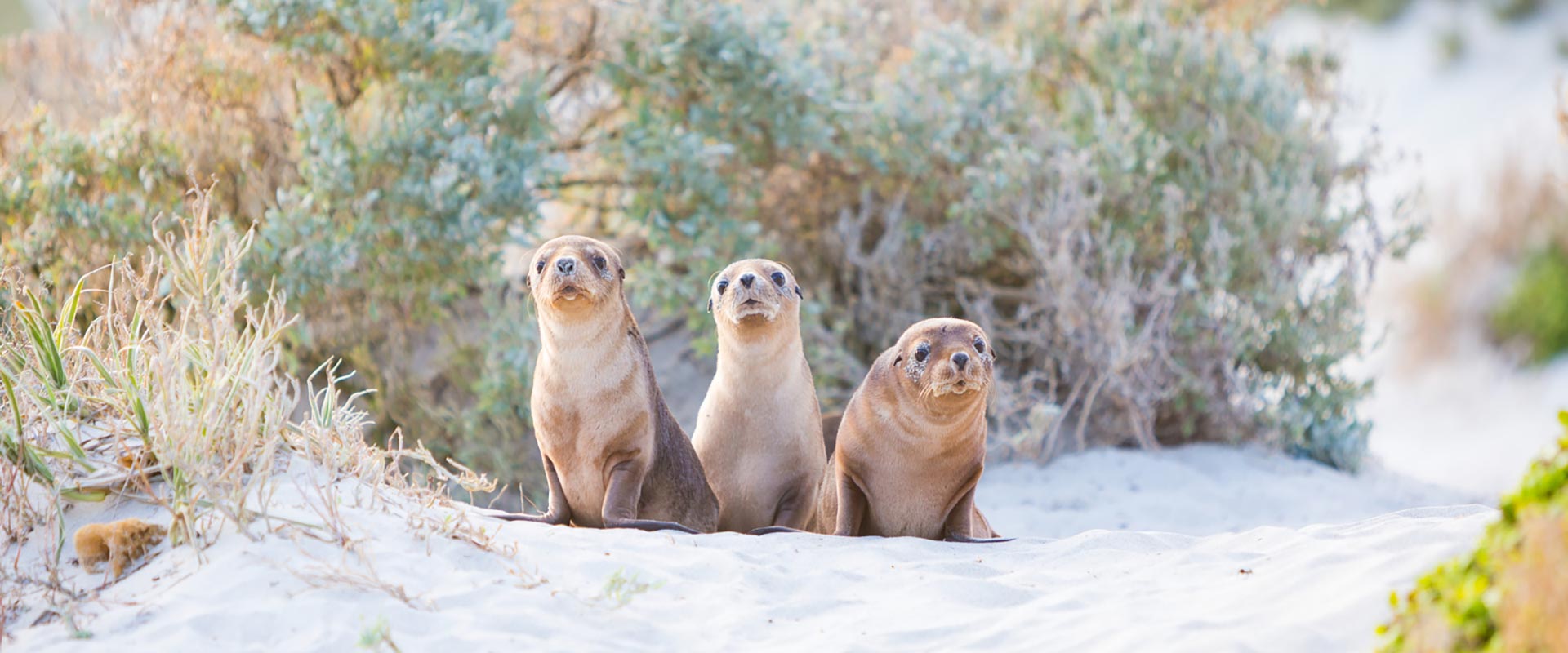 Seal Bay has been home to Australian sea lion colonies for thousands of years. Watch resident sea lions in their natural habitat from a 900-metre-long wheelchair accessible boardwalk, meandering through the dunes to impressive coastal lookouts. You can get up-close and personal with the resident sea lions on a guided beach tour.
DAY 4 
WILDLIFE PARKS 
Head off to Kangaroo Island Wildlife Park and spend the morning getting acquainted with some of Australia's most iconic animals. Spanning a massive 50 acres, the park is home to more than 1,000 animals. Hand-feed kangaroos and wallabies, cuddle koalas and see Australia's most iconic animals, from wombats and echidnas to reptiles and birds.
Pay a visit to the Raptor Domain, which is an environmental and educational rehabilitation centre featuring birds of prey, lizards, snakes and more.
JOIN A TOUR WITH A LOCAL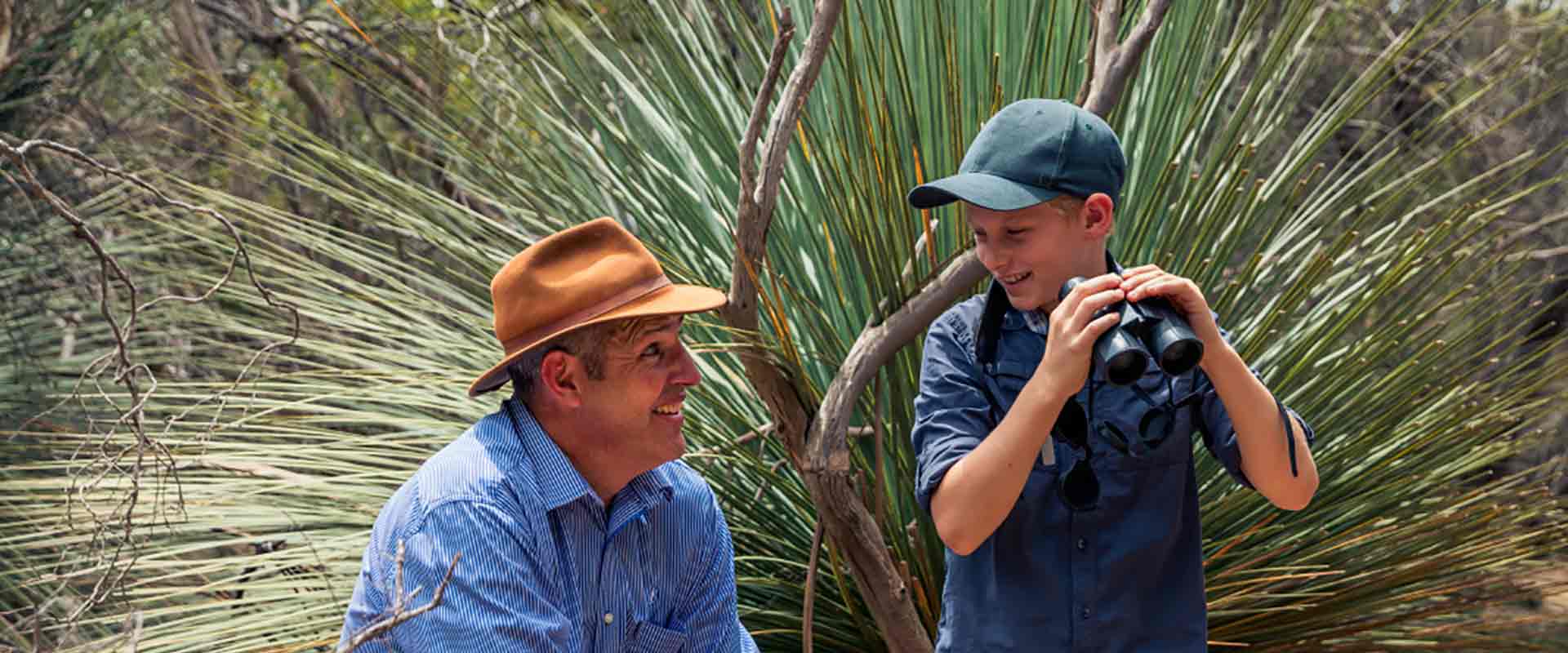 One of the best ways to see the magnificent wildlife, coastal views and vantage points of Kangaroo Island is to join a day tour with one of the local guides. One of our top picks is Exceptional Kangaroo Island, who can take you to Seal Bay, Lathami Conversation Park, unforgettable Stokes Bay and more. Alternatively, head off on a customised, soft adventure tour with Kangaroo Island Wilderness Tours, or go off-piste with Kangaroo Island Odysseys. All tour operators are committed to the conservation of Kangaroo Island's wildlife and nature and are hosted by passionate, knowledgeable guides. 
DAY 5
beaches and nature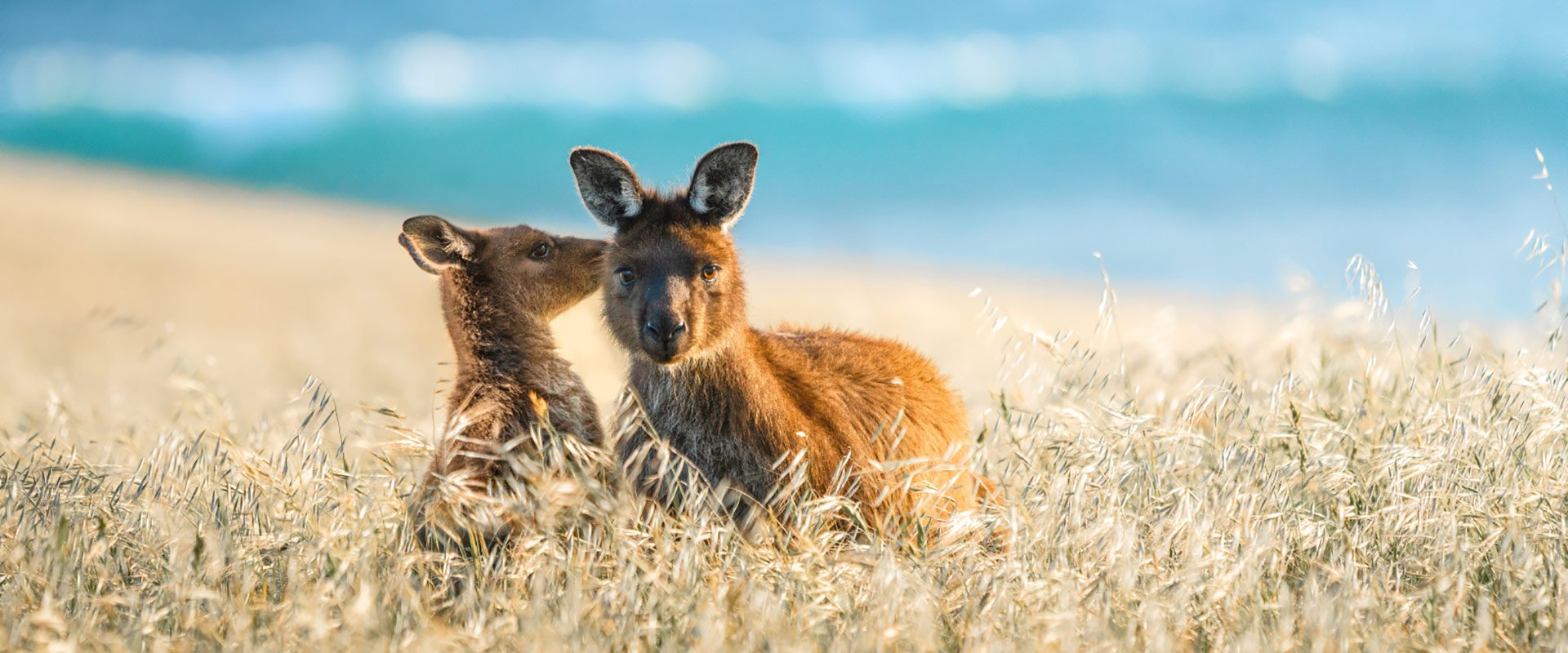 Spend the day exploring the incredible scenery and beaches that Kangaroo Island is so famous for. Cape Willoughby Conservation Park is home to South Australia's first lighthouse and the cliffs that wrap their way around it are spectacular. You'll see an abundance of wildlife and lots of native flora so get your camera ready! d'Estrees Bay is a beautiful sandy beach that borders Cape Gantheaume Conservation Park which is also home to a number of spectacular walking trails that lead into the wilderness. 
At least one day needs to be dedicated to familiarising yourself with Kangaroo Island's beaches. Check out our guide to the top five Kangaroo Island beaches to help you while away your days on the Island.
TAKE HOME SOME OF KANGAROO ISLAND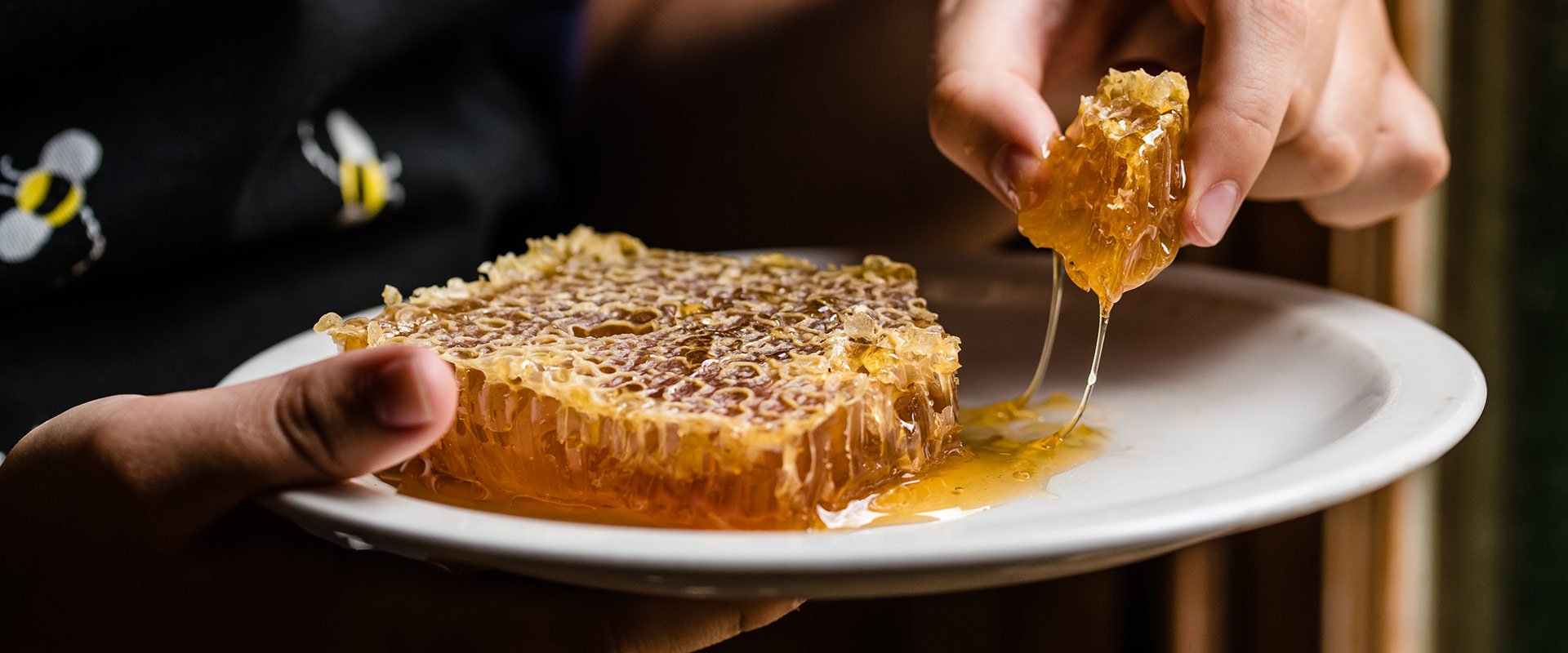 Once you've been to Kangaroo Island, you'll leave a part of your heart as it's a very special place. To keep the memories alive, take a part of the Island home with you to remember the smells and tastes forever. Cliffords Honey Farm gate is home to the Island's famous Ligurian honey products including honey pots, mead, candles, ice cream, drinks and cosmetics. Emu Ridge Eucalyptus Oil Distillery sells the Island's unique Narrow Leaf Mallee in various forms including oils, balms, hand creams, body wash and sweet treats just to name a few.  
HOW TO GET TO KANGAROO ISLAND
You can get to Kangaroo Island with your car on Sealink or take the express passenger-only ferry, Kangaroo Island Connect, both journeys are quick and easy from Cape Jervis direct into Penneshaw. You can also hire a car in Penneshaw with the fleet from Kangaroo Island Connect. Fly direct into the Kingscote from Adelaide with QantasLink.