Explore 10 of the best Aboriginal experiences in South Australia.
WALK ON ANCIENT LAND
Adelaide is the traditional land of the Kaurna (pronounced Garna) people. The city has many museums, galleries and tours that tell the Kaurna story.
Beyond the city, outstanding Aboriginal experiences await - see rock carvings and cave paintings in the Flinders Ranges and hear Dreamtime stories from Aboriginal tour guides. Start exploring the history and culture of Aboriginal South Australia with our top 10 experiences.
1. IKARA – THE MEETING PLACE, FLINDERS RANGES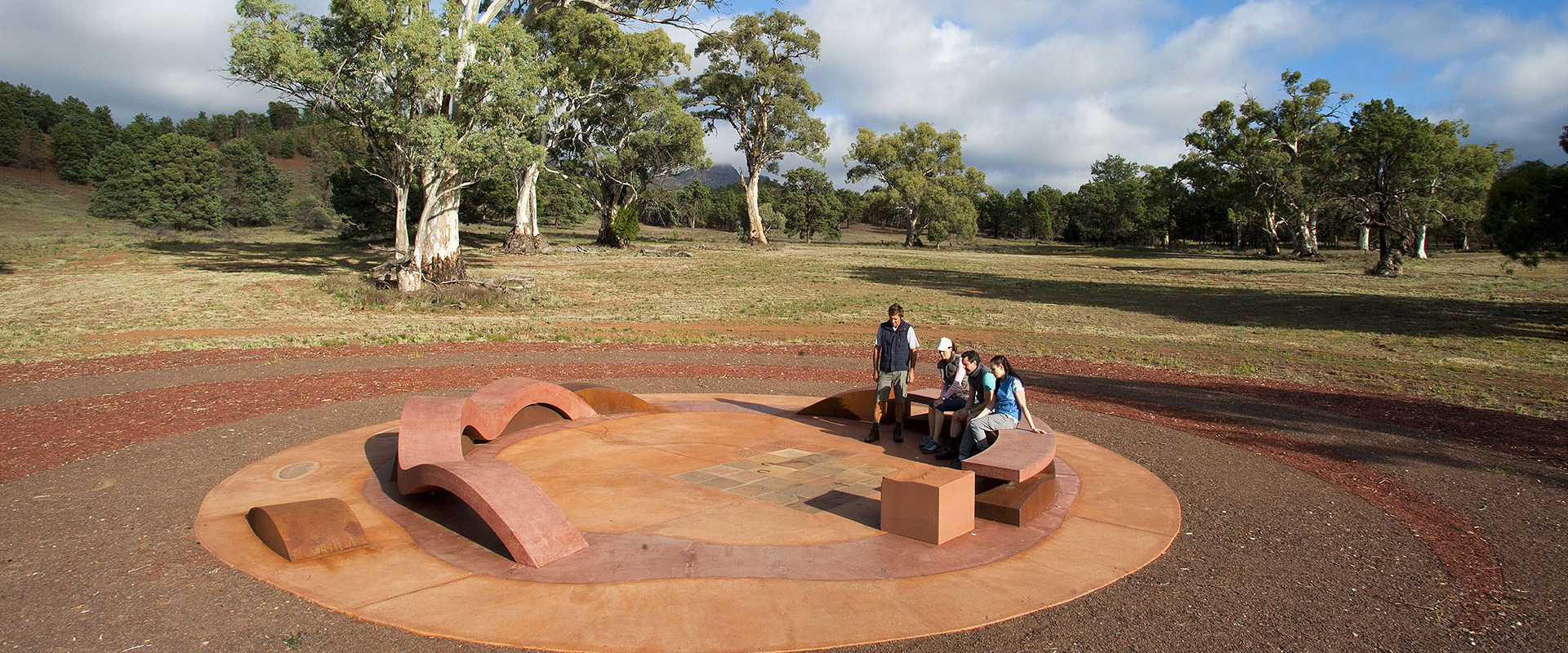 The Flinders Ranges and Outback are of immense cultural significance for the Adnyamathanha people who have lived in the Flinders Ranges for tens of thousands of years. Located in the heart of the Flinders Ranges is Ikara - The Meeting Place - an award-winning public art space that shares an important story of the Adnyamathanha people. The community has widely endorsed sharing information with visitors about their land to encourage a deeper appreciation of Aboriginal culture.

Tell me more: Ikara - The Meeting Place is located at Wilpena Pound, about five hours drive from Adelaide.

How to experience it: Join the Yura Udnyu Aboriginal Cultural Walk for an informative, guided stroll to Old Wilpena Station and learn about the landscape and bio-diversity from the perspective of the Adnyamathanha people. View an extensive list of tour operators who can guide you through Ikara-Flinders Ranges National Park or join a tour from the heart of the park with Wilpena Pound Resort Tours.
2. VULKATHUNHA-GAMMON RANGES NATIONAL PARK, NORTHERN FLINDERS RANGES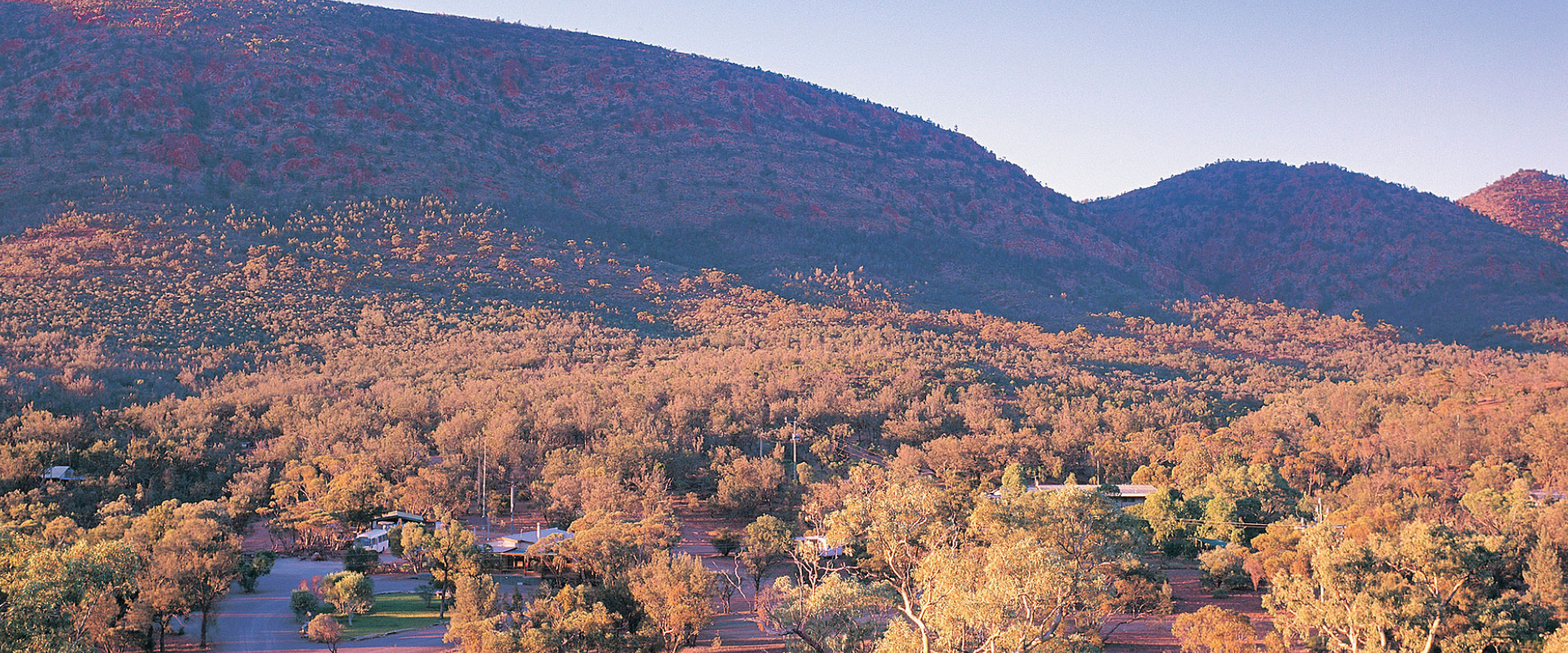 Vulkathunha-Gammon Ranges National Park is a rugged and remote park in the northern Flinders Ranges, with deep gorges, chasms, towering ranges, tree-lined creeks and freshwater springs which are havens for rare and endangered plants and animals. A unique feature of the park is Lake Frome - an ephemeral salt lake, which is 100 kilometres long and plays an important role in the lives of the Adnyamathanha people.

Tell me more: Vulkathunha-Gammon Ranges National Park is located in South Australia's Outback, about 11 hours drive from Adelaide.

How to experience it: Join a guided tour with Iga Warta which is owned, managed and staffed by Aboriginal people. Tours include overnight camping in the Gammon Ranges, climbing Iga Warta Hill, craft, painting and more. View a list of tour operators who can guide you through the Gammon Ranges. 
3. ARKAROO ROCK AND SACRED CANYON, FLINDERS RANGES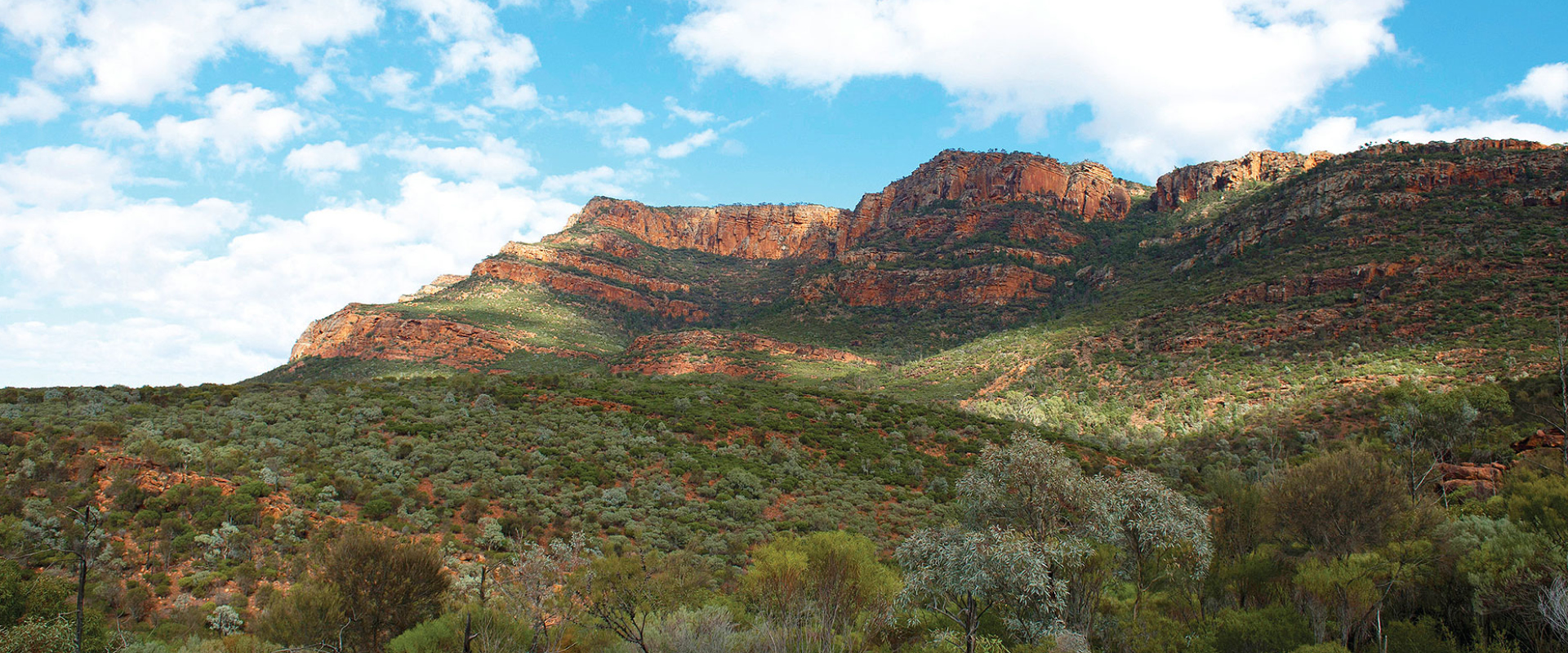 Ikara-Flinders Ranges National Park is rich in Aboriginal rock art and engravings. Arkaroo Rock is a particularly important Aboriginal art site in the Flinders Ranges featuring ochre and charcoal images depicting the creation of Wilpena Pound. The main cave site is at least 5,000 years old and the rock paintings are best seen in the morning light.

Sacred Canyon is a small chasm where ancient Aboriginal rock engravings representing animal tracks, people, waterholes and other symbols have been etched into the smooth sandstone walls. The rock engravings are best seen in soft morning or afternoon light.

Tell me more: Ikara-Flinders Ranges National Park is located in the Flinders Ranges, about six hours drive from Adelaide. 

How to experience it: See an extensive list of guided tours to the Flinders Ranges which include visits to Arkaroo Rock and Sacred Canyon.
4. KATI THANDA-LAKE EYRE AND THE PAINTED DESERT, OUTBACK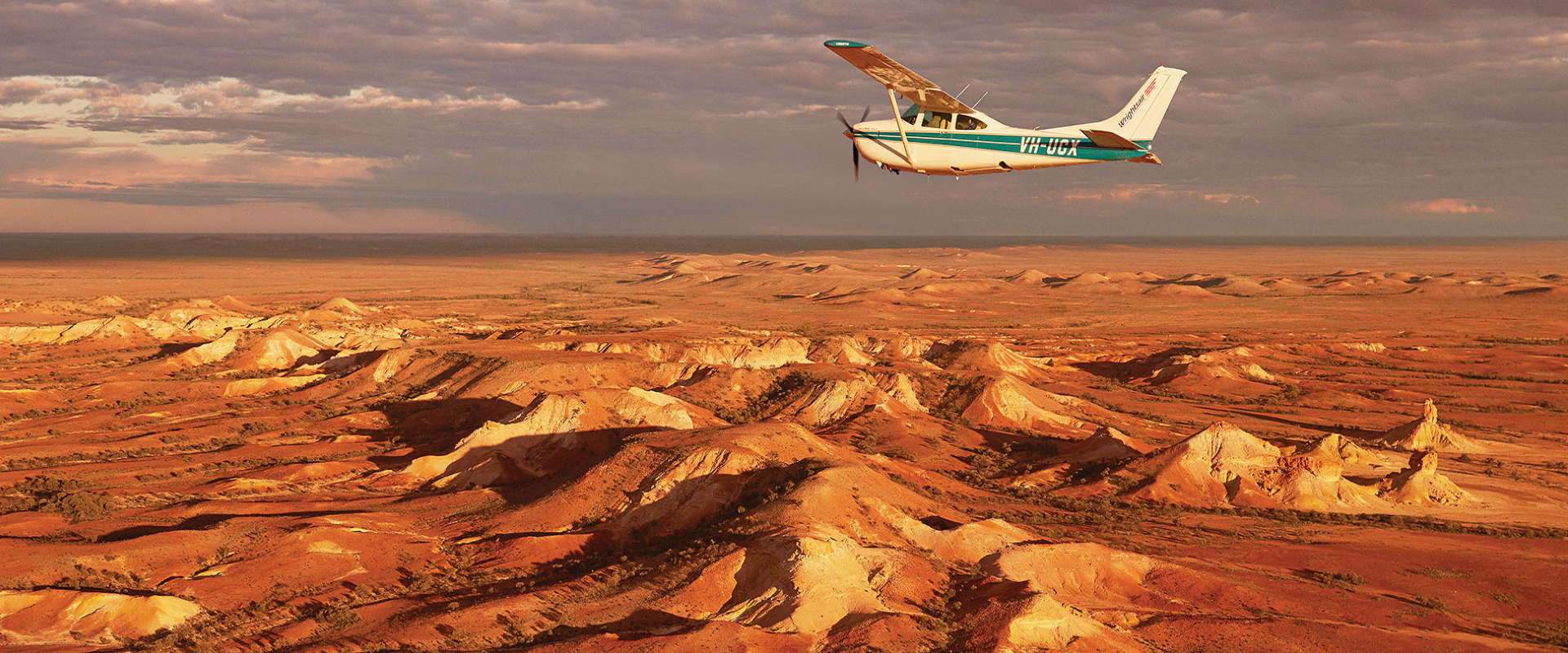 Kati Thanda-Lake Eyre National Park is a very special place to everyone who bears witness to it, particularly the Arabana and Dieri people. Aboriginal people have been living around Kati Thanda for thousands of years, and it plays a central role in many of their stories and songs. As Australia's largest salt lake, it is usually dry but occasionally the lake fills with water, transforming into a desert oasis, with thousands of waterbirds flocking to the area.

Nearby the Painted Desert is a spectacular and recently discovered section of the pristine Breakaways country in the far north of South Australia. Created more than 80 million years ago, it's a large rocky outcrop of large and small hills, which emerge suddenly out of a flat, desert landscape. The area can only be accessed by air, due to its fragility and natural beauty. 
Tell me more: Kati Thanda-Lake Eyre and the Painted Desert are located in South Australia's Outback, a two-hour scenic flight from Coober Pedy with Wrightsair or a 13 hour drive from Adelaide on the Explorer's Way road trip.

How to experience it: Join a scenic flight with Wrightsair from William Creek, Coober Pedy and Arkaroola. See an extensive list of tour operators which visit Kati Thanda-Lake Eyre.
5. POINT PEARCE AND INNES NATIONAL PARK, YORKE PENINSULA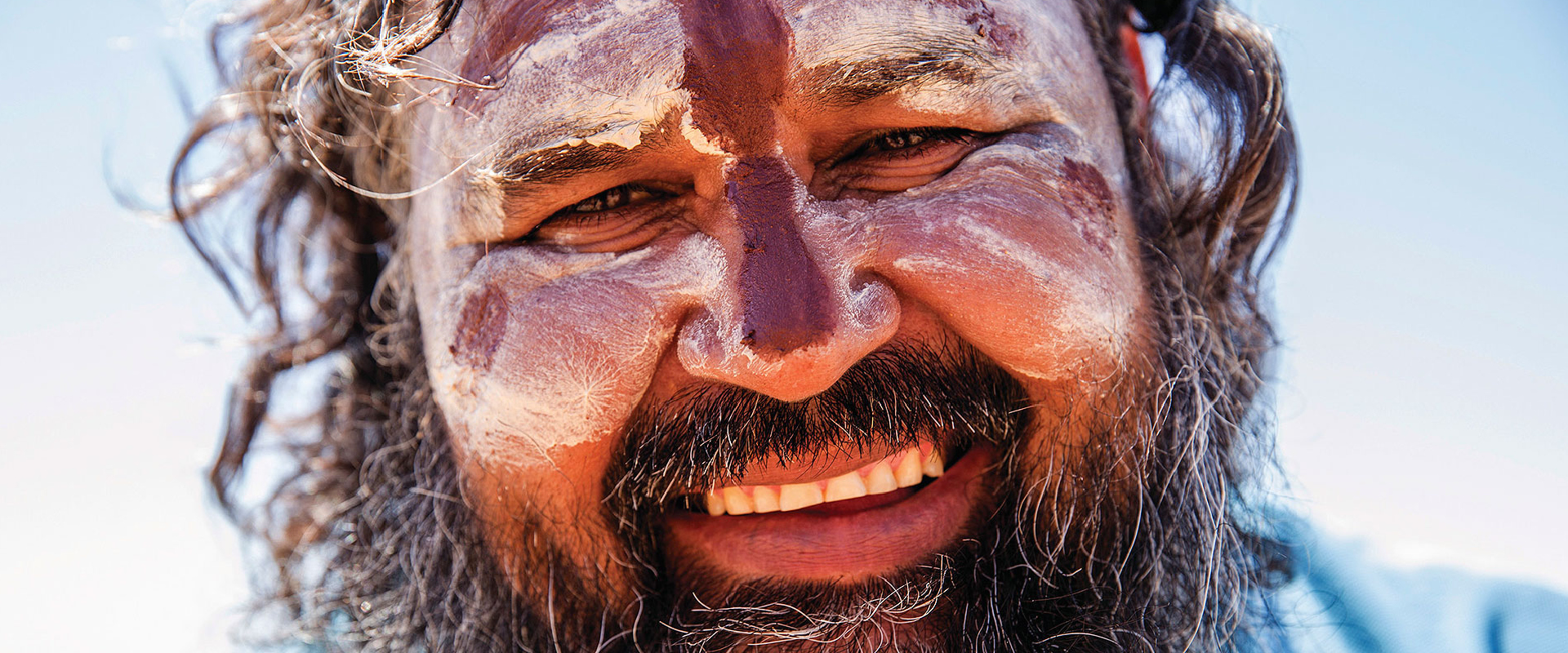 In 1868, the Point Pearce Aboriginal Mission was established, however the Narungga people travelled through the area for thousands of years prior. Their campsites can be found everywhere, especially along the coast, where stone tools, food remains and old fire places occur in abundance. Follow in their footsteps and visit the Black Point Cultural Site on a guided tour. Walk along the beach or cliff face to ancient ochre and tool quarries. Listen to Dreaming stories and gain incredible insight into Innes National Park through Aboriginal eyes.

Tell me more: Point Pearce is located on Yorke Peninsula, about two and a half hours drive from Adelaide.

How to experience it: Join Quenten Agius from Aboriginal Cultural Tours on one of the many tours he offers. Visit coastal Yorke Peninsula on Adjahdura land or explore "outbush" - between the coast and the Outback through Ngadjuri country - which includes the Clare Valley and Red Banks Conservation Park. Heading Bush also offers a guided tour of the southern Yorke Peninsula. Follow the Coastal Way road trip for a self-guided tour.
6. COORONG NATIONAL PARK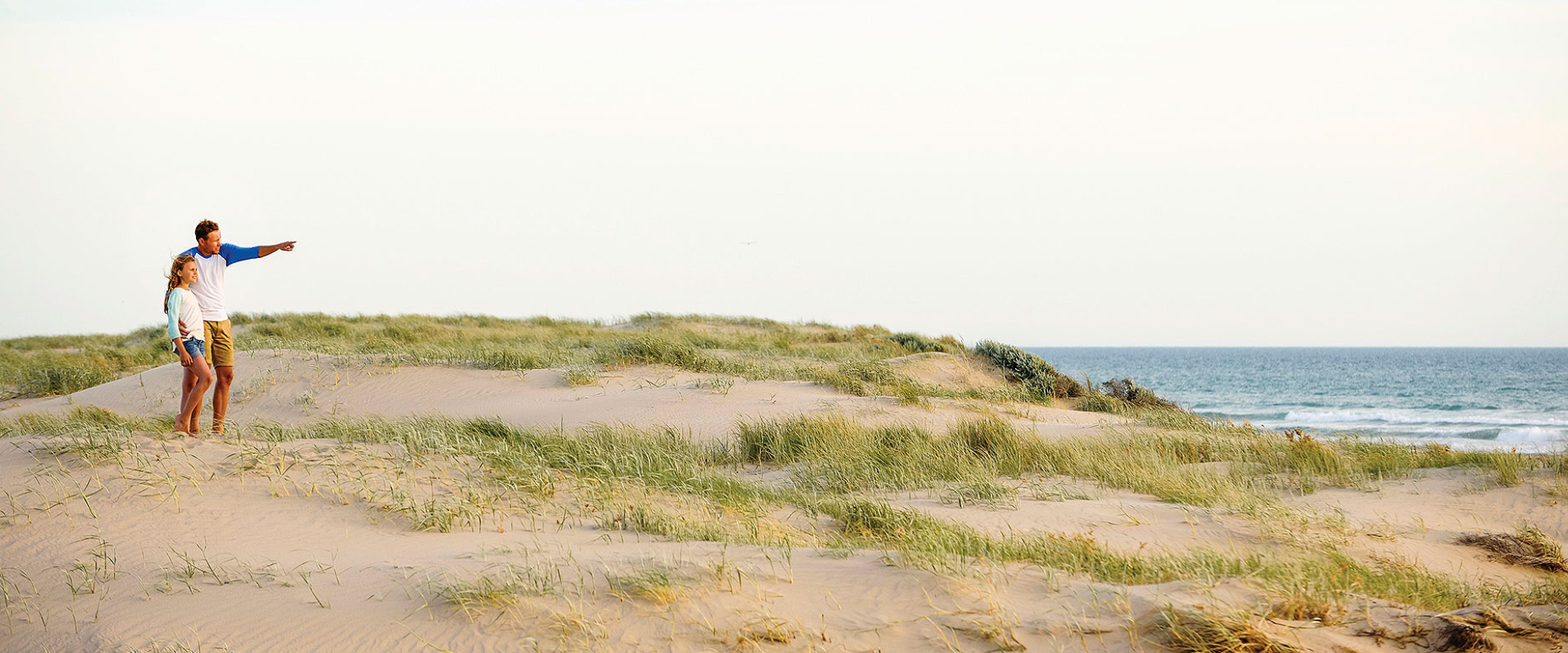 Coorong National Park is one of the most breathtaking national parks in Australia. You can cruise its serene backwaters or brave the elements along remote beaches. The long, salty lagoons are a haven for birdlife with a narrow strip of sand hills protecting the sheltered waters from the Southern Ocean. The name Coorong is an adaptation of the 'kurangk', the Ngarrindjeri word this stretch of land and waters.
You will be a guest of the Ngarrindjeri people, traditional custodians of the Coorong for thousands of years. Dotted throughout the sandy landscape are middens - mounds of shells deposited from many years of fishing.

Tell me more: Coorong National Park is located about one and a half hours drive from Adelaide.

How to experience it: Join a private tour with The Tailor which has been carefully crafted by John Reeves – one of the people behind South Australia's largest cockle supplier, Goolwa Pipi Co and storyteller of the beautiful Coorong. Find out more about the Coorong National Park.
7. NGAUT NGAUT CONSERVATION PARK, MURRAY RIVER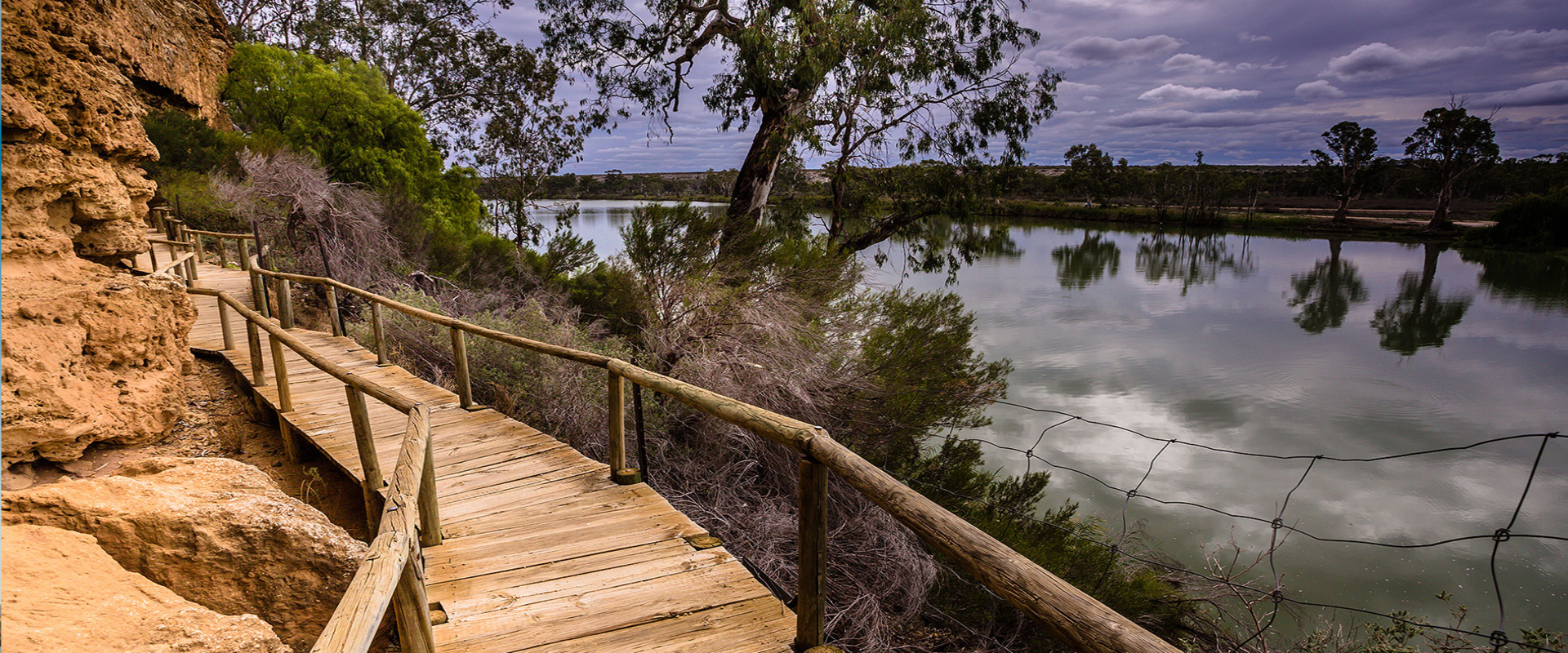 Ngaut Ngaut Conservation Park is close to the Murray River. Join a tour through Ngaut Ngaut archaeological site and visit the ancestral home of the Nganguraku people. You'll see ancient campsites and rock art. Scarred river red gums reveal the ancient practice of canoe making, which still continues along the Murray River.

Tell me more: Ngaut Nguat is located at Nildottie, about two hours drive from Adelaide.

How to experience it: In recognition of the cultural significance of this park, please contact Mannum Aboriginal Community Association before visiting the park. Mobile: 0488052370. Join a Murray River cruise which includes a guided tour of the park.
8. INDIGENOUS TOURISM TRAIL, EYRE PENINSULA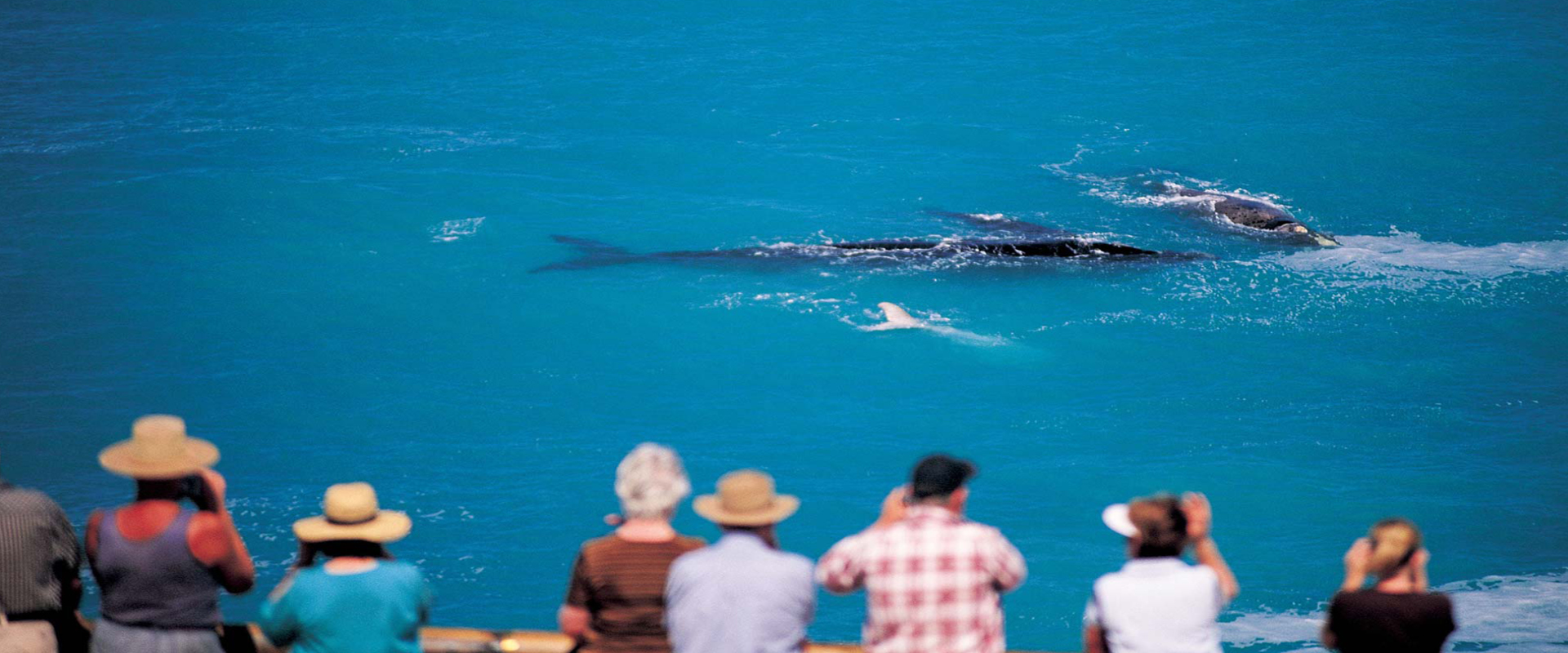 Explore Eyre Peninsula's Indigenous Tourism Trail and discover the region's Aboriginal culture and heritage from Poonindie near Port Lincoln to Head of Bight. The Poonindie Native Training Mission near Port Lincoln was opened in 1850 and the original church still remains. Port Lincoln's Kuju Aboriginal Arts and Ceduna Arts and Cultural Centre showcase original Aboriginal art by local artists from the region. Visit the Big Wombat at Scotdesco, near Ceduna and take in the natural beauty - and see whales in winter - at Head of Bight. 

Tell me more: The Indigenous Tourism Trail runs along the west coast of Eyre Peninsula, from Port Lincoln to Head of Bight. Port Lincoln is a 50-minute flight - or eight hour drive - from Adelaide.

How to experience it: Self-drive the trail or join a guided tour on the Eyre Peninsula and Nullarbor.
9. TANDANYA NATIONAL ABORIGINAL CULTURAL INSTITUTE, ADELAIDE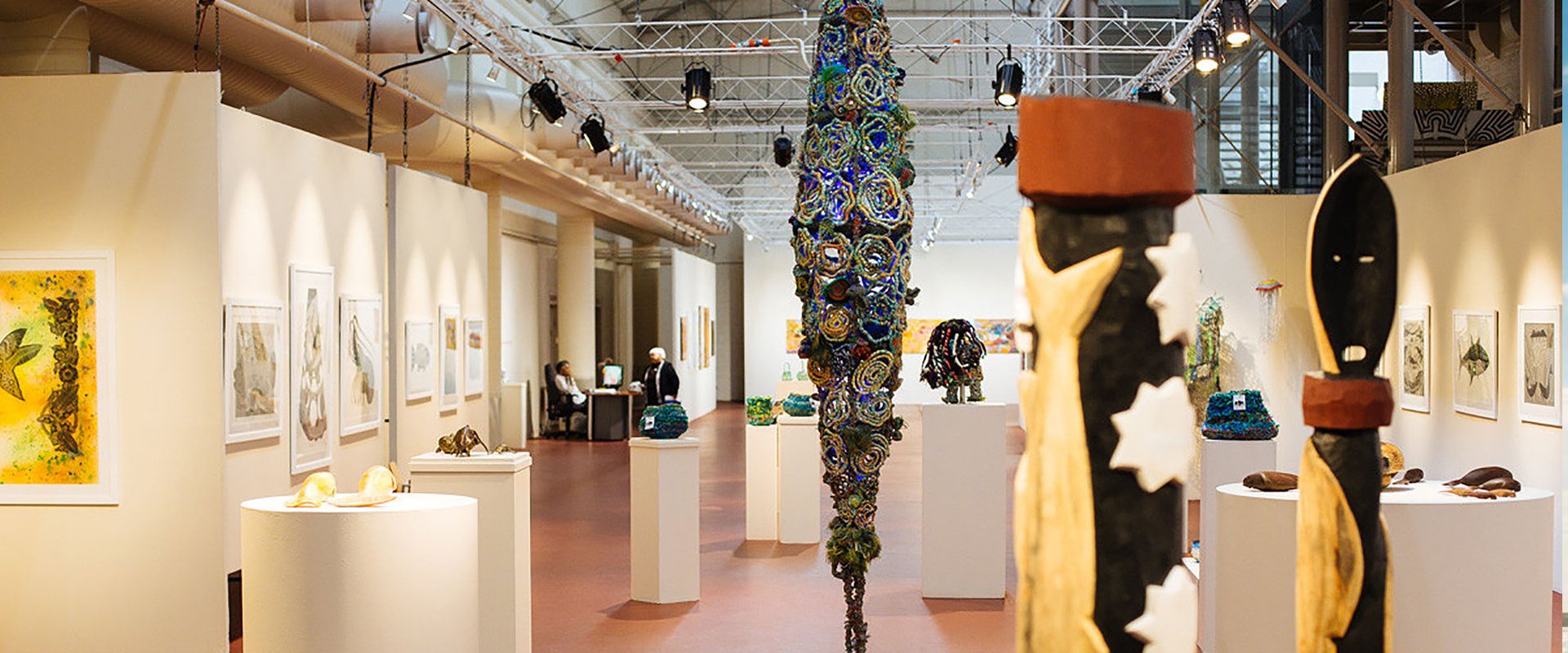 Explore and experience contemporary and traditional Aboriginal and Torres Strait Islander culture and art at Tandanya National Aboriginal Cultural Institute Australia's oldest Aboriginal-owned and managed multi-arts centre, Tandanya is a Kaurna word for "place of the Red Kangaroo". Experience a cultural presentation of the yidaki (didgeridoo) or a performance by Aboriginal and Torres Strait Islander performers. Hear about their heritage and their stories. Visit the galleries which play host to at least 12 different exhibitions a year. Wander the Gallery Shop which sells only authentic Aboriginal art and artefacts.
Tell me more: Tandanya is located in Adelaide's East End, close to Rymill Park. It's an easy walk from the city centre or take the free City Loop 99C bus from Victoria Square to stop 12. It's open Monday to Saturday It is closed Sunday and public holidays. Join an Adelaide tour which includes a visit to Tandanya.
10. SOUTH AUSTRALIAN ART GALLERY AND MUSEUM, ADELAIDE
The South Australian Art Gallery's permanent collection includes dot paintings from central Australia which date back to the beginning of the painting movement in the early 1970s. Included in the exhibition will be the work of local artists from Iwantja in the APY lands. View some of their work here.

Next door, the South Australian Museum has the largest and most significant ethnographic collection of Australian Aboriginal material culture in the world. 

Tell me more: The Art Gallery of South Australia and South Australian Museum are both located on North Terrace, Adelaide.

How to experience it: The gallery and museum are open every day except Christmas Day. The South Australian Museum is also closed on Good Friday. 
11. Wilpena Pound Resort, Aboriginal Cultural Tours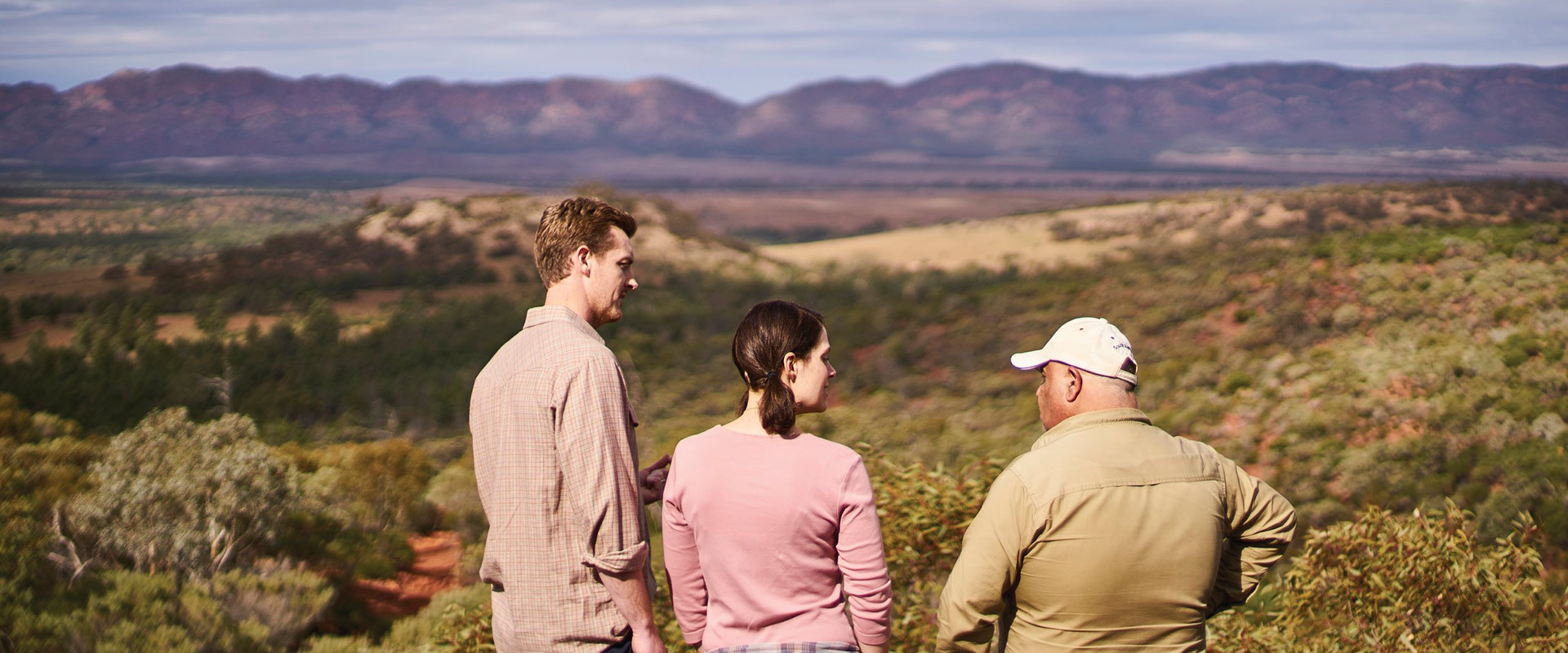 Adnyamathanha guides at Wilpena Pound Resort deliver unique and memorable Aboriginal Cultural Tours to visitors to the Flinders Ranges, South Australia.

The Yura Udnyu walking tour ("Yura" being the name for Adnyamathanha people and "Udnyu" meaning white) to Old Wilpena Station and the Ikara monument, covers the intertwining histories of both cultures. Learn about the diversity of the land, native animals, native bush-tucker, and uncover the rich history and mystique of ancient and contemporary Aboriginal culture. From the ancient and rugged beauty of the Ikara-Flinders Ranges to the brilliant sunsets over the vast landcape, the Adnyamathanha people will connect you to over 100 million years of tradition, culture and this unforgettable land. 
Tell me more: Wilpena Pound Resort is located on Wilpena Road in the Flinders Ranges.
How to experience it: Contact Wilpena Pound Resort.