Welcome to the Yorke Peninsula, the ultimate coastal destination.
Just over an hour's drive away from Adelaide and home to a whopping 700 kilometres of pristine coast, the Yorke Peninsula is one of South Australia's most accessible seaside escapes. Spend your days swimming, surfing, fishing, camping and bush walking with our Yorke Peninsula itinerary including the best places to stay, eat and things to do on the Yorke Peninsula.
Where to stay
Hillocks Ocean Pod, Marion Bay
Just a three-and-a-half-hour drive away from Adelaide, Hillocks Ocean Pod is a deluxe seaside cabin surrounded by coastal bush, with uninterrupted views of Butler's Beach and Hillocks Point. Watch whales pass by your dining room window (during winter months) and be lulled to sleep by the sounds of the surf. The sunsets you'll see will be nothing short of spectacular.
My Sister and the Sea, Marion Bay
For another dreamy seaside escape, check into My Sister & The Sea - a picture perfect coastal cottage in Marion Bay. The white weatherboard cottage evokes memories of endless summer days in the sun, and is the perfect spot to create many more. Sprawl out in the sun on the outdoor deck, sink into the heated outdoor bath, stroll down to the beach or explore Dhilba Guuranda-Innes National Park on your doorstep. The cottage is fully equipped and sleeps up to six guests.
Bayside Glamping and Tiny Home, Marion Bay
Cosy up by the coast in a charming seaside tiny home at Bayside. Nestled within walking distance of Marion Bay and on the doorstep of Innes National Park, the off-grid tiny home is the ultimate couples retreat on the Yorke Peninsula. Soak in views of the surrounding native grassland from every window, climb the ladder and retreat to your loft-style bedroom, sip your morning coffee on the deck with kangaroos and emus for company, then cook breakfast in the fully equipped kitchen before venturing out to explore. Solar powered, rainwater reliant and with a natural composting toilet, your stay will have minimal impact on the pristine surrounding environment. There's also an equally dreamy glamping option.
WHERE TO EAT AND DRINK
Bond Store, Wallaroo
A microbrewery, distillery and restaurant... a stone's throw from the beach? The Bond Store in Wallaroo is an idyllic spot for a long lunch on the coast. Towering stainless steel brewing tanks provide the backdrop for the bar and restaurant, with 12 tap options available including craft brews from around South Australia and a selection brewed right on site. The gin bar, complete with a 500L copper still called Ginger, awaits downstairs in the cellar. 
Watsacowie Brewing Company, Minlaton
Sitting centre-stage to the Yorke Peninsula and surrounded by golden fields of barley, Minlaton is home to Watsacowie Brewing Company. Pouring brews created with local barley, sip your way through their impressive selection of craft beers with a tasting paddle, or opt for a cider or wine paired with platter from the cellar door. Stay for a few sips set to a soundtrack of live music on weekends or kick-back on one of the Yorke Peninsula's beautiful beaches with your own supplies.
Coopers Alehouse Restaurant, Wallaroo
You don't have to roam far on the Yorke Peninsula for a good country pub, and Coopers Alehouse is one of the best. Sitting in prime position on the sheltered west coast at Wallaroo, here lunch with a view overlooking the marina awaits. Taste your way through the Yorke Peninsula's famous fresh seafood with a seafood platter complete with oysters, prawns, scallops and fish paired with a cold beer.
WHAT TO SEE
Beaches, Yorke Peninsula
Sheltered bays, snow-white sand and clear, turquoise waters await on the Yorke Peninsula. Surrounded by 700km of pristine coastline, the Yorke Peninsula is home to some of the best beaches in the world, and most of the time you'll have them all to yourself. From impressive swells favoured by surfers, to calm coves perfect for a family day at the beach, reefs packed with aquatic life best explored snorkelling or diving or long stretches of powdered sand to lounge around, there's a patch of paradise for every beach bum to call their own. Pack your bathers, sunscreen and beach towel and start exploring with our guide to five of the best beaches on the Yorke Peninsula.
Dhilba Guuranda-Innes National Park, Yorke Peninsula
Located at the southern tip of the Yorke Peninsula, Dhilba Guuranda-Innes National Park is a natural playground, brimming with beautiful beaches, outstanding surf and dramatic cliffs. You could easily spend a day exploring without seeing another soul. Must-visit spots are Ethel Beach, Dolphin Bay and Cape Spencer Lighthouse. See our top 5 Yorke Peninsula beaches for more.
Inneston Lake, Innes National Park
The eye-piercing blue waters of Inneston Lake give the Maldives a run for its money. Best enjoyed on a sunny summer's day when the waters are at their bluest, this remote salt lake is one of the Yorke Peninsula's best kept secrets. Tucked in the heart of Dhilba Guuranda-Innes National Park, this patch of paradise is plonked in an abandoned historical town and is surrounded by rugged wilderness, epic coastline and abundant wildlife. For more epic blue waters, check out our guide to the best beach paradise destinations in South Australia.
Blue Hole rockpool, Dhilba Guuranda-Innes National Park
Another hidden gem in Dhilba Guuranda-Innes National Park, a mermaid wouldn't look out of place lolling about in the sun-drenched waters of the Blue Hole rock pool. Follow the powdery-white sand along Shell Beach to your very own private seaside pool where crystal clear, sheltered waters on the edge of the Southern Ocean await. Wait for low tide and calm weather, then dive into the secluded beachside rockpool and explore an underwater world of fish, coral, crabs and starfish. Pack your swag and extend your stay in paradise; there's a campground tucked just off Shell Beach. For more hidden swimming spots, check out our guide to the best secluded swimming holes in South Australia.
WHAT TO DO
Pacific Estate Oysters, Stansbury
Half way along the Yorke Peninsula lies Stansbury, the stronghold for an impressive bounty of fresh oysters hauled straight from the Southern Ocean. Pluck oysters fresh from the ocean yourself and be a deckie for the day on a working oyster boat with Pacific Estate Oysters. Journey out to oyster leases, learn the tricks of the trade then shuck and chow down on the freshest oysters you'll find.
NEPTUNE'S SURF COACHING, Corny Point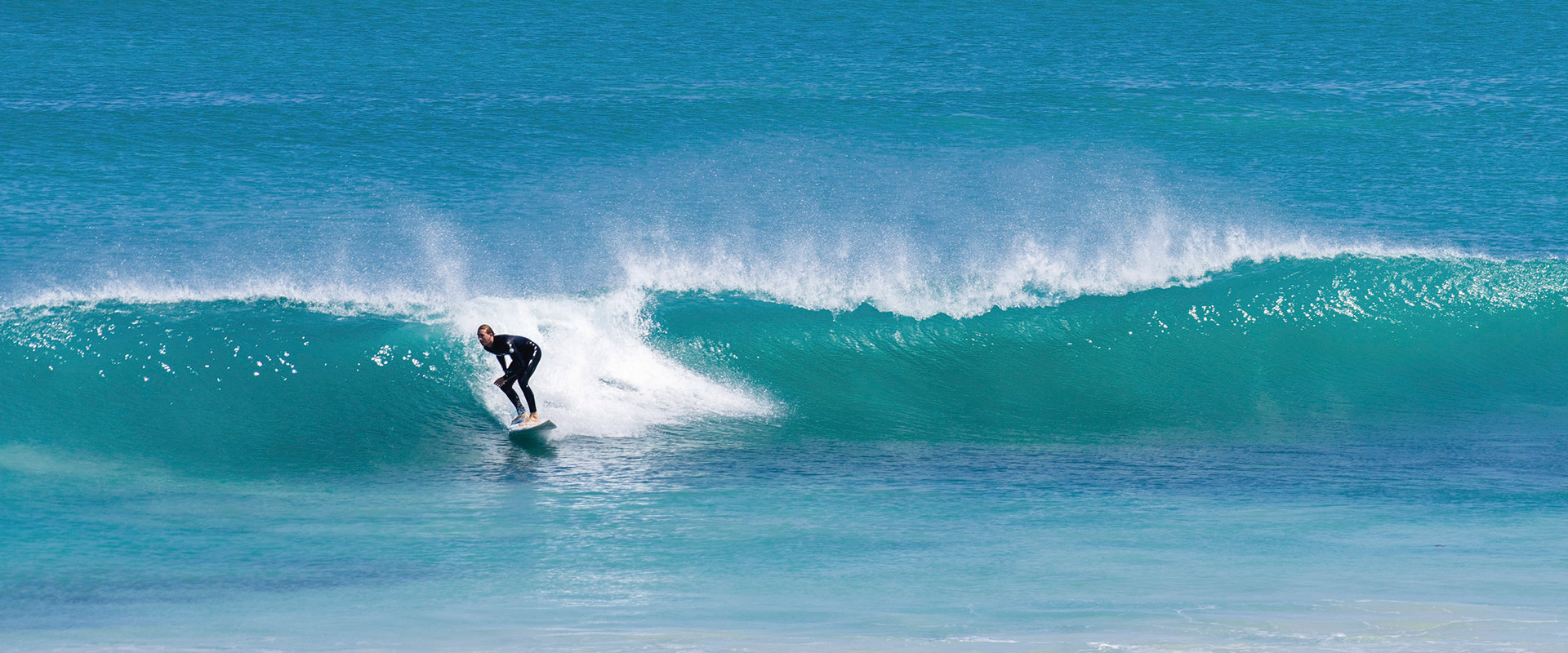 Operating from the stunning shores of Corny Point, Neptune's Surf Coaching offers tailored surfing lessons for all experience levels. Jump in the water with a fully-accredited coach on a private, group or advanced session. You can also hire wetsuits, surf boards and paddle boards.
Aboriginal Cultural Tour, Yorke Peninsula
Experience the deep spiritual and physical connection Aboriginal people have with their country on an Aboriginal Cultural Tour run by Quenten Agius. Explore the Yorke Peninsula's rugged earth gorges, pristine untouched beaches and ancient archaeological sites. Share Dreaming and Creation stories that bring the landscape to life, while connecting with nature and the environment. 
Linger longer
Three days is just enough time to soak-up the Yorke Peninsula sun, but there's so much more to explore. Check out our Yorke Peninsula guide and extend your stay.